This is the second part of my day trip to Somerset that started with a visit to Charles Dowdings' garden to learn more about 'No Dig'. It was a lovely sunny day and it had been arranged that we could go to The Newt which is just ten minutes down the road from Charles's garden. I initially thought I would go and have lunch, have a quick wander around and then head home as it was quite a long drive back. A tour had been very kindly arranged for us so I decided I would stay for that. I am so glad I did.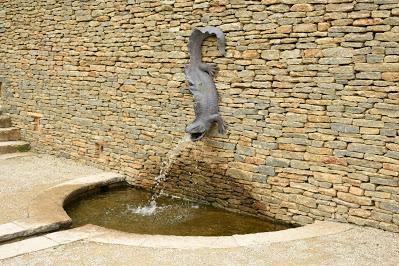 I have visited these gardens previously about twenty years or so ago known as Hadspen after the house they are the grounds for and under the stewardship of Sandra and Nori Pope. The gardens were very different then as the Pope's were known for their experiments with colour. It is worth noting that the Newt is the third iteration of this garden in recent times as prior to the Popes the garden was designed by Penelope Hobhouse. It is not often though that I get to visit a garden that has taken on a new identity so this made this visit even more interesting. Much is now different yet there are also constants. The Walled Garden is still a dominating feature with its distinctive egg-shape.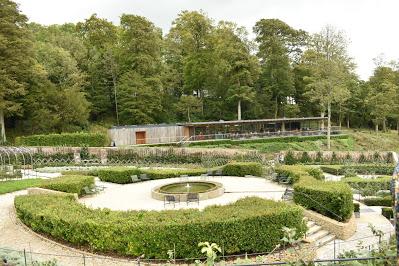 The journey through the garden is a journey through horticultural history, with the Walled Garden reflecting the earliest known time of when the garden was developed by being laid out in a formal Baroque style. The garden is simply planted yet also contains several hundred UK different varieties of apples set out in geographical areas. They are largely eating apples with some crab apples included.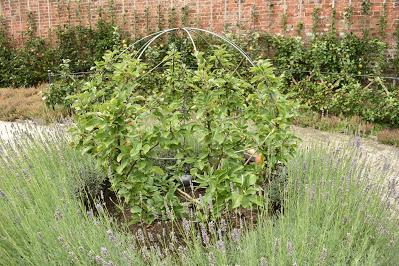 The apples are grown in several different ornamental ways: some espalier, some cordon, some growing up frames such as the one above.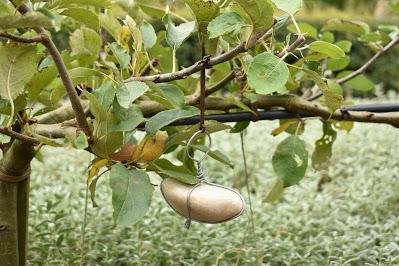 There is great attention to detail and I love this Japanese inspired method of weighting down branches so that they grow to the desired shape.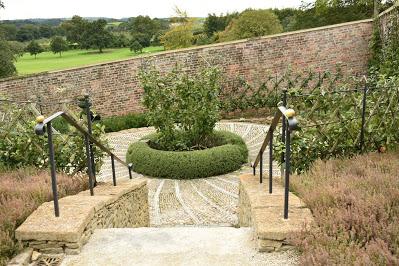 The paths wind you gently through the Walled Garden,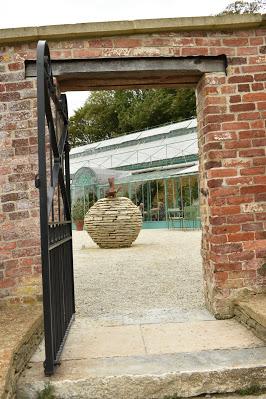 with tempting views to take you out further into what there is to offer.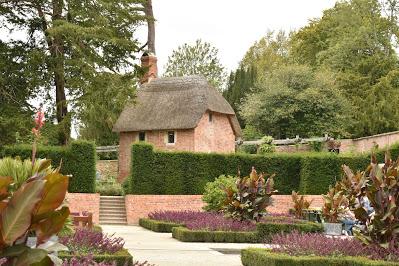 I remembered this little cottage when I visited previously, I think it was the cafe then and it did not have a thatched roof. The different areas of the gardens have different themes and this is part of the Victorian bedding formal gardens.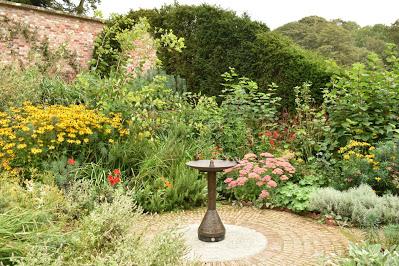 The cottage itself is surrounded by a more 'Arts and Crafts' style of planting.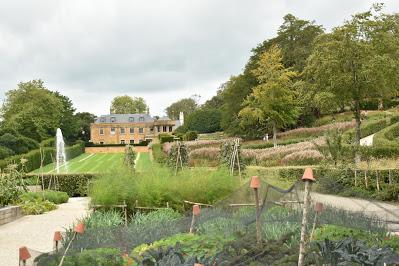 You wander from room to room through these different gardens and it all works. They link well.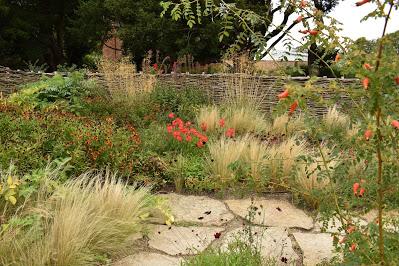 There are reminders of the garden's history with this colourful planting in homage to the Pope's work.
and playful moments like these motion-activated toad sculptures.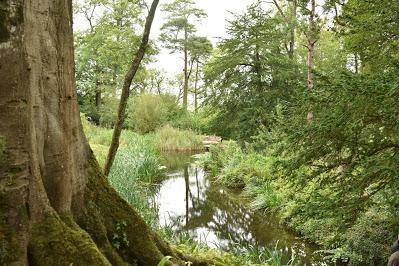 The Newt is not just formal gardens. You can wander through woodland,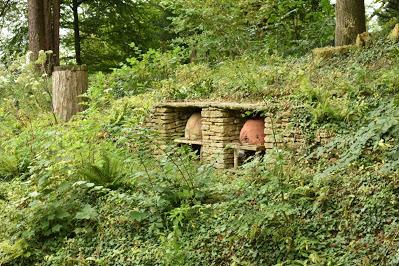 and find their Isle of Avalon with its bee skeps.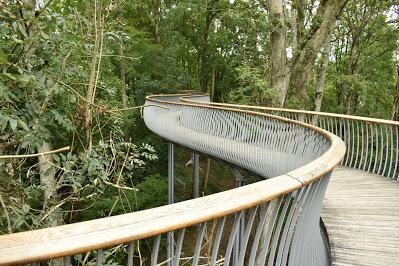 There is the stunning tree walk (I admit I am not good at heights so I did not look down) that takes you into the tree canopy and along to.....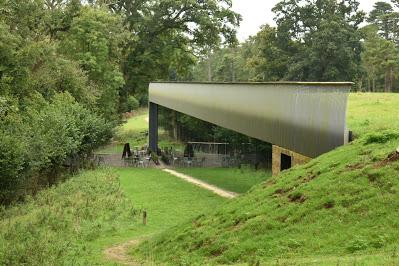 The Story of Gardening, an immersive display where you wander through gardening's history across time and continents.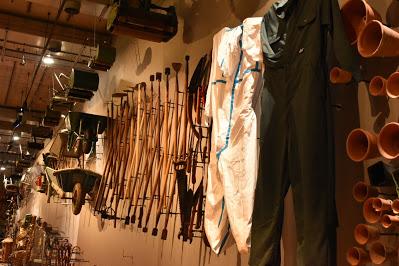 There is a care and attention to detail in all that they do at The Newt that is impressive. There is a lot to do and it is a good day out and they certainly work very hard to make sure everything is just right.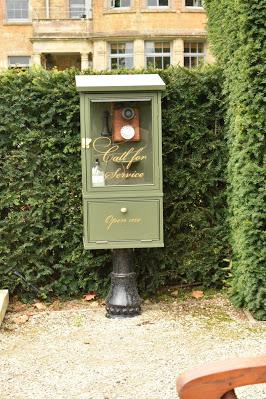 As ever I have not covered all that there is so that there are things you can still discover for yourself. One of my favourite moments was this 'Call for Service' telephone that admittedly is in the hotel grounds and not accessible from the garden. I could just imagine sitting on the bench, overlooking the gardens on a warm evening and ringing for a nice vodka martini..... wistful sigh....
I had such a great visit to The Newt. I am hugely grateful to Arthur who showed us around and was so generous with his time, knowledge and enthusiasm. I arrived home very tired but so happy after such a great day out.