Published as:  Bright Success On a sloped creekside site in Atlanta, Georgia, architect Staffan Svenson elevates humble materials and basic geometries to craft an affordable modern home.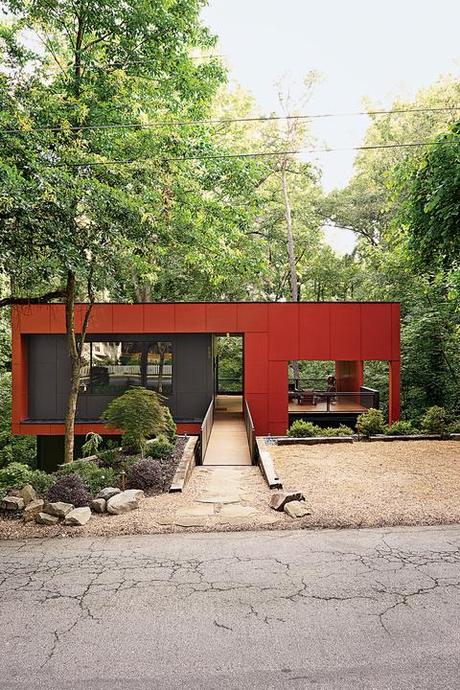 A bridge spans the home's steep site for street access.
Michael Lewin braced himself for rejection when he approached architect Staffan Svenson about building a home for himself and his wife, Silvia Vera, on their wooded lot in central Atlanta. It was an understandable reflex; after all, he'd already been turned down—and even laughed at by one architect's assistant—when he'd announced their tight construction budget. But even though he was working simultaneously on a $4 million house (complete with shooting range and aviary), Svenson, of Dencity, embraced the challenge of building a "simple but nice and modern house" at $150 per square foot.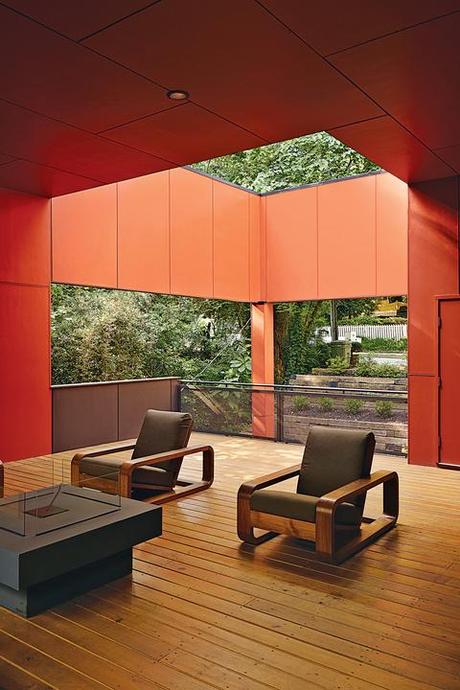 Playing off the work of artist James Turrell, as well as the front porch scheme prevalent in the South, an outside living room is half covered and half open to the leaf canopy overhead, where a pair of teak armchairs are clustered around a Laguna fire table from Restoration Hardware.
Svenson zeroed in on three materials: steel for the cantilever and entrance bridge; local cypress for the deck; and red-painted, fiber-reinforced concrete panels for the cladding. He also enlisted Lewin to source affordable interior finishes and to chase down the requisite construction permits (no mean feat, since the site was so steep). The resulting home has a loftlike upper floor, with 11-foot-tall glass windows and a large sheltered porch, and a private lower level with three bedrooms and an office. The form is simple but eye-catching—a beacon of affordable modern design and a fine payoff for perseverance.