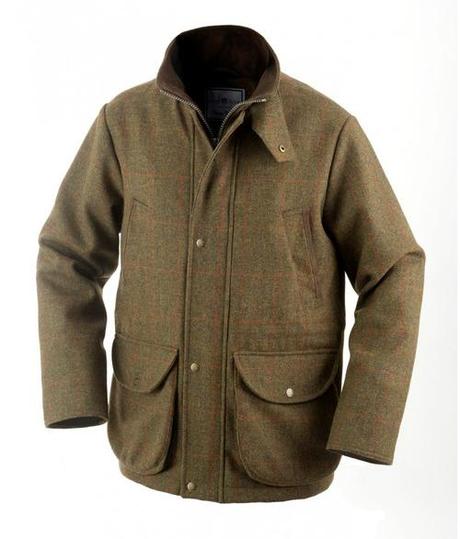 Winter seems to be lingering, which has put me in the odd position of thinking about both madras shirts and warm winter clothes. Thus, I was off surfing the internet the other day searching for more sweaters to buy when I came across some interesting outerwear deals over at Alan Paine. Alan Paine, of course, is that famed British knitwear company that started in Godalming in 1907. Its founder, William Paine, is said to have invented the cable-knit sweater, but I admit I think the history of the cable knit might be more complex than that. What is certainly true, however, is that in his early days, William Paine went around to various cricket clubs, Army regiments, and schools, offering to make cable knit sweaters in each organization's club colors.
And since the company's founding, its list of clientele reads like many other storied British firms. The Duke of Windsor, for example, was once photographed wearing the company's cricket sweaters in a colored trim. And when George Mallory's long-lost dead body was found on Everest in 1999, he was identified by his nametag, which was sewn underneath a label that read: "WF Paine, Godalming."
Since Americans had a difficult time pronouncing the company's original name, "Godalming," it was changed to Alan Paine once William's son (Alan, naturally) took over in the 1950s. And from the mid-century until the 1980s, Alan Paine was known the world over for producing quality, English knitwear.
In the 1990s and early 2000s, however, competition from Chinese producers stiffened and consumers cared less and less about quality. With lack of government support, the landscape of British knitwear changed in the same way that British manufacturing as a whole has: many firms have folded or been forced to move offshore. Alan Paine has done the second, and now makes about 20% of their knitwear in Eastern Europe, with the balance in Madagascar. As James Hinton, the company's current proprietor, explained to me last year, the reason they use Madagascar is that the skill level there is very high and many of their garments require hand finishing. All of their knits are fully fashioned, which means they are knitted to shape as opposed to being cut and sewn, and all the main stress points, such as the cuffs and point where the vee joins, are hand reinforced. The main components of the sweater are also hand linked (in a process called stitch to point linking), which means each stitch is joined to another stitch individually. These require skills that are vanishing from the remaining UK knitters, especially in the kind of volumes that Alan Paine requires.
I have no personal experience with Alan Paine's post-2005 knitwear (which is when they moved offshore), but I will say that I think a garment's quality is defined by much more than what country it was manufactured in (if one can even be so simplistic as to think manufacturing these days all takes place in one region). And I've owned many well made garments produced in China (gasp!).
But this post isn't about Alan Paine's knitwear, it's about its outerwear, and they apparently carry some very attractive looking country tweed field coats and waxed cotton jackets. In the last year, I've been eyeing the checked Chrysalis coats at O'Connell's and Ben Silver, as well as the Musto jackets at Mr. Porter. Not to mention how much Leonard Logsdail's tweed coats make my heart palpitate (seriously, don't look, as you'll be forever unhappy with your station in life). They're all undeniably beautiful, but prices are almost as awesome as the garments, which makes Alan Paine's ~$250 options feel very appealing.