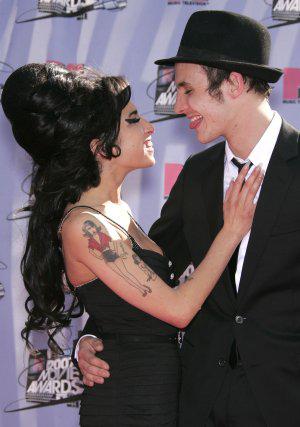 Image from http://news.softpedia.com
A few weeks ago, was the first anniversary of Amy Winehouse's death. Before Amy died she was criticized for her weight and her addictions that did not help with her problems and might have lead to her overdosing. After her death, though, she inspired people with charities and her new album. Now, her ex-husband, Blake Fielder-Civil, is fighting for his life. Blake is in a coma after a drug and alcohol binge. During and after Amy's death people blamed him for her problems and even her untimely death. If you didn't know Amy died from an accidental alcohol overdose. In 2007, the couple, Amy and Blake, had arrests on drug and assault charges from both sides. Then in 2008, he was jailed for assault and again this last year because of burglary and imitation firearm in possession. Fans and critics belief this lead to her drug and alcohol problems.
Blake was rushed to a hospital with multiple organ failure. Sarah Aspin, Blake's partner, found him choking in his bed. Sarah is mother to Blake's 15-month-old son. Reported that Blake, being a recovering drug addict, went out to drink with Sarah and a friend. Sarah told "The Sun" that he might have taken drugs that night. The doctors told Sarah then that they didn't believe Blake would survive. Later the doctors let her hold his hand. She said, "The doctors say they don't know the prognosis, they said they put him in a coma to help him and due to infection." Sarah then proceeded to say that they were happy and were planning to get married before the incident. Sarah called the paramedics after he stumbled and his words were slurred. When the EMT's got there he was choking on his tongue and his vomit that made his left lung stop working.
Sarah said, "I'm praying hell survive, but I'm having to prepare myself that he may never wake up." Sarah met Blake 3 years ago at rehab and has been a couple since. Sarah is trying to keep strong for their son, Jake. Mitch Winehouse tweeted "Terrible news about Blake this morning. Remember Amy loved him. Lets pray for his recovery."
To get updates on his story go onto: www.nydailynews.com