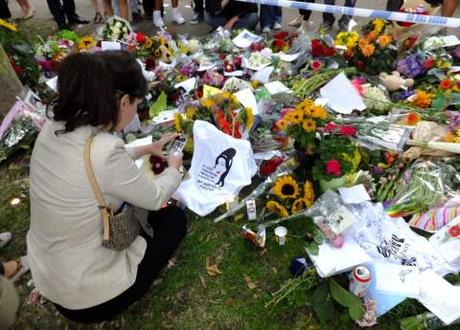 Fans pay tribute to Amy Winehouse outside her Camden Square home. Photo credit: Jon Himoff, http://www.flickr.com/photos/jhimoff/5977202001/in/photostream/
Police have not yet declared the cause of singer Amy Winehouse's death – a post-mortem was inconclusive and toxicology reports aren't expected for several weeks – but most in the commentariat are taking it as writ that her death was linked to her widely publicized struggles with drugs and alcohol.
Even as fans mourn the fallen jazz singer, her death has reignited debates over addiction and society's perception of it: Is it a disease? Is a symptom of weakness of will? And could anything have been done to save her?
Amy Winehouse's family and friends remembered the singer at a private funeral at London's Edgewarebury Cemetery on Tuesday.
Comedian and former addict Russell Brand paid tribute to Winehouse in an op-ed published in The Sun on Sunday, the day after Winehouse's death. In it, Brand argued that society must revise how it views addiction, "not as a crime or a romantic affectation but as a disease that will kill." Brand continued, "We need to review the way society treats addicts, not as criminals but as sick people in need of care. We need to look at the way our government funds rehabilitation. It is cheaper to rehabilitate an addict than to send them to prison, so criminalisation doesn't even make economic sense."
But not everyone agrees that addiction is a disease; nor do they agree on exactly how to treat it, if it is.
Despite her objections to rehab in her famous song and despite once saying, "I'm of the school of thought where, if you can't sort something out for yourself, no one can help you," Winehouse did seek treatment at many points in her career. The BBC has a timelines of her visits to rehab.
More on Amy Winehouse and addiction

Fans, world mourn Amy Winehouse's death at 27
Amy Winehouse investigated for rant during children's pantomime
Legalise heroine, says Labour MP
Alcohol more harmful than heroine, say researchers; heroine addict disagrees