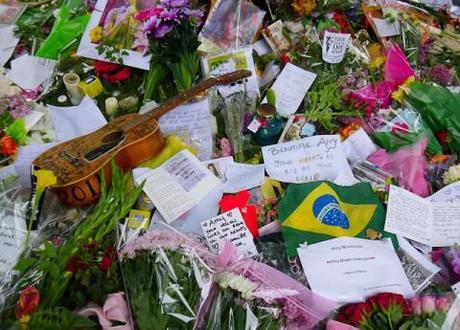 Tributes pile up for Amy Winehouse. Photocredit: AndyCunningham http://www.flickr.com/photos/cunaldo/5979749470/sizes/z/in/photostream/
The singer Amy Winehouse, who died aged 27 on July 23rd at her London home, of as yet undetermined causes, released only two albums in her short life, Frank and Back to Black. As fans mourn her, and consider her membership of the 27 Club (a round up of people who died at 27, including Jimi Hendrix), commentators consider Winehouse's influence on myriad aspects of life. Was she a towering bee-hive crested icon? Or a tottering bottle-hogging idiot? We can but wonder.
Gil Kaufman on MTV.com, said that just days after her death she's being hailed "as an iconic singer whose unique fusion of jazz, soul, R&B, girl-group swing and hip-hop swagger has inspired a whole generation of singers." Jenny Eliscu, an editor at Rolling Stone Magazine, told Kaufman: "there was a way to do a retro style the way she did it and have it sound totally modern. It had that instant-classic factor." Winehouse was a direct influence on the singer Adele, as well as on her goddaughter Dionne Bromfield. Her songs are selling fast on iTunes; her musical style will be a long-lasting part of the scene.
It wasn't just her music, said Tania Mehta on Muchmusic.com. It was also her "beehive bouffant, dramatic winged eyeliner and 50's [sic] pinup style." She championed vintage trends, inspiring Roberto Cavalli and Karl Lagerfeld, who in his 2007 collection "only hired models that looked like the singer to do justice to her distinct image." She hit the magazines hard, with shoots in Vogue Italia, Love and W magazines all inspired by her; and even collaborated with the brand Fred Perry early last year. It wasn't all lovey-dovey, though: Glamour called her the "third worst dressed British woman" and even Winehouse herself once claimed that she dressed like "an old black man." She laid the ground for the style of Lady Gaga and hip hop singer Kreayshawn: whether it's fans or designers, "the singer's influence will remain a great presence not only in music, but also in the fashion world for now, and the future."
"I'm on a tube to High Barnet. Made me think of Amy Winehouse. RIP " tweeted Judy Murray, tennis coach
Talk about influence, said Laurent Lepierres on The Chronicle Herald. Winehouse influenced a whole generation of people with her bad-girl behaviour. "While Winehouse was under the influence of alcohol, many of her fans were also under her influence." People will always want to "emulate icons, especially if they're iconoclasts." The mindless celebration of her self-destructive lifestyle is tasteless: even as her father grieved, fans danced. The 27 Club, a group of musicians and actors who die at that age, "only adds to the mystique," but there's no such thing for those "who drink like fish on Friday nights and wake up one morning in deep trouble, if not occasionally dead." All they they get is a criminal record. It's about wasted potential, and the devastating consequences of "One bad night." That sounds "like the title of a song Amy Winehouse never got a chance to write."
They tried to give me more on Winehouse, and I said, yes, yes, yes!

Five tasteless Winehouse responses
Fans, world mourn Amy Winehouse's death at 27
Amy Winehouse investigated for rant during children's pantomime
Legalise heroine, says Labour MP
Alcohol more harmful than heroine, say researchers; heroine addict disagrees