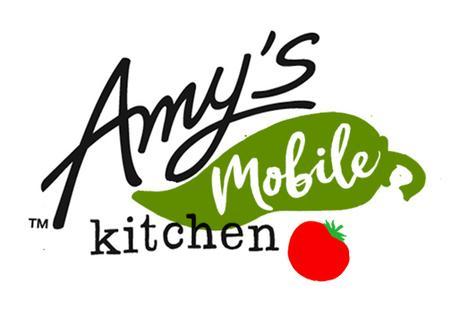 AMY'S MOBILE KITCHEN TOURS THE UK WITH HEARTY LUNCHES TO
SUPPORT CHARITABLE ORGANISATIONS
#amysmobilekitchen
For the month of February 2016, vegetarian and organic food experts Amy's bring you Amy's Mobile
Kitchen - a vintage van that will serve delicious Amy's soups and chillis across London, Manchester and
Glasgow, free to those who make a donation to local charitable organisations. The delicious & warming
soups & chillis will be accompanied by outstandingly good bread from local artisan bakeries.
The van will make its first stops in London, visiting a variety of locations from 1st – 14th February 2016.
Then it's up North to bring some vegetarian goodness to Manchester from 16th – 21st February, followed
by its final stops in Glasgow from 23rd – 28th February. The van's exact location will be announced each
day on Twitter and Instagram via @amyskitchenuk using the hashtag #amysmobilekitchen.
Using carefully selected organic ingredients, Amy's Kitchen produces vegetarian frozen meals, soups
and chillis with delicious home cooked flavor. Amy's is a company with a conscience - environmental
awareness and sustainability is at the heart of its production and contributing to community projects is
a big part of its ethos. With this in mind and in recognition of their great work, Amy's Mobile Kitchen will
be partnering with charitable organisations that are making efforts to support the young and homeless across the UK, with profits from lunch service being donated in each city. In addition, all packaging used for Amy's Mobile Kitchen will be from 100% recycled and ethically sourced materials.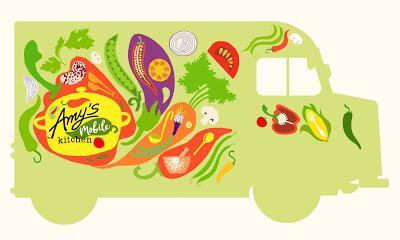 Details of charity partners in each city are below:
London: Café from Crisis - An inspirational social enterprise that provides on-the-job training and
experience for homeless people and ex offenders. http://www.crisis.org.uk/pages/-crisis-skylightlondon-cafe-62496.html
Manchester: Back On Track - A charitable organisation focused on supporting some of the most
disadvantaged in Greater Manchester through training, work experience and mentoring, helping them
to overcome major barriers and turn their lives around. http://www.backontrackmanchester.org.uk/
Glasgow: End Youth Homelessness – A national collaboration of charities and businesses across
the UK coordinated by Centrepoint who have come together to tackle youth homelessness by raising
awareness and lobbying government to make a change. http://www.eyh.org.uk/ 
Amy's tasty vegetarian soups will be available in a variety of flavours including Organic Chunky Tomato (my personal favourite), Organic Cream of Mushroom and Organic Lentil Vegetable. There will also be the option of a vegetarian medium chilli for those after something a bit heartier. Quality artisan bread will be offered from local bakeries in each city; in London delicious sourdough from The Dusty Knuckle bakery, a social enterprise aiming to help disadvantaged young people. In Manchester visitors to the van will have the chance to try some mouth-watering spicy corn bread from Lancashire bakery Artisan Food Works and Glasgow residents can sample loaves from bakery47, who regularly have fans queuing round the corner for their creations.
Also joining the Amy's family for this very special project is artist Alice Stevenson, who has previously
created illustrations for fashion designer Marc Jacobs. Alice has created a bespoke logo for Amy's
Mobile Kitchen as well as designing the bright illustrations that will adorn the van, making it impossible
to miss as it travels the UK streets.
About Amy's
Amy's is a family owned business founded by husband and wife team Andy and Rachel Berliner in 1987 and
named after their daughter Amy. It all started with a mission to create delicious vegetarian food that is full of
organic ingredients and home cooked flavour, yet quick and easy to prepare.
Every product contains certified organic ingredients and there are absolutely no additives, no MSG, no
preservatives and no GMOs. The Amy's range is a best seller in the UK and is stocked in all of the well-known supermarkets as well as independent retailers and health food stores such as Whole Foods and Planet Organic.
Amy's also caters for a variety of diets, including gluten free, dairy free and vegan so everyone can enjoy the
delicious home cooked flavor. Amy's products are all Vegetarian Society approved, and all products in their
gluten-free range hold the Coeliac UK Crossed grain Symbol Licence.
https://amyskitchen.co.uk/
https://twitter.com/amyskitchenuk
https://www.instagram.com/amyskitchenuk/
https://www.facebook.com/AmysKitchenUK