Amsterdam. Its city center is compact—almost cozy—and despite bicycles whizzing by at every turn it still manages to emit a laid back vibe. The city is certainly unique thanks to its red lights and "green" smoke, but there is so much more to Amsterdam than that.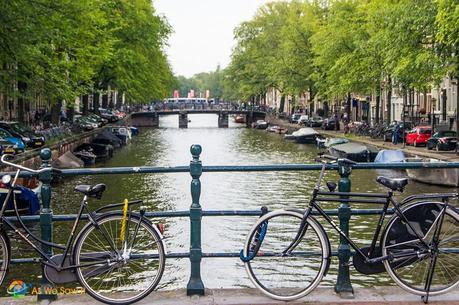 Everywhere you go, Amsterdam has rows of skinny houses, baskets of colorful Spring tulips and scads of bicycles, all near its canals.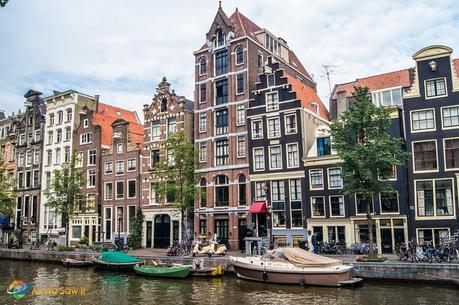 Beautiful row houses each displaying a different elevations and colors
The canals are such a historical treasure that UNESCO added Amsterdam's canal ring to its World Heritage Site list in 2010. All told, there are 165 of them, with a combined length of 100 KM (60 miles). They surround the city in concentric belts and connect to each other, making the center of Amsterdam look like a fan from overhead.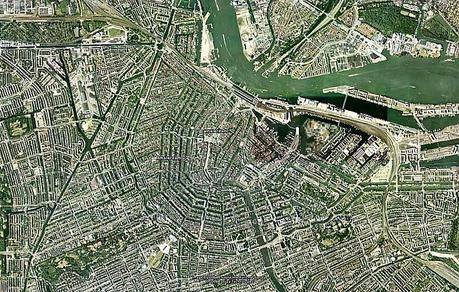 Source: http://www.astro.rug.nl/~weygaert/knawvoid.info.php
Water is essential to Amsterdam's history. The city began its life as a fishing village in the 12th century, springing up along the banks of the river Amstel. To avoid the South Sea floods they dammed the river Amstel in 1220 and before long the town was known as Amstellodamus (Dam on the Amstel). Over time its name got shortened to Amsterdam.
All of this to say, You can't see Amsterdam without experiencing its canals.
Why an Amsterdam canal cruise makes sense
Thanks to the city planners who dug them in the 17th century during the Dutch Golden Age, seeing Amsterdam on foot requires a lot of walking. A whole lot. We discovered that when we tried to cover the entire city in one day.
Read more: How to See Amsterdam in One Day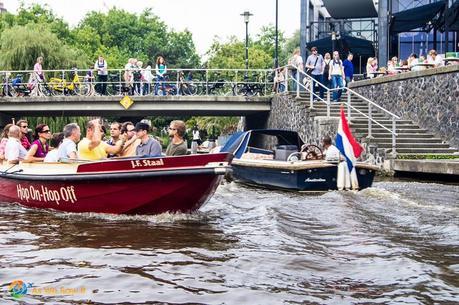 Hop-on Hop-off boat tours are a must when in Amsterdam
Many cities offer one- or two-day sightseeing tours on a hop-on/hop-off bus, and we highly recommend them for a first-time visitor. These HOHOs can be convenient because they take us to all the popular, "must see" sights quickly, and for one price.
But not here. There is no HOHO bus in Amsterdam. Instead, the city offers hop-on/hop-off boat tours.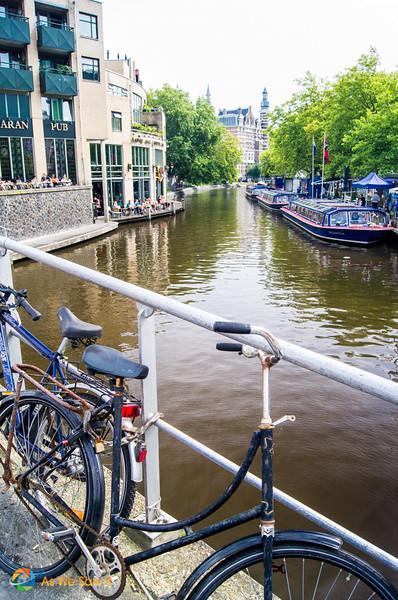 Our tour began near Hard Rock Cafe. You can see the boats on the right.
Spending hours on the water appeals to some, but for those who would prefer to walk the city, there's also the option of taking a regular canal tour of Amsterdam. That's what we did. Having experienced both London and Singapore on the river, we knew from experience that any city with this much water would look completely different from a boat.
Read more: Singapore River Cruise: See It From the Water
Looking back, that canal tour was one of the smartest things we did that day. It was an ideal introduction to the city that's often called Venice of the North … and we have the photos to prove it.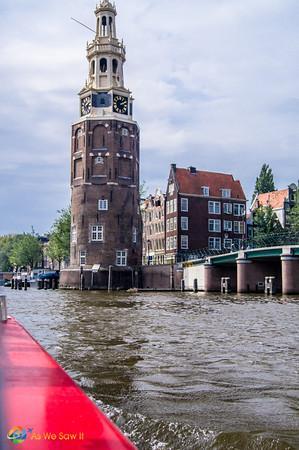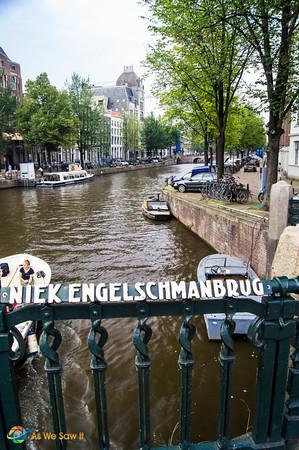 Amsterdam's bridges
Plenty of canal-filled places get compared to Italy's famous city. Amsterdam, however, far eclipses Venice in its number of bridges (1500 vs. 354). Most of the bridges in the center of town are so low that only smaller boats can fit underneath.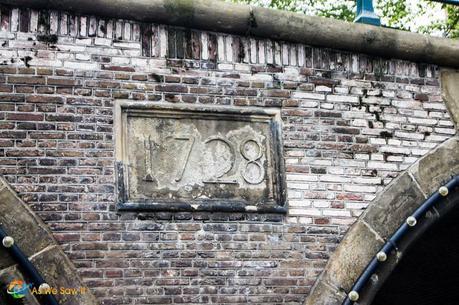 Guess when this bridge was built?
Taller vessels need to use the larger waterways, where the bridges are able to open to let ships through. Speaking of which, in Amsterdam 'the bridge was open' is a valid excuse for being late for work.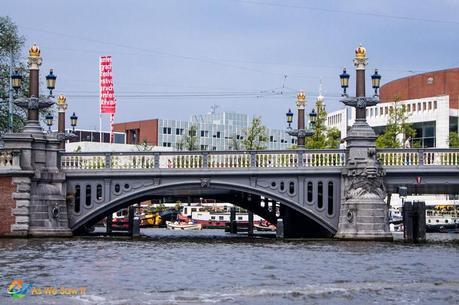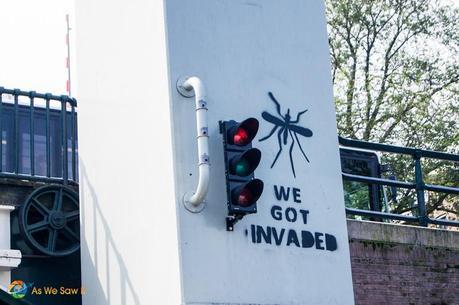 Passing underneath a bridge, we got proof that the Dutch have a good sense of humor
Crooked houses
Looming overhead and leaning toward the water, the tall and skinny houses that line its canals are as much a part of Amsterdam as bicycles and canal boats. As nice and neat as they might look from the sidewalk, they don't look quite as tidy near the roof line. The perspective changes at water level, where you can see how jumbled and messy they are at the top, sticking out every which way.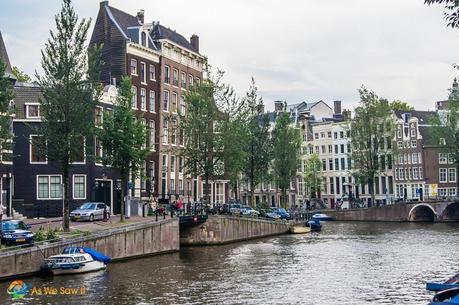 Building tall and skinny homes made sense back in the day because they take up less space (lower land tax, more per square kilometer), and it was more practical to have high floors in a canal-filled city prone to flooding. There is a problem with tight and narrow houses like these though: They also have tight and narrow staircases. It didn't take long until they figured out that it was impossible to get their furniture to the upper floors.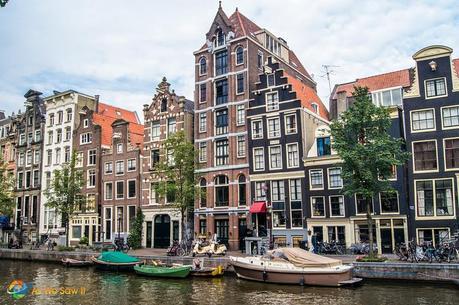 So how did the Dutch solve the problem? Brilliantly! They get their goods to the upper floors from the outside! Look carefully and you'll see that every house has a large arm and hook protruding from just below the peak of the roof. Items can be tied to this hook and pulled upstairs through the window.
This explains why houses have a deliberate forward tilt: It reduces the risk of scraping the furniture on the façade on the way up. Or accidentally breaking a window. What a mess that would create!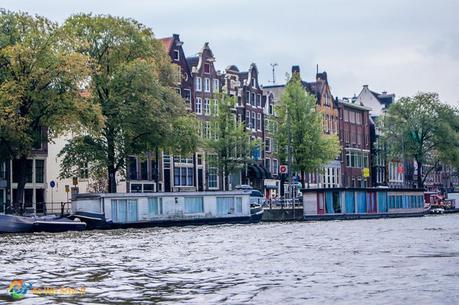 Houses lean towards many of the canals due to weakening foundations
Some of Amsterdam's houses also lean because of problems with the foundation or the ground underneath. They have installed black braces on the front to help stabilize them.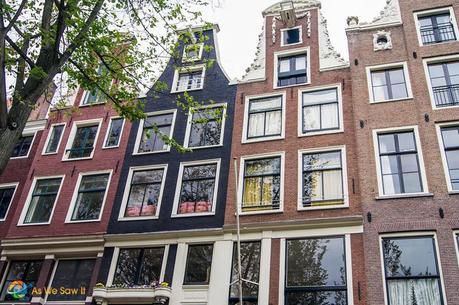 Houseboats everywhere
Many of the canals we passed had houseboats moored on their banks. Our tour guide told us that many have been around for more than a century. Most are residential homes, but not all. Some houseboats have been converted to hotels, others are available as short-term rentals, and there is even a Houseboat Museum if you just want to see what one looks like inside.
Tip: Instead of staying at a hotel, rent a houseboat in Amsterdam through Airbnb. Click here to register through our referral link and get a $25 credit toward your first stay.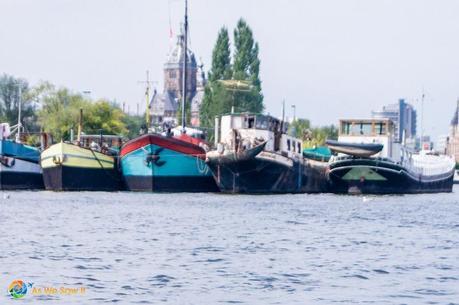 Because of how affordable they are (as compared to houses) houseboats quickly become very popular options. At one point the canals became so crowded with houseboats that Amsterdam finally passed a law requiring a mooring permit, then limited the number of permits. Today there are around 2500 houseboats in the city.
Those houseboats could have become an eyesore but Amsterdam has a law that wood houseboats need to be repainted every three years. To get around this law most of the newer ones are made of concrete.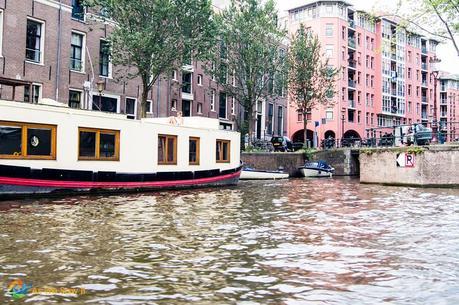 Get more information
iAmsterdam's guide: Canal Cruising: On the Water in Amsterdam
The canal cruise guide on Amsterdam.info gives a roundup of tour options, including private tours.
Our How to See Amsterdam in One Day itinerary is a first-hand example of how to fit a canal cruise into a short visit.
---

The United Nations Educational, Scientific and Cultural Organization (UNESCO) has designated certain places in the world as of outstanding cultural or natural importance to humanity. Read more about why the Amsterdam Canals are a UNESCO Site on their website. Or if you prefer, you can read about our own visits to various UNESCO World Heritage Sites.