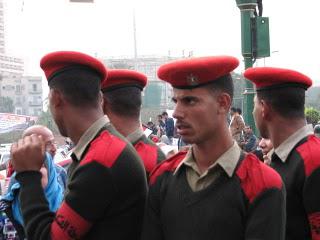 Military observe and control a protest in Tahrir Square, Cairo.
Photo Credit, the author.   
I have spent quite a bit of time writing about the detention of American University in Cairo Law Professor Amr El Shalakany. Shalakany was arrested and detained at a police station. He was charged with being drunk in public, and slandering a police officer. He was later charged with inciting a riot, damaging public property, and attempting to escape. He was handed over to a military prosecutor's office. Shalakany was released after paying a bail of 100 pounds, and a case of slandering a police officer is still pending against him.
One reason I have paid attention to the matter is that I know Shalakany a little bit. He works on my floor, in my building.  There, but for the grace of God go I, and all of that. Another reason I have been following his case is that he found himself in a situation that many everyday Egyptians have found themselves in. Namely, he had a run in with the military, and it ended badly.
Luckily for Shalakany, he is a prominent lawyer, from a family of prominent lawyers, who teaches at a prominent university, and has prominent friends. Al Jazeera states that Shalakany was released because of an "honest military prosecutor." However, a more cynical analyst, (i.e. me), might suggest that he was released because holding him was a lot more trouble to the SCAF than he was actually worth. Regardless of why he was released, we are very happy for him. I suggest we celebrate his release by reflecting upon how the series of unfortunate events he just experienced gives us an insight into military detentions in Egypt.
Let us begin our discussion with reference to one of my favorite documents, the Universal Declaration of Human Rights. This crucial document was passed on December 10, 1948. Since Egypt is in the middle of a "revolution," the country has a chance to reconsider its laws and government, and really rearrange and rebuild its institutions and organizations. Accordingly,  reference to core documents such as the Declaration is important during this period.
A few different articles of the UNDH are relevant to this discussion. Article 5 states that "No one shall be subjected to torture or to cruel, inhuman or degrading treatment or punishment." Article 9 states that "No one shall be subjected to arbitrary arrest, detention or exile." Article 10 states that "Everyone is entitled in full equality to a fair and public hearing by an independent and impartial tribunal, in the determination of his rights and obligations and of any criminal charge against him." A strong argument can be made that the Egyptian military has routinely violated all three of these provisions since January 25th, 2011.
First of all, the military and the "government," have passed a law declaring that "calling for or participating in protests that disrupt business or involve violence while the emergency law is in effect," is a crime punishable by up to a year in jail, and a fine of LE 500,000.  (Al Masry Al Youm, "Demonstrators Denounce Protest Ban, Call for More Reforms, March 28, 2011) This law is carte blanche for illegal detentions in my view, in addition to being an unnecessary constraint on the freedom of the people to peaceably assemble (another right protected by the UNDH). The Emergency Law remains in effect in Egypt. This law has been in force for the past 30 years, and according to Jano Charbel, is to remain in effect until parliamentary elections are held. (Al Masry Al Youm, Jano Charbel. "Activists Denounce New Law Criminalizing Protests," March 24, 2011) As Karam Saber of the Land Center for Human Rights has noted, it is not clear how to determine whether strikes and protests disrupt the economy. In addition, it is unknown if protesters will be subject to military tribunals, and it is unknown if their sentences can be appealed.
According to Ahmed Maher, a co-founder of the April 6 Youth Movement, the SCAF has become increasingly "opaque and unaccountable." (AlJazeera.net, Evan Hill, "Egypt's Youth Leaders Vow Continued Protests," April 7, 2011).  Hill reports that Egyptian military police have been accused of baseless arrests, abuse and torture, summary trials, and illegal detentions. (Ibid at 2). A recent report by Hill notes that the Egyptian army has subjected thousands of ordinary Egyptians "to incommunicado detentions, trials and sentencings in front of military courts that provide little or no due process. Soldiers have . . . beaten activists with metal bars, ropes and electrified batons." (AlJazeera.net, Evan Hill, "Egypt's Crackdown now wears camouflage," May 20, 2011)
The Egyptian Army may be holding as many as 10,000 people (Ibid, Hill 2). After a church attack in early May, the army detained more than 190 people, and said they will face military trials as a deterrent against further violence.("Egypt Christians Protest in Cairo after Church Attack," BBC News, May 9, 2011)  Although the violence against Christians must be strongly condemned, we must also condemn summary justice and sham trials. On its Facebook Page, the Egyptian Army announced that the SCAF will send all 190 persons arrested to the Supreme Military Court.
Human Rights Watch has asked that the Egyptian military immediately end trials of civilians before military courts and release all those arbitrarily detained or convicted after unfair proceedings. (Human Rights Watch, "Egypt: Military Trials Usurp Justice System, April 29, 2011.) Human Rights Watch points out that the SCAF has tried more than 5000 civilians before military tribunals since February, including many arrested following peaceful protests in Tahrir and elsewhere. These military trials of civilians "constitute wholesale violations of basic fair trial rights," according to HRW. Ironically, senior officials of Mubarak's governments are being tried in civilian courts. The trials are taking place under the Code of Military Justice. (Ibid, HRW). Over the past several months, civilians have been sentenced to prison terms ranging from six months to seven years, with some receiving sentences ranging from 25 years to life imprisonment.
Writing in April, Mohamed Elmeshad noted that "activists and analysts are questioning the ruling military council's decision-making process and challenging the military on frequent allegations of human rights abuses." (Al Masry Al Youm, Mohamed Elmeshad, "Military's Performance raises questions on the way forward"). Elmeshad quotes a prisoner, Hany Adel, who claims to have beaten for seven hours straight. Further, women prisoners have allegedly been subjected to "virginity tests," a form of torture. (Amnesty International, Egyptian Women Protesters Forced to Take "Virginity Tests") Further, blogger Michael Nabil has been imprisoned for criticizing the SCAF.( Pen International, Blogger Michael Nabil Sentenced to three years in prison) 
There is mounting evidence that illegal detentions and unfair trials are occurring in Egypt, in violation of international human rights guidelines. Let us all-- as scholars, activists, journalists and citizens-- deplore the series of unfortunate events which Dr. Shalakany was subjected to. Let us take his case as a call to oppose illegal detentions, and summary military trials in Egypt. WMB
I would like to thank my colleague Joe Hill,, who has done a good job of keeping me up to date on the topic of military detentions.