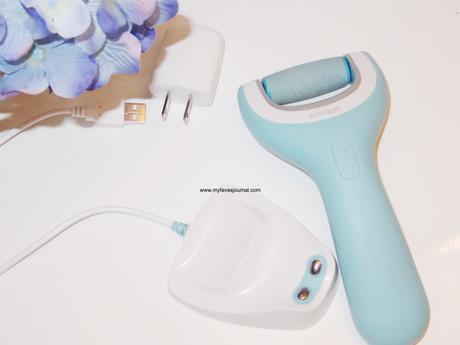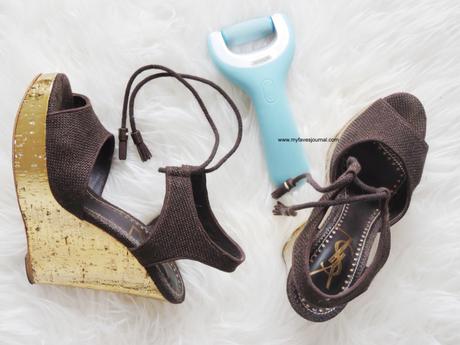 As you might have heard me say before, I really love a good spa day! But lately, I've learned to do a little maintenance here and there on my own. So, for those times when I'm forced to skip a professional pedicure, Amopé™ is my savior. This little gadget is amazing! Listen, I'm one those skeptics who doesn't trust informercials or those impulse gadgets near the checkout aisle at the local pharmacy, but Amopé™Pedi Perfect Wet & Dry Rechargeable Foot File is a legitimate score.
This rechargeable pedicure tool is quite effective at removing dry and calloused skin within seconds. Amopé™ is really easy to add to your beauty routine since you can either use it in the shower or buff away while your feet are dry. If you have sensitive skin, the device has two speeds, so you can opt for a more gentle scrub. The roller heads are perfectly coarse, providing ample friction at either high or low settings. This is such a great tool for at-home pedicures! While I love giving my hubby a pedi every now and then, I like that he can easily share the device with me just by changing the roller head. The device is cordless and rechargeable, which is a huge bonus in my book! No need to replace pricey batteries every other week :). Ladies, summer is coming and it's time to up your foot beauty routine.
Have you tried Amopé™? Did you like it? What do you use for dry skin on your feet?
Facebook | Instagram | Twitter | bloglovin' | Pinterest
Sponsored Post

Filed under: Award, Beauty, Beauty Brands We Love, Gift Ideas, Living, Nails