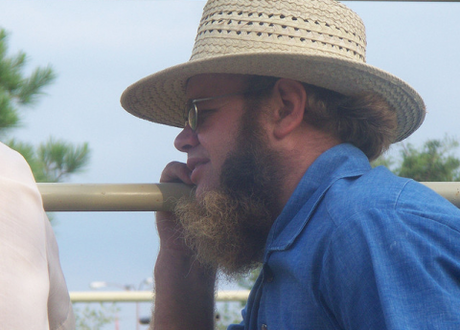 An Amish man. Photocredit: Geoffrey Makepeace.
The background
16 Amish people stand accused of hate crime, after cutting the hair and beards of their rivals. An Ohio jury is currently deliberating the matter, reported the BBC. A breakawy group led by someone called Samuel Mullet is said to have led the attack: its import lies in the fact that uncut hair is an Amish symbol of faith – they believe that women should wear long hair, and that men should stop shaving after marriage. Those accused stand to serve long terms in prison if they are convicted. Prosecutors argue that Mullet orchestrated the attacks on another Amish group, since after every attack, those responsible went to see him, even once arriving with a bag stuffed with hair.
Mullett is the spiritual leader of a community of Amish in Bergholz, which lies about a hundred miles from Cleveland. Mullet had ordered some members of his community to be excommunicated; a conclave of bishops ordered his decision overturned. Mullet, said Cleveland.com, was "furious at the rebuke," and the beard-cuttings are thought to be the result of that. The defence claim that religion has nothing to do with the attacks.
What's going on?
Prosecutors say that the defendants planned at least five attacks in which Amish men's beards and women's hair was cut off. Nobody is denying that the hair-cutting took place; only that it doesn't amount to a hate crime. Witnesses include the son of an Amish bishop. Sam Mullett denies that he ordered the hair cuttings, but said that he didn't prevent anyone from doing it. A prosecution witness, Barbara Yoder, said that she'd overheard people talking about the attacks, and that she'd heard some people planning them.
Chicken coops
The Mail went all out on the "sordid" details of Samuel Mullet's life. Apparently, his daughter in law claims that he regularly seduced her and various other women, even fathering children with them. He is also meant to have made his followers perform "bizarre acts of penance", including making people live in a chicken coop.
An act of love
Mercury News said that prosecutors alleged that the Amish thought they were "above the law because of their religious beliefs." Sam Mullet thought that "government should stay out of the dispute." The site added that the defendants claim that the hair cutting was an act of love.
Not everything immoral is a federal case
An opinion piece by Noah Feldman on The Sun Journal said that "Beard-cutting is repugnant and wrong. But it's a mistake to make everything immoral into a federal case."