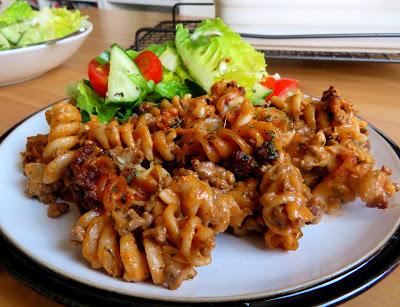 What is it about Amish food and cooking that intrigues us so much.  I have been interested in and collected Amish recipes for most of my adult life.  Amish Country Casserole.  Just the name makes you want to cook it.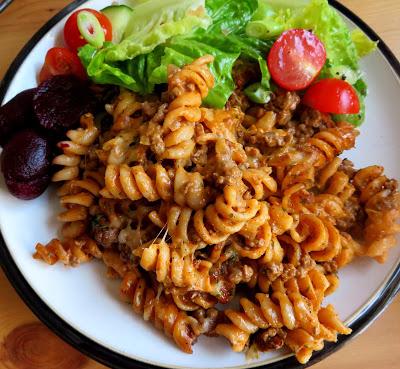 When you look at it, you think to yourself . . .  I'll have me some of that please!  And yet  . . .  there is absolutely nothing elaborate about this dish.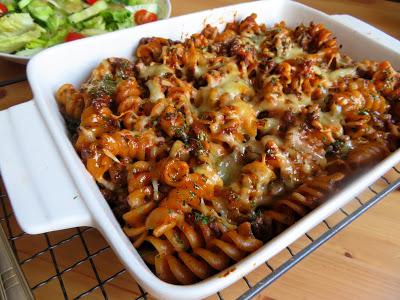 Just like the Amish, it is simple  . . .  country-fied  . . . plain-jane cooking.  And yet . . .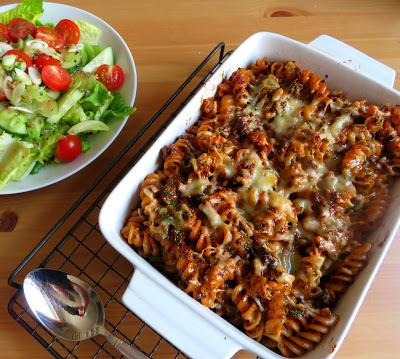 the flavours are amazing!  There is nothing out of the ordinary here. No bells and whistles.  Its just pasta, ground beef, seasoning and tinned soups . . .  condensed tomato and mushroom.  A kitchen staple for those of us who are not cooking snobs. These things have their place.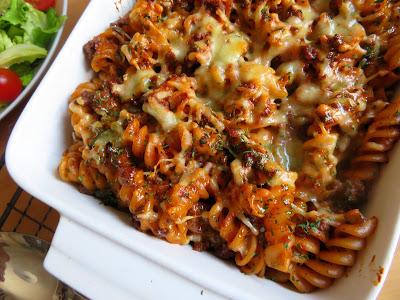 I'm 65 years old (next month) and eating them hasn't killed me yet. Just sayin'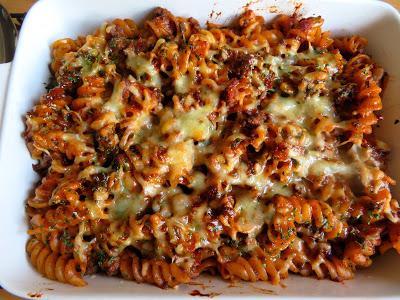 I used whole wheat fusilli  . . .  my homage to healthier . . .  and extra lean ground steak. It just tastes better to me. I like it. This I can tolerate mixed into things. Regular ground beef is a no-go for me.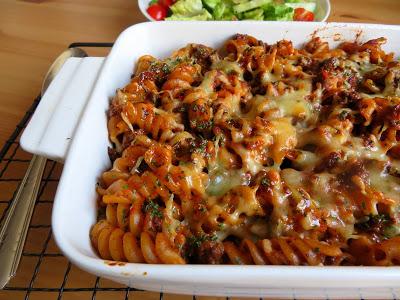 Go to your butcher and ask for ground steak, and he will grind it right there in front of you. You know it came from only one animal . . .  not a bazillion.  Provenance is everything, and chances are its even organic.  At least it is at my butchers. We never eat supermarket meat anymore if we can help it.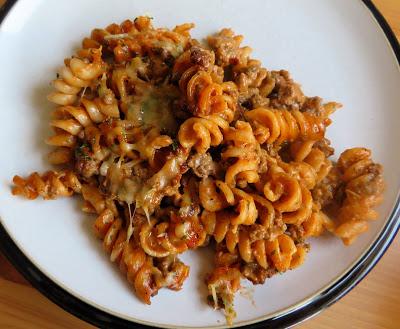 I did tweak it a bit, using seasoned pepper rather than plain pepper. I make my own, from scratch. It lasts a long time if you store it in a jar and keep it in a dark place.  You can
find that recipe here
.  Its really good.  Its like seasoning salt, but it's not salt, its pepper.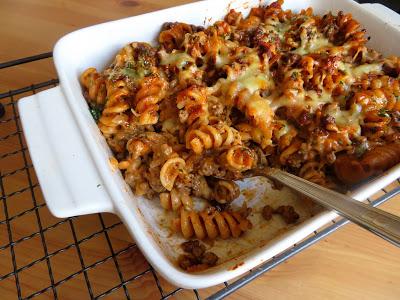 I did take liberties and threw a handful of cheese on top before baking this.  I thought the cheese might soften the blow from Todd having to eat pasta.  He did not grumble, and actually said to me . . .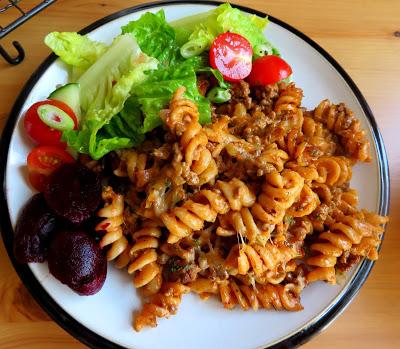 For pasta, this tastes really good!  Consider that a HUGE compliment. He even went back for more.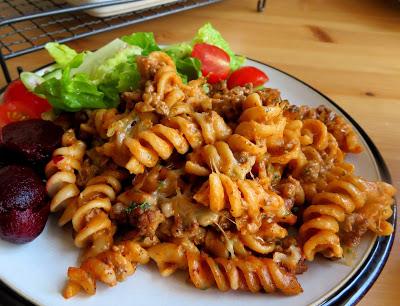 I served it simply with some sweet chili pickled beetroot and a salad . .  .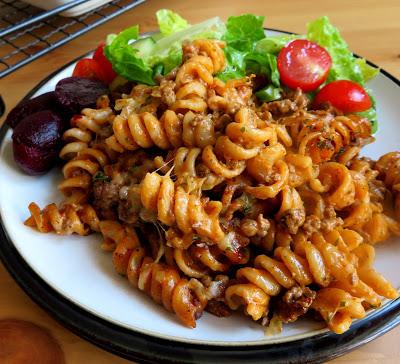 The extra soup that I did not need for the recipe, (No smaller cans here in the UK) I scooped it into a small plastic container and froze it for use another time.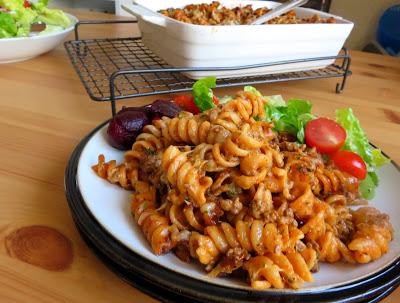 It will not go to waste.  Oh, and I added some garlic to the beef when I was browning it.  I like garlic, and find that it goes well in most savoury dishes . . .  and especially with beef and pasta . . .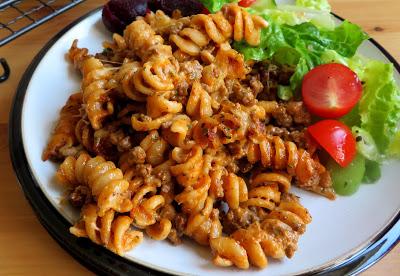 So the Amish  . . .  horse and buggy people.  All respect to them and to the Mennonites.  They work really hard and live simple lives.  Simple food is what they do best.  I havve never eaten an Amish meal that I did not love.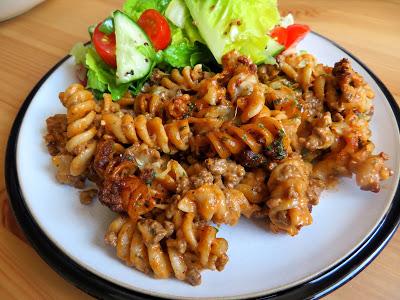 Including this one. I guarantee you will love it too . . . seriously.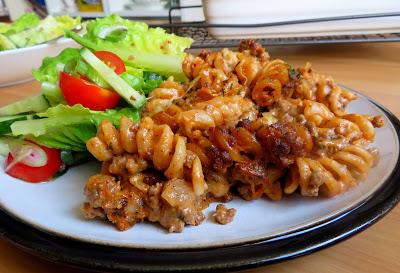 I downsized the recipe for just us, but you can easily double it to feed more.  Its very popular a pot-lucks and covered-dish suppers!   
Amish Country Casserole (smaller batch)
Print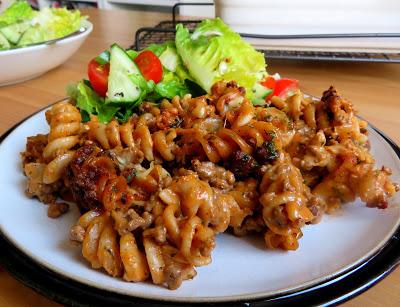 Yield: Serves 4
Author:
Marie Rayner
prep time: 10 M
cook time: 35 M
total time: 45 M
Cheap and cheerful for the smaller family. Those Amish sure know how to cook. Simple ingredients done incredibly well with no bells and whistles.
Ingredients:
250g pasta twists (8 ounces) (I used whole wheat fusilli)
1/2 TBS oil
1 medium onion, peeled and chopped
1 tsp minced garlic
375g  extra lean ground steak (3/4 pound)
1/2  can of condensed tomato soup
1/2 can condensed mushroom soup (Pop the soup you don't use into a plastic container and freeze for another time. Nothing will be wasted.)
120ml whole milk (1/2 cup)
1/2 tsp seasoned pepper
1/4 tsp salt
1/4 tsp paprika and 1/4 tsp parsley to sprinkle on top
a handful of your favorite cheese, grated to sprinkle on top (optional)
Instructions:
Preheat the oven to 180*C/350*F/ gas mark 4.  Butter a 7 by 11 casserole dish. Set aside.
Bring a large pot of lightly salted water to the boil. Cook the pasta in the water, according to package directions. Drain well, rinse and drain again.
Heat the oil in a skillet. Add the onion and cook, without colouring, until softened.  Crumble in the ground beef, and scramble fry until golden.  Add the garlic and cook a further couple minutes. Season with the seasoned pepper and salt.  Stir in both soups and the milk.  Add the cooked pasta, combine all well together. Spoon into the prepared baking dish.  Sprinkle with the paprika and parsley.  Scatter some cheese over top, if using.
Bake in the preheated oven for 25 to 30 minutes, until heated through.  Serve hot.
Did you make this recipe?
Tag @marierayner5530 on instagram and hashtag it #EnglishKitchenCreated using
The Recipes Generator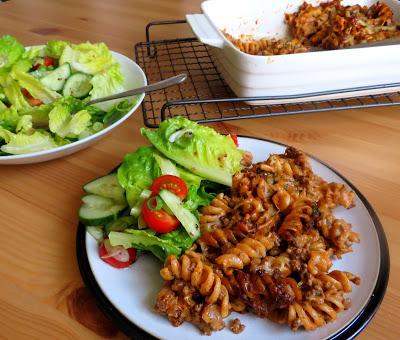 What is your favorite Amish/Mennonite meal/recipe?  I really want to know! This is excellent, but I do have a certain fondness for the Oven Fried Chicken in Cooking from Quilt Country by Marcia Adams . . .  loaded with calories, but for a once in a bluemoon treat, it can't be beat! 

Follow my blog with Bloglovin