Friday night in my house is movie night.  Following dinner, we serve popcorn and candy on a blanket in the living room, picnic style.  Lately I've been thinking about how I can get away from the candy intake during movie night.  Emma usually asks for marshmallows and gummy candy, but because I'm not a fan of the ingredients that those candies are made of, I've been thinking of alternative options.  The thought of carmel popcorn came to mind this morning as I was boiling the chicken for Italian Chicken Soup.  I began to gather my ingredients, and realized that I didn't have any corn syrup (which I'm not a fan of either).  Instead, I decided to make a simple syrup to replace the corn syrup.  This carmel popcorn is absolutely delicious, and the whole family will LOVE it!!!  Are you ready to make some Amish Carmel Corn?  Let's do this!!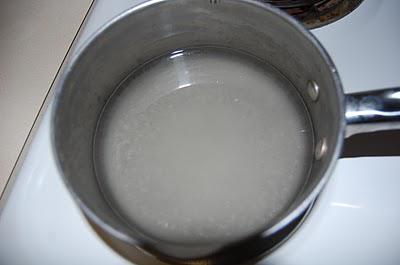 Begin by gathering your ingredients for your simple syrup if you decide to replace the corn syrup with it.  Pour 1 c. of sugar, and 1 c. of water into a small pot.  Boil until the sugar is dissolved.  Take syrup off of the heat and set aside.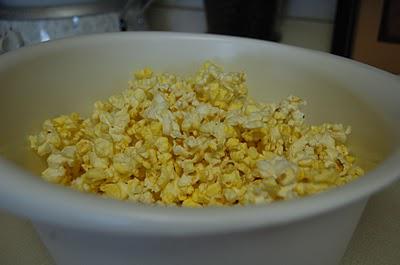 Up next, turn your oven on at 325 degrees F.  Now you're going to pop 3 bags of microwave popcorn.  I used buttered popcorn, but you can use whatever kind you'd like.  It all works great!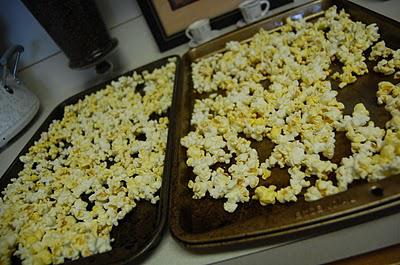 Once the popcorn is done, pour an even amount onto 2 greased baking sheets.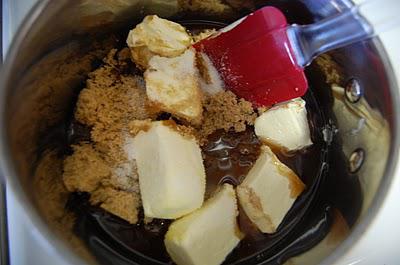 In a medium pot, combine 1 c. butter or margarine, 2 c. brown sugar, 1/2 c. simple syrup or corn syrup, and 1 tsp. salt.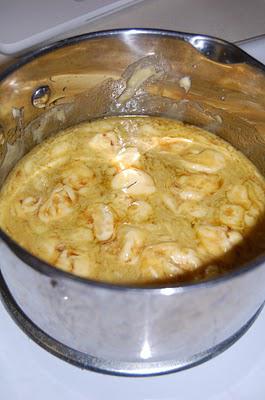 Over medium heat, bring your mixture to a boil, stirring constantly for 5 minutes (during boiling period).After the 5 minutes is up, remove from heat immediately.  Add 1tsp. vanilla, 1/2 tsp. baking soda and stir.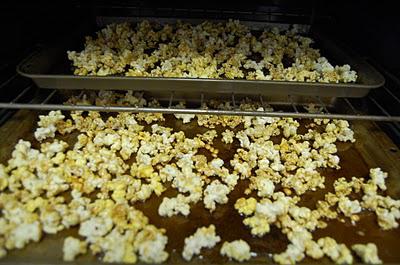 Immediately pour your syrup evenly over the 2 baking sheets of popcorn.  Toss popcorn with a spatula to evenly coat.  Place your baking sheets into the oven for 1 hour.  Every 15 to 20 min., give your baking sheets a light shake to make sure the popcorn is evenly cooking.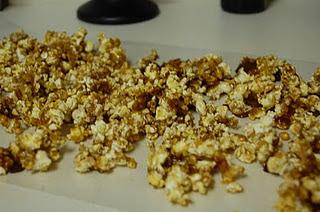 While the corn is baking, take this opportunity to set wax paper out on your counter.  Once the corn is done, pour it out onto the wax paper, and allow to cool completely.  Store in an airtight container, or in Ziploc baggies.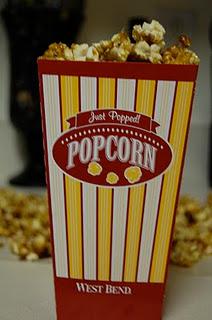 A great idea if you're serving this to the wee ones: Buy a couple of the pop corn boxes like they serve at the circus or the theatre, and dish it up.  My girls love this, and it makes a great memory!  Enjoy!!!
Here's the recipe:
Ingredients
7 quarts plain or buttered popped popcorn
2 cups dry roasted peanuts (optional, I didn't use them)
2 cups brown sugar
1/2 cup light corn syrup or simple syrup
1 teaspoon salt
1 cup margarine
1/2 teaspoon baking soda
1 teaspoon vanilla extract
Ingredients for Simple Syrup
1 cup white sugar
1 cup water