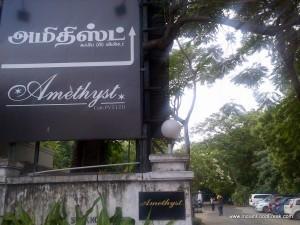 If you prefer having your coffee while experiencing the 'Opulence of Nature' around you, if you're on a first date and wouldn't want to be disturbed till you're bored of each other, if you're one of those who likes to take a 'puff between every sip', if you're a lover of solace and a sequestered space, then Amethyst is the apt place.
I have been not just a customer, but an ardent fan of the Amethyst experience from the time it was operating out of a French Colonial style property in Gopalapuram, and when it moved to its bigger and more sprawling setup on Whites Road, it just added to my delight. More than the menu, the motivation to visit this Café has always been its lush greenness and its ability to mentally relax me the moment I just walk in. The main building is a conversion out of sugar mill, which now houses a boutique, a florist and the restaurant itself, all tastefully redone, with the aesthetics giving us the feel of being in a traditional Mediterranean coffee house.
However, the café's relocation to the old sugar mill and the estate surrounding it has brought with itself quite a few remarkable additions, apart from the increase in its area. The menu has grown substantially to include many new hot as well as cold beverages (both coffee and non-coffee based). The additions also include a variety of Italian and Continental dishes, which make it a good dinner option too.
My all-time favorite and the most regular order at Amethyst has been the Irish coffee, which I would rate as the best Irish coffee I have ever tasted, including in India and the Middle East. During my previous visit my friend and I happened to try out something new viz. Lemon Barley Soda and Blue Cheese and Pear Salad. The drink wasn't disappointing while the Salad was outstanding, both visually as well as in satisfying my taste buds. The pricing though is on the higher side with the Irish coffee priced at Rs150/-, the Lemon Barley Soda costing Rs155/- and the salad at a not so cool Rs275/-. Since as of now, this is the only café offering such an ambience and atmosphere in the city, it should be able to pull it off with this pricing, at least till someone else offers a similar experience.
The service can be better, given the fact that the restaurant clearly has placed itself in the premium category, and it is lackluster especially when you want to know the details of the dish you're ordering. Another big let-down was when I asked the staff for permission to click some pictures since I wanted to use them for a review. I was made to talk to three levels of their personnel to explain why I need the pictures, but with no positive outcome.  To add to my discontent, while I was talking to so many people seeking permission, a lady of Far-Eastern origin (probably Japanese or Korean) walks past me, and starts clicking pictures of the place, that too with the consent of the staff.
Since Amethyst still remains my favorite hangout in town, I would suggest it for those seeking an undisturbed rendezvous.
Ratings (out of 5)
Food: 3.5 | Ambience: 4.0 | Service: 2.5 | Overall: 3.5
Alcohol: No | Credit Card: Yes | Meal for two: 2,000/-
Address: Amethyst Cafe, Entrance, Next to Corporation Bank, Whites Road, Royapettah, Chennai-600 014 | Telephone: 044-45991633/34/35
- Aamir Rahman