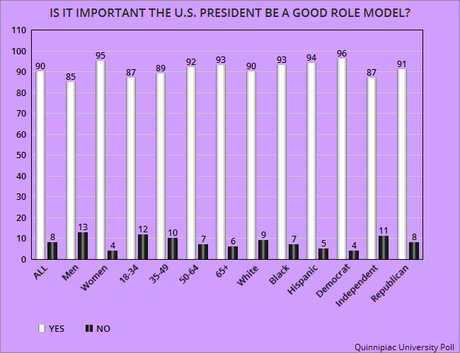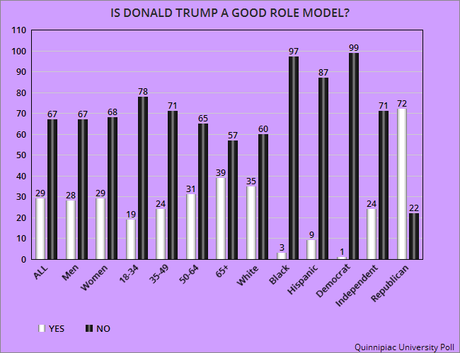 Americans overwhelmingly believe the president of this country should be a good role model for children. They think their children should want to emulate the holder of that office. But sadly, most Americans don't want their children to emulate Donald Trump.
While 97% say the president should be a good role model (and 8% say that's not necessary), about 67% say Trump is not a good role model (while 29% think he is). That 29% is made up of Republicans -- where 72% say he is a good role model and 22% say he is not. All other demographic groups have statistically significant majorities believing Trump is NOT a good role model.
Frankly, I am shocked that even Republicans would think Trump is a good role model. It certainly doesn't speak well of their party or their values. Do they really want their children emulating a racist, a xenophobe, a misogynist, a homophobe, and a serial adulterer? Or are they just willing to toss their own values in the trash to retain power?
The charts above reflect the results of a new Quinnipiac University Poll -- done between January 19th and 23rd of a random national sample of 1,245 voters, with a 3.3 point margin of error.