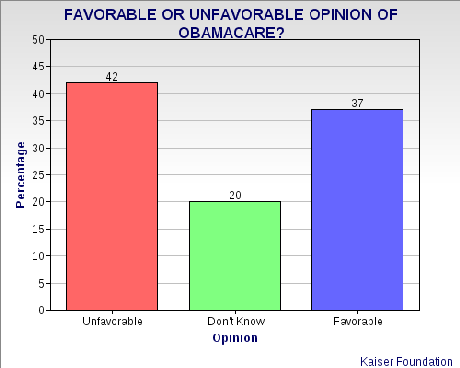 The ultra-right-wing Republicans in the House and Senate think they have a winning issue in their opposition to the Affordable Care Act (Obamacare). They seem to believe that most Americans are opposed to the reform that Obamacare brings, and will support their threats to shut down the government unless it is defunded. They are wrong.
A new survey was done on public attitudes toward Obamacare by the Kaiser Foundation. They polled 1,503 nationwide adults between August 13th and 19th -- and their survey has a margin of error of 3 points. The Republicans need to take a hard look at this bipartisan survey, because it shows they are in the minority in their opposition to Obamacare and in their desire to defund it.
First, the survey shows that there are not a majority of Americans opposed to Obamacare. About 37% favor the program, and another 20% haven't made up their minds about it. Only a plurality (about 42%) say they have an unfavorable opinion of Obamacare -- and a significant chunk of those people are liberals like myself, who just think Obamacare didn't go nearly far enough. This group doesn't want to defund or repeal Obamacare, but to make it stronger (perhaps with a single-payer government-run system, like Medicare for all citizens).
And most Americans do not like the idea of defunding Obamacare. About 57% of the general population say they would be opposed to that (while only 36% like the idea). The only group with a majority wanting to defund Obamacare is the Republican demographic (and fully 1/3 of them, about 34%, would be opposed to defunding Obamacare).
As a progressive, I hope the Republicans follow through on their effort to either defund Obamacare or shut down the government. That's because doing either would anger a significant majority of Americans (and undoubtably hurt them at the polls in 2014).
Another interesting part of the survey shows there is still a lot of misinformation and lies about Obamacare being spread. About 13% think Obamacare is no longer a law (with 8% thinking it was repealed by Congress and 5% thinking the Supreme Court overturned it), and another 31% say they don't know if it is still the law or not. That's rather sad, that at this late date so many don't know Obamacare is the law -- and is being implemented on a step-by-step basis.