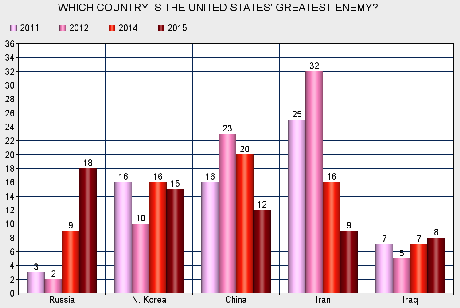 Since the break-up of the Soviet Union, the American public has had a much more benign view of Russia. Note in the above chart that as late as 2011 and 2012 very few people saw Russia as the greatest enemy anymore (only 2%-3%).
But that was before the invasions of Georgia and the Ukraine. Those invasions have made Americans think twice about Russia -- and the view of them as our greatest enemy has grown -- to 9% in 2014 and to 18% in 2015. That 18% is higher than any other country (including China, North Korea, and Iran -- the countries that have topped the list in previous years).
The chart was made from a Gallup Poll -- done between February 8th and 11th of a random national sample of 837 adults, with a margin of error of about 4 points.