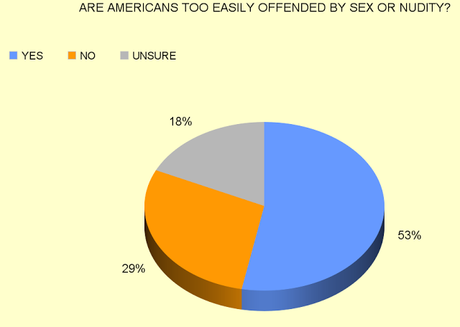 Are most Americans prudes, or are ideas toward sex and nudity becoming more liberal. At first glance, the top chart seems to suggest that most Americans remain prudish. But that is the opinion of a majority (53%), and that suggests a majority in this country have more liberal views toward sex and nudity.
And the charts below would seem to back that up. Note that only 26% (or about a quarter of the population thinks nudity should be discouraged, while 66% think it should be encouraged (12%) or should neither be discouraged or encouraged (54%). That's a pretty liberal attitude.
And the next three charts show that liberal attitude extends to sex. The survey asked what respondents thought should be the punishment for nudity or sex in public. A whopping 80% of Americans said a woman exposing her breasts should be given only a ticket (34%) or not be punished at all (46%). About 52% said a man exposing his genitals should be given only a ticket (43%) or not punished (9%). And a 55% majority said those having sex in a public place should only receive a ticket (43%) or not be punished at all (14%). Only very tiny percentages said those things should be punished by probation or prison.
But perhaps the most surprising part of this survey is revealed in the bottom chart. People were asked if they had ever had sex in a public place, and 36% (more than a third) said they had done so. One group (the Baby Boomers) even had more people saying yes than said no. That might be due to the "free love" era of the 1960s and 1970s.
I was pleasantly surprised by this survey. While many Americans remain prudes (frightened by sex and nudity), many more are not. Our society certainly is not as prudish as it once was (just a few decades ago).
All of these charts were made from a recent YouGov Poll -- done between May 5th and 7th of a random national sample of 1,000 adults, with a 3.9 point margin of error.