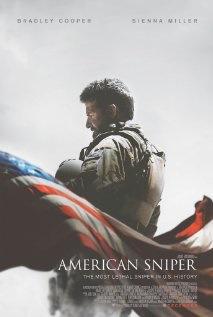 Director: Clint Eastwood
Writer: Jason Hall (Screenplay) Chris Kyle, Scott McEwen, James Defelice (Book)
Starring: Bradley Cooper, Kyle Gallner, Ben Reed, Elise Robertson, Try Vincent, Keir O'Donnell, Sienna Miller, Eric Ladin
Plot: Navy SEAL sniper Chris Kyle's pinpoint accuracy saves countless lives on the battlefield and turns him into a legend. Back home to his wife and kids after four tours of duty, however, Chris finds that it is the war he can't leave behind.
There may be spoilers the rest of the review
Verdict: Slow, but Respectful Biopic
Story: American Sniper starts with Sniper Chris Kyle (Cooper) on a mission in Iraq, he picks up on a child carrying a grenade and has to make the important decision. We flashback to see Chris' childhood where he was taught to shot by his father Wayne (Reed). Chris travels around as a rodeo before joining in the US Army. We follow as Chris starts a romance with Taya (Miller) while being trained as a sniper.
We watch how Chris and Taya witness the Twin Towers fall before learn that Chris will have to go into combat, we watch as Chris has to take out the threats on the soldiers with his sniper. Following Chris as he fights to survive while Taya keeps him updated with his unborn child. After Chris returns home we see the effects of war are starting to catching up with Chris changing how he reacts in his life, but he does make it home to be with his new born child.
Chris starts to become distant but Chris has to return to the front for his Second Tour. Chris is determined to catch 'The Butcher' and on this second tour he gets the chance to build a team to track down the man who is keeping the Iraqi people in fear. We continue to watch between his four tours of duty and time home as his legend continues to be built up.
American Sniper is a film that I have to first say I have the utmost respect for Chris Kyle and everything he did in his life. I would never have heard enough about the sniper legend without this story. Having said all of that I did find this film incredible slow paced and very repetitive. I only found the final tour attack and aftermath enjoyed because it finally showed the effects of the tours on Chris. I felt that too much of the film was based on Iraq and we needed to see more of the returning side. Overall I found this a very slow biopic that does respect the legend but just doesn't make his story the most entertaining. (5/10)
Actor Review
Bradley Cooper: Chris Kyle is the famous sniper who has massed up countless kills making him a legend to the American people, we watch how he goes about his tours of duty while trying to balance his own personal life including starting his own family. Bradley does give a good performance but I don't feel it was an Oscar nominated worthy one. (8/10)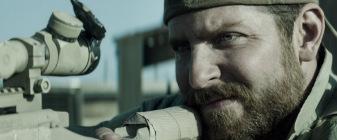 Sienna Miller: Taya is the long suffering wife of Chris who has to spend months away from him as he is on his tours of duty while raising their children. Sienna does a solid supporting performance but doesn't get the screen time we would like from her character. (7/10)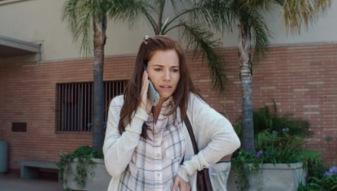 Support Cast: American Sniper has a supporting cast that mostly includes the soldiers alongside Chris, they all help motivate him to stay as he wants to keep them safe by taking out as many enemy combatants as he could.
Director Review: Clint Eastwood – Clint is a director I usually enjoy watching his work but I did end up finding this one very slow. (5/10)
Action: American Sniper has plenty of war base action that shows just how chaotic Chris would find himself in. (7/10)
Biographical: American Sniper does pay the respect required to an American Hero. (9/10)
War: American Sniper tries to show sides of war, the action and the effects of it all. (8/10)
Settings: American Sniper keeps the war settings looking very authentic, but also keeps the home in America feeling everyday places. (8/10)
Suggestion: American Sniper is one to try, if you like a good biopic you should enjoy it but otherwise is might come off slow. (Try It)
Best Part: Final Tour.
Worst Part: First Hour is very slow.
Action Scene Of The Film: Final tour.
Believability: It is based on the real legend. (10/10)
Chances of Tears: No (0/10)
Chances of Sequel: No
Post Credits Scene: Through the credits we see the aftermath of what happened ti the real Chris Kyle.
Awards: Nominated for 2 BAFTAs Best Screenplay and Best Sound
Oscar Chances: Won 1 Oscar
Box Office: $355 Million
Runtime: 2 Hours 12 Minutes
Tagline: The most lethal sniper in U.S. history
Trivia: Chris Kyle's father personally told Clint Eastwood and Bradley Cooper that he would "unleash Hell" if his son's memory was disrespected in this film. He did also say that Eastwood and Cooper were "men he could trust".
Overall: American Sniper is a slow moving respect filled film that does show the real effects of war.
Rating