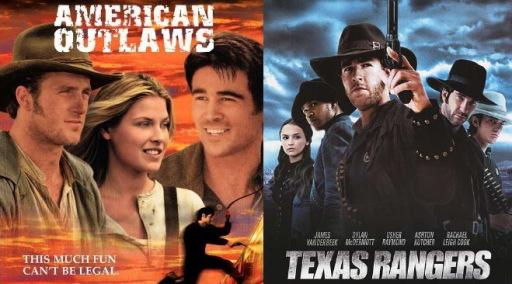 Hollywood has a tendency to produces two or three very similar movies within  few years of each other. In 2001 we got two watered-down Westerns with young stars leading the cast. This Showdown! article will see which is the better film, American Outlaws or Texas Rangers. 

Plot:
American Outlaws is a romanticized version of the tale of Jesse James and his gang. James and his followers come back from the Civil War to find railroad companies bullying people off their land. The ranchers decide to take up arms in their vendetta and become the most wanted men in America.
Texas Rangers takes place ten years after the Civil War and follows Leander McNelly as he recruits, trains, and fights with a group of Texas Rangers. They protect the law along the border of Mexico and battle against John King Fischer, a cattle thief with a band of bad men behind him. While the plot is clichéd, it doesn't feel like a dishonest tale of history the way American Outlaws does.
Point: Texas Rangers

Characters:
In American Outlaws Colin Farrell plays Jesse James, the charismatic leader of the gang with Gabriel Macht as his brother Frank, Ali Larter as his sweetheart and Kathy Bates plays Ma James. The rest of the gang is played by Scott Caan, Gregory Smith, Will McCormack, Nathaniel Arcand, and Ty O'Neal. Despite some questionable dialog the chemistry between the gang members and the ladies as well is convincing. Thaddeus Rains (Harris Yulin) and Allan Pinkerton (Timothy Dalton) provide us with some formidable villains with believable motives.
Texas Rangers' lead man is Dylan McDermott as Leander McNelly, the jaded head of the Texas Rangers. The recruits include James Van Der Beek as the lawyer from Philadelphia, Ashton Kutcher as a quick-talking wannabe cowboy and Usher Raymond as the stereotypical black man who can outshoot anyone on the team. Alfred Molina is the cattle thief villain John King Fischer (who has no real motivation for his deeds other than just to be bad) and Rachel Leigh Cook plays the daughter of a rancher who is friends with McNelly and not unexpectedly falls for one of the Rangers. Texas Ranger's characters were completely clichéd, each filling a typical niche in this sort of movie. The cast of American Outlaws felt more like real people and had much better chemistry.
Point: American Outlaws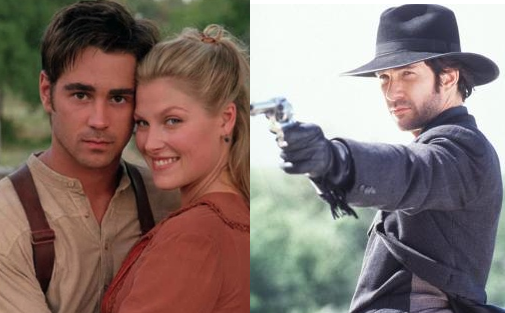 Production Design
American Outlaws provided us with enough dusty roads, fast-moving trains, and scraggly beards to be convincing. Texas Rangers had the same rustic feel but added on gratuitous slow-motion scenes and would-be artistic shots that make it eye-roll worthy.
Point: American Outlaws

Action
American Outlaws starts off with a gun-shot filled scene of the civil war and as the movie goes on provides us with a few rescues, bank robberies, and fast rides. It's not until the end of the movie that we get the big action scene, a rescue from a moving train that is fun and harmless.
Texas Rangers provides us with plenty of shoot-outs with typical good vs bad guy scenes complete with kidnappings and slow-motion scenes. Although it offers consistent bursts of action none of its scenes can quite compare with the train scene from American Outlaws
Point: American Outlaws

Direction
Overall American Outlaws has a strong plot direction. Good guys forced to go bad for their community a la Robin Hood. It may have worked a little better if everyone didn't already know how romanticized and most likely false these heroes were but it still provides for a good, if not clichéd, time.
Texas Rangers was full of clichéd characters but the plot offered some twists that American Outlaws didn't. This is your typical story of a group being formed, fine-tuned, and adapting like many other war-centric movies.
Point: Tie
Neither of these films are Oscar contenders but both offer fun trips into the Wild West. When taking into account all the making of a good movie, American Outlaws has a tad more to offer than Texas Rangers.
Winner: American Outlaws!