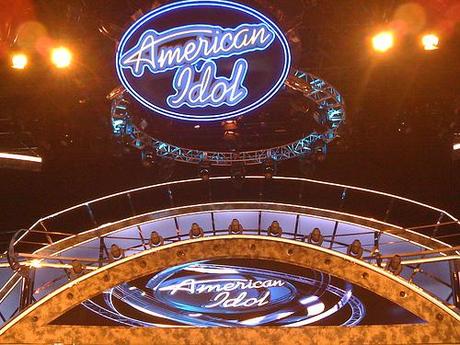 Tonight, American Idol saw a shocking elimination--Pia! I'm stunned. I haven't been this floored since Jennifer Hudson was voted out of season 3.
Arguably the best voice in the competition is now off the show.  Once her contractual obligations with Idol are complete, Pia Toscano will undoubtedly have numerous record deals awaiting her.  
BFF called immediately following Pia's elimination, thoroughly annoyed and vowing to never watch Idol again. It seems he is not alone. Once glance at Twitter shows a fairly large number of viewers claiming to be done with Idol.
So, why did she get voted off? Here are some possibilities, based on random Idol chatter:
1. Personality Plus?: Despite her powerhouse voice, some viewers worried about Pia's "one-dimensional" personality.  Apparently, some fans simply could not connect with her.  Personally, I always thought she was very disciplined in her craft, incredibly sweet, and a little shy. Sadly, these qualities don't always translate well. 
2. Ballad Girl: Perhaps viewers grew increasingly tired of Pia singing nothing but ballads.  Unfortunately, she is sent packing the one week she stretches beyond her comfort zone. I didn't care if she performed a ballad every darn week. Idol has always talked about the big three: Mariah Carey, Celine Dion, and Whitney Houston.  All of them are primarily known for what? Ballads! Sure, they have some mid-to-uptempo tunes in their library of timeless music, but when you think of the big three, you think powerhouse ballads: We Belong Together, My Heart Will Go On, and I Will Always Love You. 
3. Judges Aren't Judging (Soft Judging): Well, tonight BFF finally acknowledged that Idol without Simon simply isn't the same, and it may be having an effect on how the audience votes. During his rant, he said, "If Simon was sitting there, Pia wouldn't be going home." Granted, I didn't always agree with how Simon served his opinions, but he was usually spot on. He may have told Stefano that he's too theatrical or warned Haley against so much growling. But, alas, he is not there. Instead, we have a sort-of soft judging going on, where everyone seems to fall within varying degrees of greatness.  The beauty of American Idol is to develop the contestants, challenge them, help them learn their weaknesses, and grow into an artist.  This can only come from hearing both the positive and the negative. I really like Jennifer, Randy, and Steven, but the Simon-factor brought balance to the judging panel, helping the contestants go from good to great to phenomenal.
So, can the country crooner take it?  Maybe the resident rocker will shake up a win. One thing is certain: without Powerhouse Pia, the title of American Idol is truly up for grabs.