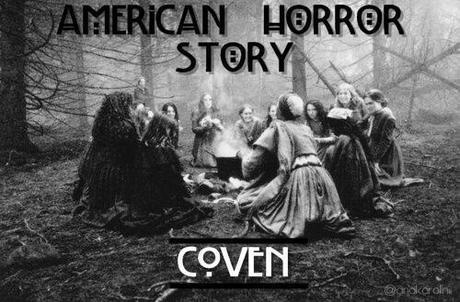 Where to begin???
Let's start with the weird slanted "Batman" camera angles.     What was that all about?
And secondly, wasn't this, the third installment of this third season ripe with  naughties?
We begin in Misty Day's bayou boudoir.  She's the Stevie Nicks wanna be witch who is a wiz at necromancy.    And for those of you wondering what's the connection between Misty  and Stevie?   Well, I seem to remember reading somewhere that  La Nicks believes she is a reincarnated witch…or something like that.  Her hit song, "Rhiannon" is supposedly about a Welsh witch….or Danish….Huguenot, maybe?    I can't remember.  But not only is the banged, curly-haired  look a full on copy, but the twirling around with the lace scarf poised at mid-body is vintage Stevie.  Plus, almost every time Misty is on-screen, a Nicks song plays.     Something tells me we'll be hearing a lot from the "Rumors"  album this season.
Anyway, Misty is nursing Kyle, the Human Quilt/Golem that Madison and Zoey witched back together in the morgue last week and she doing that by applying   swamp mud, where magic and crawdads thrive, and healing all his body part attachment  stitches to resemble mere cat scratches.   He still can't talk and just sits there, zombie- like.    Zoey arrives at Misty's and takes Kyle with her, much to Misty's dismay.  .  They're heading to Kyle's home, where she paid his Mama a sympathy visit  and knows  that  Ma, who's convinced her boy is in fact dead, but just   a missin' him  something fierce.    She's   played by the talented, but currently paunchy Mare Winningham, who can dress down to crack pipe smoking white trash level better than any actress currently in Tinsel Town.       Zoey takes Kyle to the porch, knocks on the door and runs to hide behind a tree to witness the reunion.   Kyle is still unsteady on someone else's feet and does a header into the center pane of the glass paneled front door.     Mama answers it , rejoicing that her baby is back.
She welcomes him in and life resumes as normal.   She doesn't even seem to mind that he hasn't uttered a word since falling through her front door.
He takes a shower, but Mom opens the curtain to offer him a towel, stares down at his silent manliness and creepily admits she can tell his body is 'different'.         Next scene, they're in his bed together and
BOOM,  THERE IT IS!!!!! 
Incest.
Just when you thought last season was as weird as it could possibly get—-naaaaaaaah.    But wait, it gets even worse.
Or better, if these are the kinds of things that get you through the night.
Onward…
The girls are on the balcony and the spy some fresh meat.   A  handsome lad sans shirt is in  the yard next door.   He and his very  buttoned up mother played by Patti Lupone, who I swear is wearing almost the  exact same blue striped the dress worn by  Bobbi Mohan Culp ( half of the untalented music  duo  that teaches at Altadena Middle School  in that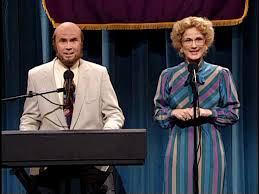 now famous skit on Saturday Night Live)  and the pair has just moved to the neighborhood.   She senses evil and can because she's a hard-core Christian.       Madison, the former child actress coke whore  witch, likes what she sees in Sonny Boy, so she and Addie from Season One (can't remember her character name) bake a cake and decide to be neighborly by taking it next door to  welcome the new fam to the block.    One thing leads to another and Mama Neighbor  announces she and Sonny are about to head to weekly Bible Study.  This enrages Madison and a fight ensues.   A knife gets lodged in the wall thanks to Madison's witchery which was previously limited to Carrie-like telekinesis.   Mom throws them out of the house but not before Madison mentally sets ablaze the absolutely 
hideous
 dark velveteen living room  curtains.     Fire starting is a talent she didn't know she had.
Fiona (Jessica Lange) has a confrontation with Mama Neighbor who's LIVID   that these tarts are even breathing and she informs Fiona  of Madison's fiery exit.   The reigning Witch Supreme  senses that  something is happening, within the Coven and within herself.  She feels weak and earlier,  while seeking yet another face lift,  is told by the surgeon that  she has inoperable cancer with maybe, one year to live.
So, witches aren't immortal.  They apparently die in ways beyond drowning and burning at the stake.
Fiona is dying and part of the reason why is…….Madison.    
As we learned earlier in this episode in a flashback scene from the late Sixties,  Fiona was ascending to her position as witch Supreme in her nubile 20′s,  just  as the current Witch Supreme (played by Christine Ebersol)  was dying.     Diabetes, high blood pressure, anal warts, you name it.     But instead of waiting to assume the position in the natural process of life progression,  Fiona greedily cuts the throat of the reigning Witch Supreme and assumes her position, way too early in her career.  Too immature, too power hungry, too mean—all the things that a good Witch Supreme aren't supposed to be.      So  now all these years later, she starting to feel she's being usurped, thank you, Madison.
More on that in a bit.
Meanwhile, back at Incest Manor,  after seducing her boy yet again, Mama calls Zoey and asks her over for dinner, telling her Kyle isn't dead, but very much alive, but very different.   Zoey accepts the invitation and heads over.     in the meantime, Mom goes to Kyle's room and says she knows its time to give up her control over him and end their taboo relationship–but not without one more romp.   So, she rubs up against him, he gets angry and screams NO!!!!! , then grabs a nearby Emmy that neither will win in 2014 and beats her head in.
In the next scene,  Cordelia, Fiona's daughter and the school's headmistress, is told by her doctor that not only is she not pregnant, she never will be.   So Cordelia goes back to that Ninth Ward hair salon and meets with its owner,    Marie "Voodoo" Laveau, played by the stunning Angela  Basset.     She knows of a very powerful fertility spell that only Laveau can perform and is willing to shell out 50 grand for the honors.   It is, as the Voodoo Queen explains, very involved.      Then, we're then treated to such a foreshadowing scenario ritual.
It's someone's back yard, illuminated by a large fire.   Cordelia is dressed in a red negligee bearing in her hands–as per instructed–a Mason jar filled with her husband's (and I quote) "baby gravy".   It's then put directly on the fire.    This is happening as painted- faced drummers are drumming and women are gyrating to the beat.    Marie is dancing hypnotically too and eating hot Roma Tomatoes,  straight off the grill or so it seemed from my vantage point.    I enjoyed this part.  She and the whole lot of voo-dooers were  dressed in these fabulous white Vera Wang cotton outfits, with stunning turquoise necklaces and what have you.    LOVED IT!!!!
Well,  once the jar o'guy gak  starts to boil, Cordelia lies down  on  the ground and pulls up her gown, exposing a bare, but somewhat pixilated mons pubis,  while a goat with graffiti written all over it is held above her.   It's neck is slashed and there she is, writhing around while  rubbing her nasty bits with the blood.
Or rather, that's how it WOULD have gone down , but Marie refuses to help Cordelia because she knows that she's Fiona's daughter and she hates Fiona and feels a witchy turf war is about to begin.   Plus she hates Fiona and knows she's harboring something.
If you remember, Fiona unearthed the  buried, but very much alive  early 1800′s New Orleans socialite and sadist , Madame Delphine Lalaurie (again,  lovely last name) and his now holding her hostage  at the school.   Fiona is dying (literally) to know what it is that has given her eternal life.   Delphine knows only its something that Marie Laveau had given her in retaliation for kiklling Laveau's then boyfriend,  Sebastian, the House Boy  for sexing up her daughter.  Delphine takes him to the murderous attic in her house, ties him and kills him while  making him where this odd black cow head mask thing.
You see, Delphine is a product of her early American environment and a racist (she tortured and killed every slave she ever owned) and in one scene we see her watching an Obama speech on the TV or as she calls it "that magic box".    Well, Delphine is appalled that a "Negro" is president.    As she sits there thinking, "there goes the neighborhood", Fiona walks in and announces that because she hasn't yet learned all she can from Delphine (played by Oscar winner, Kathy Bates who's contract probably runs the full season anyway)  so for the   foreseeable future, she is the new maid.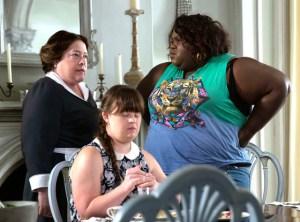 This means serving meals to the students one of which is Queenie ( portrayed by Oscar nominee, Giborey Sibide), the school's token African-American  witch who loves love, but hates whitey crackers as much as Delphine  hates darkies.      So, Delphine finally reckons with her  fate as servant and is in the kitchen with Queenie who learns that she's the infamous Madame Lalaurie, re-purposed by Fiona.     So as they converse about history and Peach Cobbler,   Delphine catches a shadowy glimpse of something just outside the kitchen window.   She looks out.
Good lord, its Sebastian, the House Boy now as this  Centaur-like creature;    Bovine head, man's body, snorting, hooves….the whole nine yards.     Delphine is convinced he's back for revenge.      Queenie tells her to hide, she'll  care of the situation.
She confronts Sebastian in the back yard and then remembers the story that Delphine had told her about his murder .      Queenie thinks this cow man is just misunderstood and craving lovin' as she does, so what does one do when confronting an angry, vengeful  Centaur in the backyard of a Garden District Greco Roman manse on a foggy spring night?    You hike you skirt and  and start  to diddle yourself , which is exactly what Queenie does.     Sebastian is watching this and apparently starts to feel randy and goes behind her.  Just  when we think the shock of mother/son incest will be replaced by partial bestiality, he puts a hoof over her face.
And it goes to commercial.
In the meantime, a very jealous Fiona takes Madison to a pool hall and they drink a lot.    She keeps seeing herself in the young witch and you can just tell there's an assload of jealousy building up.  They go back to the school where Fiona tells Madison she knows she's the next Witch Supreme and should kill her as she did the Witch Supreme she replaced back in the sixties.   Fiona gives her the same knife, there's a struggle, Madison doesn't want to kill or be the new Witch Supreme and  thank you O.J., Fiona slits her throat.   Intentionally.  The young witch falls dead on the floor.    Fiona it seems, will remains the Witch Supreme.
This pleases her.  She ain't going nowhere.   She starts to feel her power and life being restored as Madison lies there, oozing life.     She doesn't care.
Fiona makes this clear by closing out the show with this bit of pithy dialog:  "The only thing this Coven needs is a new rug".  
Yeah, baby.