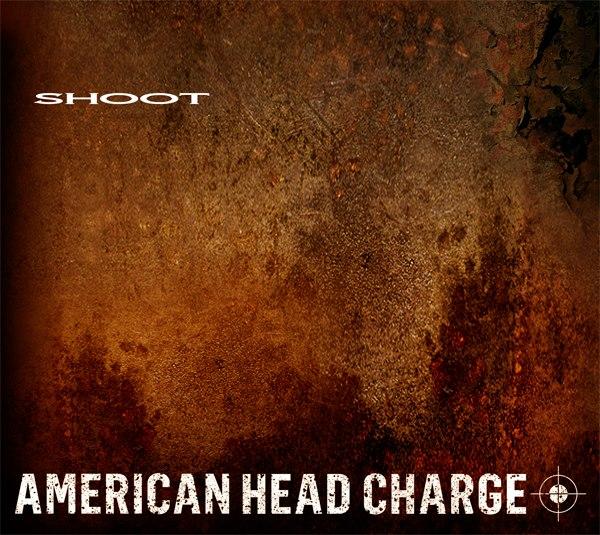 Minneapolis, MN hard rock/industrial metal outfit 
AMERICAN HEAD CHARGE
proudly announce their new EP, 
Shoot,
 slated for release on July 23
rd
, and the first leg of the 
"Shoot Tour"
 kicking off on August 2
nd
 in Madison, WI @ The Regent State Theater.
The Shoot EP was recorded by Don Debiase at Studio D Productions in Cleveland, OH, and mixed by Dave Fortman at Balance Productions in New Orleans, LA. Artwork for the Shoot EP was created by Sam "Mister-Sam" Shearon. 
The EP will be self released by the band. "We're extremely proud of this little gem. For an EP, it was a long, arduous process that spanned 5 states and 6 studios, but we persevered and succeeded." notes bassist and co-founder Chad Hanks.  "This is our first major step back into the game, and the next step in serving up a full-length AHC record. The "heavy music scene" is even worse off than we left it 6 years ago. We're looking to rectify that." 
Shoot
 can be pre-ordered from the American Head Charge website (headcharge.com) and fans can bundle the CD with an exclusive poster and t-shirt. All pre-orders will receive a code to digitally download the EP a week prior to its release.
Joining AHC on the "Shoot Tour", on select dates, are fellow Minneapolis heavy rockers Blue Felix and "humorcore" kings Psychostick. "We're all very excited to go out and tour the U.S. in support of our new EP." continues Hanks. "It's been a year since we've been on the road, and we're more than ready to deliver the goods. Prepare yourselves, America." American Head Charge formally celebrates the release of the EP on September 6th, the final date of the tour, with a blowout event at the famed Minneapolis concert venue, First Avenue.
Shoot
  Tracklist
1. Writhe
2. Set Yourself On Fire
3. Sugars Of Someday
4. Sand
5. Rock N Roll Nigger (Patti Smith cover)
AMERICAN HEAD CHARGE – "Shoot Tour"
(featuring Psychostick and Blue Felix on select dates)
8/2 – Madison, WI @ The Regent Street Retreat #
8/3 – Wausau, WI @ The Fillmore #
8/4 – Des Moines, IA @ Woolys #
8/7 – Louisville, KY @ Diamond Pub & Billiards # 
8/8 – Cleveland, OH @ Peabody's ^
8/9 – Kokomo, IN @ Centerstage Bar & Grill *
8/10 – Birch Run, MI @ Dirt Fest ^
8/11 – St. Joseph, MI @ Czar's 505 *
8/13 – Nashville, TN @ 12th And Porter *
8/16 – Oklahoma City, OK @ Chameleon Room *
8/17 – Houston, TX @ Scout Bar *
8/18 – Dallas, TX @ Trees *
8/20 – Austin, TX @ Dirty Dog *
8/21 – San Antonio, TX @ Tequila Rock Room *
8/23 – Sauget, IL @ Pops %
8/24 – Sandusky, OH @ The Underground ~
8/27 – Trenton, NJ @ Championships %
8/28 – Amityville, NY @ Revolution %
8/29 – Newark, DE @ Mojo Main %
8/30 – White Marsh, MD @ House Of Rock %
8/31 – Albany, NY @ Bogies %
9/1 – Syracuse, NY @ Mac's Bad Art Bar %
9/3 – Toledo, OH @ Frankie's %
9/4 – Joliet, IL @ Mojoes %
9/5 – Milwaukee, WI @ The Rave %
9/6 – Minneapolis, MN @ First Avenue Mainroom
Additional dates still being confirmed

# = w/ Blue Felix, Dead Horse Trauma
* = w/ Psychostick, Willpowerless
^ = w/ Psychostick, Blue Felix, Dead Horse Trauma
% = w/ Psychostick, Gabriel And The Apocalypse
~ = American Head Charge only
AMERICAN HEAD CHARGE Online
www.headcharge.com
www.facebook.com/AmericanHeadCharge
www.twitter.com/AHC_Official
www.youtube.com/OfficialHeadCharge