At last, another room about to be completed in my house, our tropical bathroom.  If you read my previous blog you will know this is my first house (a small Victorian terrace), with my boyfriend Tom, and I'm so exciting to finally be able to bring together all my ideas.  And to be styling rooms, as opposed to room sets for Audenza, and of course, to be able to bring home lots of Audenza goodies!
We have a really nice big bathroom, but it's very bland and the shower is quite old and grimy!  Not quite the luxury retreat I envisaged for our first bathroom.  I find mood boards really helpful, so I put one together for our bathroom renovation.  An extravagant, tropical bathroom in pink and teal, with black accents to make it more striking.
[This post contains some gifted items]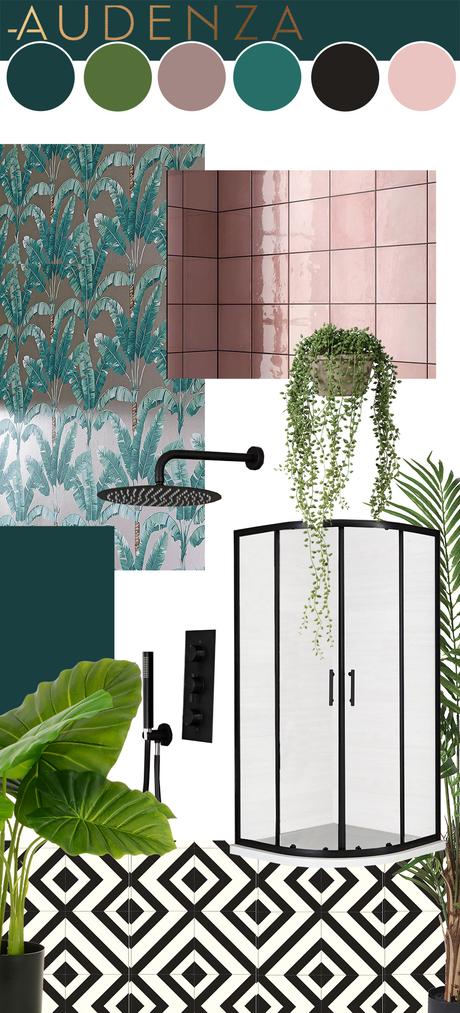 Palmaria Wallpaper by Osborne & Little [Gifted*] | Pink Tiles by Tons of Tiles [Gifted*] | Black Shower Enclosure & Tray by Big Bathroom Shop [Gifted*] | Black Shower Head by Big Bathroom Shop [Gifted*] | Paint colour, Serpentine by Zoffany [Gifted*] | Faux Trailing String of Pearls | Artificial Philo House Plant
Due to the Covid crisis all work came to a standstill for a few months, so I have all the lovely products but I'm now waiting for decorator and flooring people to come.  The mood board has sustained me through the wait and I can't wait to get it finished and enjoy my luxury tropical bathroom.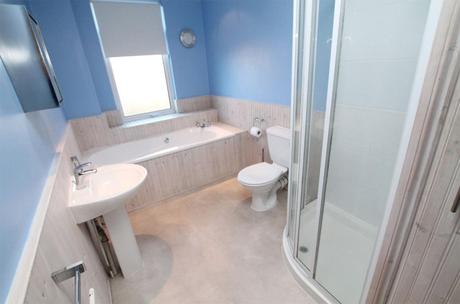 This is the before photo – bland and uninspiring, but large and light filled.  The bath, loo and basin are of good quality and good condition so I have kept them to keep costs down.  I fell in love with this black shower enclosure* with white slate tray from Big Bathroom Shop.   The slim frame and very shallow tray are much more streamlined than many shower enclosures.  I chose a black shower head* from them too, to complete the black theme.
The pink tiles* from Tons of Tiles are absolutely stunning and I'm having grey grouting – no more grimy discoloured grouting, hopefully!
I'm keeping the panelling, as it gives texture to the walls and creates interest, and that will be painted in one of my favourite colours, Serpentine* from Zoffany. My front room is painted in this colour as I can't get enough of it, obviously.  We have also used this colour quite a bit in previous photo shoots for Audenza and it really is a gorgeous colour, rich and warm.  And last but not least, the extravagant Palmaria wallpaper* from Osborne & Little.   Large teal palm leaves on a gloriously metallic background.
The final piece of the design is the vinyl flooring, which is a black and white design reminiscent of a conservatory, as I wanted a sort of palm house vibe for the bathroom.  For the styling I already have several large real palm plants round the bath, but intend to supplement that with some faux plants to get the look without too much TLC.  And lots of brass pots for that all essential touch of gold.
I'm so excited that it's all finally coming to fruition and can't wait to see the finished room after months of it being on hold.  Watch this space for the full reveal of my tropical retreat.
*Gifted – the starred items have very kindly been gifted for this project.