Sweet chutney made with mango powder, sugar and Indian spices
Dips and relishes are an integral part of every cuisine ,but we Indians use and make so many varieties of dips , each with a different twist in taste which cannot be compared to any one else in the world. Among the many varieties , there are many varieties of chutnies which are made with seasonal fruits and herbs which are Delicious but can be enjoyed for a short time as they have a short shelf life.But saunth /methi chutney is a condiment which can be made and stored for a long period and is used to make many Indian chats and snacks.
This mango powder / aamchoor chutney is very popular in Uttar pradesh . Dry ginger powder is called saunth and  as its used to give a different flavor to this chutney so this sweet chutney is popular with the name-saunth .
In my home town Mathura this saunth is specially made in each and every wedding and festivals and the relatives who come to attend the wedding are more interested to carry a bottle of this chutney with them rather than any other sweet or savories.This saunth/chutney has a long shelf life and can be  easily stored for minimum 6 months at  room temperature .
Though the ingredients and process are quite easy and simple, the only thing which should be taken care of is the proper cooking and the correct consistency, as it has to be stored for a long time so it should be cooked properly.
The whole spices should be ground fresh as store brought garam masala contains bayleaf and cinnamon which should not be added in saunth.
Saunth chutney can also be made with -
Aam papad chutney
,
Khajoor imli ki chutney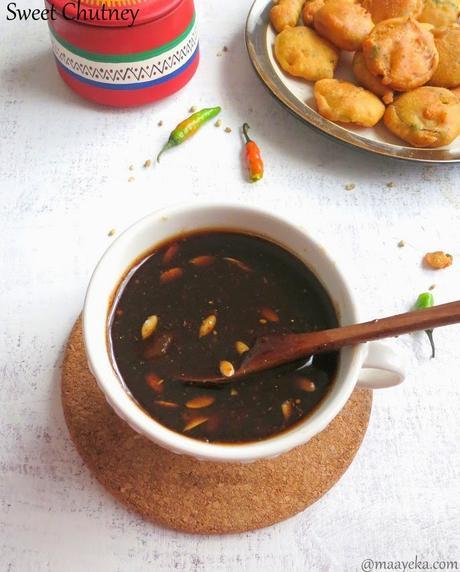 Prep time- 5 min
Cooking time-15 min
Difficulty level-easy
Spice level- medium
Cuisine- North Indian
Type-side, dip
INGREDIENTS-
Sugar - 1.5 cup
Mango powder /amchoor - 4 tbsp
Chili powder/lal mirch - 1 tsp
black salt /kala namak- 1 tsp
Table Salt - to taste
Roasted cumin powder /bhuna jeera -1.5 tsp
Ginger powder /saunth - 1.5 tsp
Dry dates /chuhara /kharik ,chopped - 6
Raisins /kishmish - 1.5 tbsp
Melon seeds /magaz/ kharbooj ke beej - 1.5 tsp
Grind together-
Cloves /lavang- 5
Black cardamom/ badi elaichi - 4
Pepper corns/sabut kali mirch -15
Green cardamom / hari elaichi - 5
PROCEDURE-
Peel black cardamom and green cardamom and take out the seeds .
Now grind the cardamom seeds along with cloves and pepper corn and make a powder and keep aside.
Soak dry dates for 4 hour ,remove the seed and chop to make thin slices.
Add 1.5 cups of water in a pan.
Add mango powder and mix well and cook on medium heat for 5 minutes.
Add sugar, salt, black salt, saunth,chili powder and simmer for 10 minutes.
Then add raisins, chopped dates, kishmish, ground garam masala, roasted cumin and mix.
Simmer till it started to thicken.
Now remove from the flame,it will thicken further when it cool down completely,so cook according to it.
When it thickens it will look like honey.
Store in a glass jar when cool down completely.
Stay well for minimum 6 months at room temperature if cooked properly.
NOTE-
You can also use jaggary instead of sugar.
Freshly ground garam masla gives a very nice flavor so avoid using store brought garam masala.