Amazon India Fashion Week A/W 2017 Schedule, Designers & Detail
This year amazon India Fashion Week have come up with Autumn/Winter 2017 which is partnered with one of the most well-known beauty brand which  is Maybelline. Where in the opening show FDCI and The Handloom School will acknowledge the anonymous makers who create magic with thread. It will also feature that ensembles from 13 designers or labels like Akaaro, Antar-Agni, Eka, Good Earth, Neeru Kumar, Nicobar, Pero, Rajesh Pratap Singh, Raw Mango, Rohit BAL and Suket Dhir etc.
A special show would be dedicated to Indonesian textiles and techniques will also take place on the basis of FDCI's partnership with Jakarta Fashion Week (JFW) to enable a cross-cultural exchange of designer talent between the two platforms. At (AIFW) Veteran designer Madhu Jain will also be celebrating 30 years in the industry as a craft revivalist and textile conservationist, along with Krishna Mehta known for bringing Maheshwari fabrics to the limelight.
Fashion Design Council of India
It is FDCI who varied skilled designers from various states, cities and towns of India into one cohesive body guiding them towards sustainable growth. Understanding the complex crafts of the country, it works with textile designers closely to create a unique handprint. With its unerring prism, it sets superlative quality standards, sparking a revolution towards 'fashion with a soul' tying up with various CSR initiatives as well.
Amazon India Fashion Week Autumn Winter 2017 Schedule
It is a five Day Event which would be held from March 15-18 at the Jawaharlal Nehru Stadium. Where approximately 140 designers will showcasing there collections. The Fashion show of 2017 have well known designers to name a few- Samant Chauhan, Rina Dhaka, Shivan and Narresh, Pawan Sacdeva etc. Below is the show schedule list for (AIFW"AW17):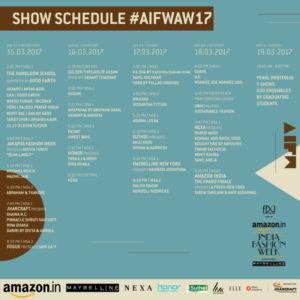 AIFWAW17_Show Schedule
The Good News!
MyFashionVilla will be covering AIFW A/W 2017 live. You will be able to see latest designer collection here, right after the show. You can also follow us on social media for live updates straight from the event itself. Keep checking this space for more stories and posts.
Here are our social media handles, follow us!
https://www.facebook.com/myfashionvilla
https://twitter.com/myfashionvilla
https://www.instagram.com/myfashionvilla/