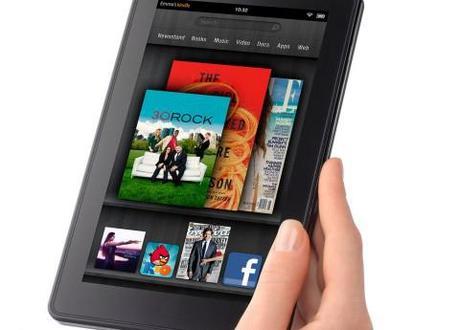 The new Kindle Fire.
After months on anticipation, Amazon is finally putting out its definitive answer to the ubiquitous tablet with the Kindle Fire. Reviewers got a first look at the slick, full-colour media player, which goes on sale in the US on November 15 (no UK date yet), and so far, the reviews are mixed – some are casting the Fire as the only serious competition to the iPad2, while others are wondering what all the fuss is about.
The stats: The Kindle Fire sports a 7-inch colour IPS touchscreen that is chemically strengthened to be 30 times more durable than plastic, and a dual-core processor. It weighs 14.6 ounces, or 413 grams, and its battery offers eight hours of continuous reading or seven and a half hours of video playback, with wireless off. Users can stream movies, TV shows, and music; uses cloud-accelerated browser Amazon Silk that supports Adobe Flash; offers free storage for all Amazon digital content on the Amazon Cloud.
'Apple: Be afraid.' So says Gizmodo's Sam Biddle, who claimed that the key element to the Kindle is Amazon Prime, the Internet superstore's media membership that allows users to stream everything from movies like Fear and Loathing in Las Vegas to PBS offerings, borrow books for free, and buy stuff with the ease of Apple's iTunes. Then there's the device itself, which packages all that Amazon Prime into a neat and simple user interface (it's a shelf, stacked with whatever you've looked at recently), housed in a pretty device that's "hard to believe it sprung from the same hatchery as the Kindles of yore". So what's wrong with it? Lag time, said Biddle, meaning that it can't yet match the iPad: "Paper doesn't lag. Your Kindle shouldn't either. A pity. Figure. This. Out. And fix it."
No iPad killer, but it's a killer device. Andy Ihnatko, reviewer for The Chicago Sun-Times, was also a fan: "Take an iPad, solve its two biggest problems, and you'd hope to wind up with something exactly like Amazon's Kindle Fire. The iPad has a 10-inch screen and costs a minimum of $499. The Fire slips into many pockets and purses and will set you back just $199. Its designers started off with a fundamentally good idea, executed that idea extremely well (despite a few 1.0 hiccups), and wound up with a product that fills a sorely-felt gap in the marketplace."
A lot of potential here. The Kindle Fire isn't ready to take on the iPad just yet, but with a bit of "tinkering", it can, said The Washington Post's The Verge reviewer, Joshua Topolsky. Its design is uninspired and too similar to the Blackberry Playbook, though it has a nice shape, size and weight, especially for prolonged one-handed reading. A few software wrinkles and an occasionally confusing interface were also among the kinks. What the Kindle does have is the Amazon content, the magazines, books, TV shows, music, and more that can be found on the device; and for $199, that's not inconsiderable. "This might not be theiPad killer that lots of people were predicting it was going to be, but it's going tochange the landscape in the tablet game all the same."
Meh – is this really what everyone's so excited about? "The Fire isn't a dud, but its real-world performance and utility match neither the benchmarks of public expectation, nor the standards set by the world's best tablets," declared Wired's Jon Philips. It's too small to be good for key tablet activities, it's too slow, and "[a]s an assembly of physical components, the Fire lives at the bottom of the tablet food chain." But the Kindle Fire isn't, really, about being a tablet – it's about luring away potential iPad customers and "Amazon making back all its money (and then some) by selling untold petabytes of content from its own digital storefront".
Flawed – but for $199, it's pretty good. Lance Ulanoff, writing atMashable.com, wanted to love the Fire. "Instead, now I'm discovering it's a somewhat flawed gadget — a product that literally does not always know which way is up," he wrote. Even so, he judged, it's a "winner": "This is a highly polished device and collection of services. It bakes in books, music, movies, apps/games, magazines, multi-tasking, universal search, easy access to anything you have in Amazon's cloud, and a sense that this device and Amazon know you."