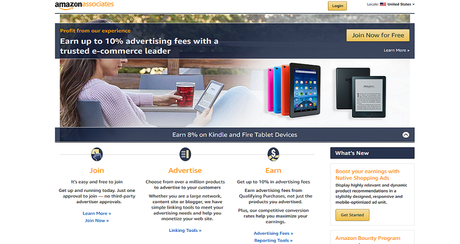 Founded in 1996, Amazon Associates was one of the first affiliate networks on the Internet. Today, it is arguably the largest, with over 1.6 million sellers and hundreds of thousands of affiliate members.
Editor's Amazon Associates Review
Arguably, the largest affiliate network on the Internet, Amazon Associates offers products from over 1.6 million sellers. In addition, the program boasts hundreds of thousands of affiliate publishers. Still, the main knock on Amazon's affiliate program is that its commissions are just far too low. Publishers start at a 4% commission rate (though the rate can get as high as 15%, based on volume); so this is an all-too-common yet valid gripe. That said, mixing in the right offers on the right type of site could bring in some nice incremental revenue, particularly if volume is high and/or users are already in the buying cycle.
Like other affiliate networks, Amazon Associates pays out on a CPA basis. However, unlike other affiliate networks such as CJ or LinkShare, which may pay out on leads or other non-sale actions from time to time, Amazon Associates only pays on completed sales, making it a true cost per sale (CPS) network. In addition, as already mentioned, the commission rate for new publishers starts at 4%. However, as sales volume increases, commission rates also increase, up to as high as 15%.
On low-cost items such as a $20 book, at a 4% commission rate, the affiliate publisher sees a pretty paltry 80 cents in revenue from the sale. Commission revenue does start to add up on high-ticket purchases such as a $500 camera ($20 commission); or when users fill up their shopping carts with more than just that $20 book (affiliates collect commissions on all items purchased, not just the single linked-to product); or if volume is particularly high.
Low commissions aside, everything else about Amazon Associates is top-notch, starting with dead simple, yet highly customizable link and banner creation. Amazon offers its affiliates the ability to create custom banners and links for any product page on Amazon.com, allowing publishers to send their users exactly where they would want to land on Amazon's website. Besides product-based ads, there are also general-use category- and promo-based ads that affiliates have the option to use.
For power users, Amazon Associates offers widgets and aStore. Widgets give publishers the ability to create interactive ads that allow users to search, rotate through numerous products, browse deals, find new music, and more. Creating an aStore is a feature that allows affiliates the opportunity to set up their own stores hosted at Amazon.com. Like creating standard banners and links, setting up widgets and aStores is fairly easy and straightforward.
For highly skilled developers, Amazon Associates offers a Product Advertising API, which allows access to Amazon.com's product selection, product discovery capabilities, customer reviews, Listmania lists, and more.
The affiliate control panel is also easy to use and offers reporting that is on par with all of the best ad networks. Simple to use, affiliates have the ability to generate simple earnings reports based on any period (no matter the length), or more detailed reports such as orders, referrals, link-type reports and more. Pretty much any report you would want is available and fairly easy to generate.
Customer service at Amazon Associates is very good, if not great. It misses out on getting the highest marks due to the fact that affiliates are not assigned a real person as an account representative. Additionally, there is no email address to contact for support. However, affiliates can call for help, as well as a support contact form, and a live chat feature, which is uncommon among ad networks of any type a phone number. This live chat can be especially helpful if you are stuck on something simple that may only take a minute or two to solve. The live chat feature is available seven days a week, from 6 a.m. to 5 p.m. Pacific Time, which should be convenient for most.
Unlike contextual display ad networks such as Google AdSense, implementing ad units from Amazon's affiliate network may not work for all Web publishers. Those who have the greatest success with Amazon Associates are typically either product review sites whose users are already in the buying cycle and/or high-volume sites with a high trust factor. It is not for everyone, but the program is highly reputable and that warrants testing at the very least.
Homepage: Employee Count: 117,300 employees at Amazon.com, Inc. as of May 2, 2014, according to Ownership: Amazon.com, Inc. ( Amazon Associates
Program Founded In: 1996
Yahoo! Finance
AMZN)

Address: 1200 12th Ave S Ste 1200, Seattle WA 98144 Support Email:
Phone Number: 800-372-8066
https://affiliate-program.amazon.com/contact/
Publisher Terms: https://affiliate-program.amazon.com/.../operating
Traffic Minimum: None.
Publisher Language Requirement: There is no specific language requirement in their Associates Program Operating Agreement.
Prohibited Publisher Content: Material that is sexually explicit; violent; libelous or defamatory; discriminatory based on race, sex, religion, nationality, disability, sexual orientation, or age; promotes or undertakes illegal activities; directed toward children under the age of 13; include any trademark of Amazon or its affiliates or a variant or misspelling of Amazon or its affiliates in any domain name, subdomain name, username, group name, or other identifier on any social networking site; violates IP rights.
Advertising Types: Affiliate.
Offer Types: CPA.
Verticals: All.
Network Size: 1.6 million sellers, as of March 31, 2009, according to Marketwatch.
Sampling of Publishers: Retro Headphones, Digital Photography School, ReviewsHQ.org.
Amazon Associates Tech Implementation Rating: 5 out of 5.
Creating an Ad Unit: In addition to preset banners and links to Amazon shopping categories and general promotions, Amazon Associates also allows its affiliates to create their own product banners and links to any page on Amazon.com. To create any type of ad unit, simply select one of the options from the "Links & Banners" dropdown in the top navigation. After creation, simply copy and paste the resulting HTML or Javascript code. Overall, creation is very easy and highly customizable.
Display Ad Unit Sizes Available: 300×250, 160×600, 120×90, 125×125, 468×60, 120×600, 88×31, 234×60, 728×90, 300×600.
Implementation Technology: HTML, Javascript.
Compatible with Google AdSense: Yes, as long as ad units are not styled to look like AdSense units.
Mobile Ad Units Available: Yes.
WordPress Plugin Available: Yes (third-party only).
Amazon Associates Publisher Reporting & Admin Control Panel Rating: 5 out of 5.
Control Panel: The Amazon Associates affiliate control panel is very user friendly. Upon first logging in, there is a form to quickly add new links by searching or browsing for a product. There is also a month-to-date earnings summary on the right side. From the top nav bar, there are links to create ad units (Links & Banners), Widgets, aStore, Product Advertising API, Affiliate Programs, and Reports.
Reporting: Reports can be created for any custom period of any length. Reporting options include earnings reports, orders reports, miscellaneous referrals, link-type reports, daily trends, or tracking ID summary reports, which is helpful if you have more than one tracking ID (e.g., in the case of monetizing more than one site). Stats are available on earnings, order amounts, commission amounts, clicks, and more.
Payment
Amazon Associates Payment Rating: 3 out of 5.
Publisher's Share of Revenue: 4%-15% commission.
Payment Methods Available: Amazon.com Gift Card, Check, Direct Deposit.
Payment Terms: Net-60.
Minimum Payout Threshold: $10.
Account Help
Amazon Associates Account Help Rating: 4 out of 5.
Knowledge Base URL: https://affiliate-program.amazon.com/gp/associates/help/main.html
Personal Account Manager: No.
Easy to Contact Support: There is no support email address, only a contact form. But they do also offer live chat, available seven days a week during business hours.
There are many things you need to be aware of in regards to rules and regulations on the platform and everything like that but overall, yeah, it is worth trying. It is definitely worth adding Amazon products to your affiliate marketing mix. They are very, very different to ClickBank style products and everything and you know, you can get some good conversion rates. So yeah, Amazon Associates, it is good. It is not perfect by any stretch of the imagination from an affiliate's perspective but you would be crazy to miss those opportunities.