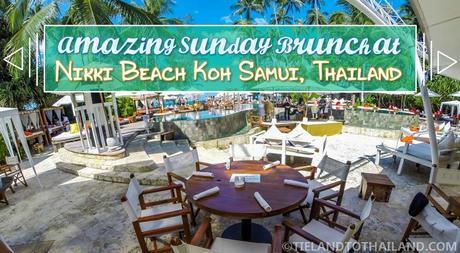 In stark contrast to our humble yet delicious bowl of traditional Thai breakfast in a lesser known province along the coast, not long afterwards we found ourselves dining on a spectacular Sunday Brunch at Nikki Beach Resort in Koh Samui. But it's not just any brunch! This gastronomic affair morphed into poolside champagne party complete with a live DJ and entertainment.
Let's rewind a little: if you've been following us on our Instagram, Twitter, or Facebook accounts, you've probably noticed that we've done some serious island hopping between mid October and Christmas 2015. Prior to that, the only beachy places in Thailand we'd been to were Hua Hin and Koh Chang. And that's after living in Thailand for two and a half years. Unbelievable, right?
But that's changed recently and we've managed to visit several beautiful Thai islands back to back. One that we can finally cross off our list is Koh Samui.
Must Do! Sunday Brunch at Nikki Beach Koh Samui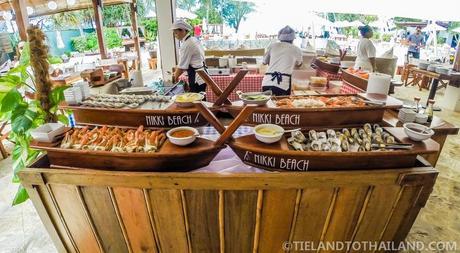 Our visit to Koh Samui had us bouncing around to various five star villas and resorts with our friend Scott, but by far the most entertaining meal of the trip was the Sunday Brunch at Nikki Beach Koh Samui.
If you've traveled around Thailand a bit then you know that sometimes Western breakfasts are a bit of a joke. White slices of bread with fake butter, watery ham slices and boiled hotdogs, and a side salad with carrot shavings, raisins, and a squirt of mayo. Seriously, it can get that bad.
This brunch - no, event - just about blew our minds. So much in fact that we went there twice during our ten day trip to the islands in November and then for a third time right after Christmas.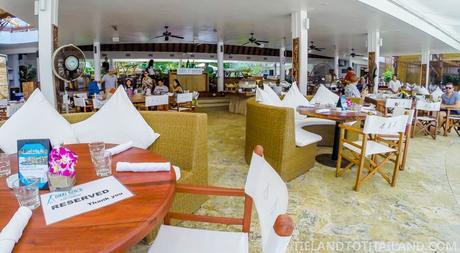 Hands down, Nikki Beach Koh Samui's brunch was among the best we've ever had in Thailand. There was a vast selection of gorgeously presented food in the outdoor dining area including plenty of both sweet and savory classic Western dishes intermingled with delectable Thai cuisine. Thank you, Chef Julian Pou!

Brunch isn't complete without amazing coffee and a complimentary flute of bubbly. It was all we could do from ordering a third round cappuccinos! But that would have been a bit excessive, don't you think?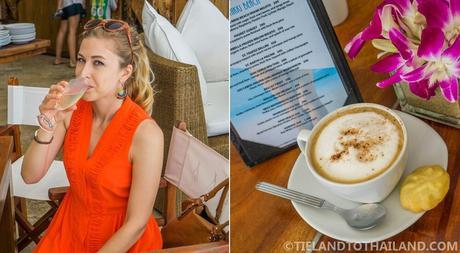 The breakfast lover in us bee-lined for the waffle and omelet stations and grabbed some breakfast sausages and big slabs of bacon. We noticed there was plenty of quiche, tropical fruit skewers, and made-to-order crêpes, too.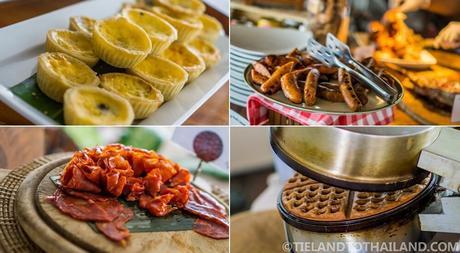 There was a carving station that served up leg of lamb, beef tenderloin, and porchetta with various delectable dipping sauces and entire heads of roasted garlic and onion.

It was hard to miss the choices of sushi and seafood dishes on beds of ice.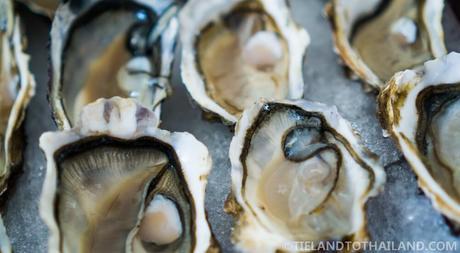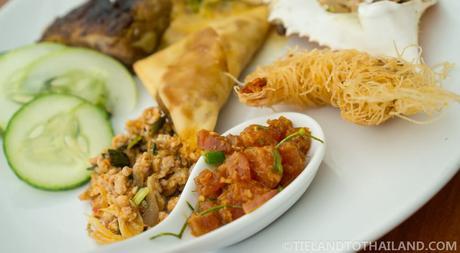 Other favorites of ours were the wagu beef sliders, mac n cheese, cucumber gazpacho (surprisingly a must try!), deviled eggs, and beer can chicken.
Each week the Sunday Brunch at Nikki Beach features a different ethnic cuisine at their "around the world" table to provide variety to returning guests. One of the Sundays there was Thai food including tom yum tuna tartare, pomelo and crab salad, coconut curries, and little fried wonton-like finger foods.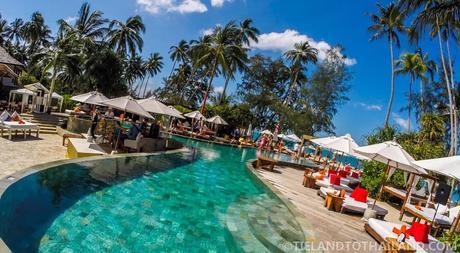 The price of the Sunday Brunch at Nikki Beach Koh Samui is 1,700 baht per adult ($47 USD) and includes a flute of complimentary champagne. It's available every Sunday from 11am to 4pm.
Poolside Lounging and Entertainment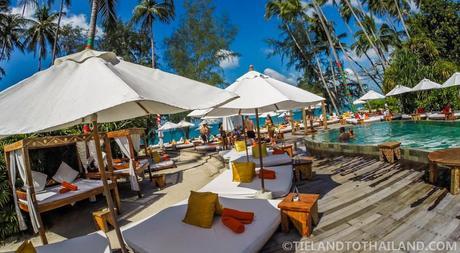 The Sunday Brunch at Nikki Beach is a glutton's dream, but it doesn't end there.
That's because unlike most brunches that end with the dwindling consumption of mimosas in preparation for Monday morning, Nikki Beach is known for keeping the party going.
What started out as a relaxing brunch with a live DJ spinning soft background music slowly transformed into a pool party with energetic beats as people around us progressively consumed more Bloody Marys, Belinis, and Screwdrivers.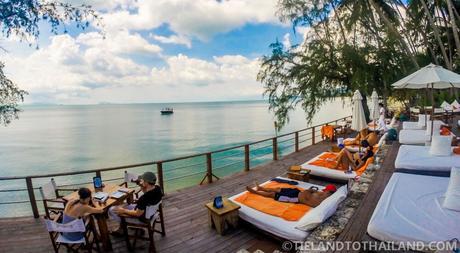 Follow us on Periscope @tielandthailand to catch our live broadcasts.
We practically rolled ourselves away from our brunch table and claimed one of the sprawling sun beds that lined the expansive pool. Palm trees? Check. Huge white umbrellas? Check. The pool deck stretches towards the Lipa Noi Beach and people lounging get a view of the Gulf of Thailand's turquoise waters.
What's there to do next when the DJ is turning up the music and pitchers of Mojitos and Strawberry Daiquiris start flowing? We tossed aside our beach cover-ups and jumped in the pool just as the dancers came to liven things up. It's hard to go home hungry after this feast or sober for that matter!
We know Nikki Beach's site self proclaims the brunch as a "must do" while on the island but we absolutely second their recommendation!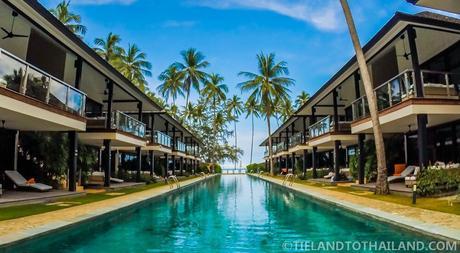 Contrary to what some may think, this is a family friendly establishment. So while there were various degrees of dress and drinking, there were several families with young children who enjoyed playing in the pool and dancing, too. It worked!
The Resort Side at Nikki Beach Koh Samui
Anyone can enjoy the Sunday Brunch at Nikki Beach whether or not you are a guest of the resort. Although people come from all over Koh Samui just to partake in this spectacular event each Sunday, the resort itself is pretty damn awesome, too.
DISCLOSURE:
We were guests at Nikki Beach Koh Samui but chose to write about the brunch because it was too good not to share. Treat yourself and add this to you list of things to do on Koh Samui. You won't regret it!
There are single rooms and villas that are of superb quality and incredible comfort. They also open right up to Koh Samui's longest swimming pool that's a whopping 75 meters long. Try doing a lap or two in that baby!
Phone: (077) 914-500
Email: [email protected]
Website: www.nikkibeachsamui.com
Address: 96/3 Moo 2 Lipa Noi, Koh Samui, Surat Thani, Thailand

Chris and Angela sold everything, paid off their debt, and ultimately figured a way out of the nine to five grind in the United States. Today they are living full time in Chiang Mai, Thailand, guiding and inspiring future expats towards amazing lives abroad! For more updates follow them on , , and . To see a full list of posts check out the .