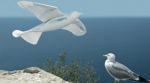 Hellow fellow readers! Do you ever dreamed with the "Speed Racer" spy bird? well that dream is about to become truth! This article will be related to some cool robots that resemble the mother nature!
SmartBird is an ultralight but powerful flight model with excellent aerodynamic qualities and extreme agility. With SmartBird, Festo has succeeded in deciphering the flight of birds – one of the oldest dreams of humankind.
This bionic technology-bearer, which is inspired by the herring gull, can start, fly and land autonomously – with no additional drive mechanism. Its wings not only beat up and down, but also twist at specific angles. This is made possible by an active articulated torsional drive unit, which in combination with a complex control system attains an unprecedented level of efficiency in flight operation. Festo has thus succeeded for the first time in creating an energy-efficient technical adaptation of this model from nature.
SciFi spy birds are becoming REAL! This is scary!
[Click here if you can't see the robotic bird video]
If you wouldnt notice, when the mechanical bird turn its head, the whole body will turn in the air, a very amazing understanding of the nature behaviour.
This is what we called Bioengineering!! Amazing!