AmaSuite 5 vs Jungle Scout Comparison
There was a time when different tools for product research and analysis didn't exist and one had to invest hours and hours of manual research to find out the correct details about what product to launch, what keywords to use, and especially how to track the performance of products. The AmaSuite 5 and Jungle Scout invention of product research tools has made our life easier and business grows faster.
Two of the most reliable and constantly up to date tools are AmaSuite 5 and Jungle Scout. With their amazing features, Jungle Scout, as well as Amasuite, have both proven to be saviors in any amazon sellers' life. Choosing the best among them is going to be a difficult task. So, let us find out who is the better savior amongst Jungle Scout and AmaSuite 5.
AmaSuite 5 vs Jungle Scout Comparison: Overview
Amasuite 5 Overview
A perfect blend of various software, AmaSuite 5 has specific software for a defining feature. Owned by Dave Guidon and Chris Guthrie, the AmaSuite now comes with 5 different software, each uniquely designed to perform their tasks with ease. Hence, it is called AmaSuite 5. I had used the Amasuite3 version, which also turned out to be wonderful and now with the addition of two more software, the seller's task has become much easier. Let us take a look at the 5 software packages offered by AmaSuite 5.

This amazing five-software bundle can be used on PC and Mac and will help you become a dominant seller on Amazon. This product also has amazing bonuses included for its users. Some of the bonuses include various training sessions for sellers as well as affiliate marketers.
Jungle Scout Overview
Jungle Scout is a product research software designed specifically for product research and launches on Amazon. With more than 4,00,000 amazon users worldwide it is the leading all-in-one selling platform that has monitored over more than 500 million amazon products for amazon and helped save a lot of time and increase the revenue of many of its sellers.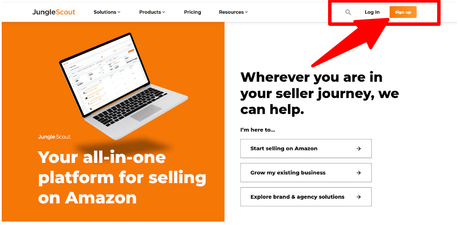 Jungle Scout provides amazing information on product tracking, evaluating product ideas, and opportunities. You also find out the best-suited keywords for your product and use the tool to keep track of all your products. Jungle Scout has amazing features like a seller and product database, keyword scout, inventory manager, profit calculator, launch feature, etc. It also has a chrome extension for easy use and instant results. You can also have a look at your FBA revenue and sales estimates.
Let us take a look at the amazing features offered by Jungle Scout and Amauite 5 for a better understanding of both the tools.
AmaSuite 5 Features:
The top product analyzer is a very powerful tool when we need to find the right products for our business. The product analyzer helps us to find and analyze any product from the Amazon Database. It has amazing filters so that you can find products from any category.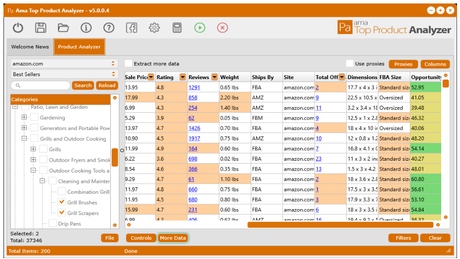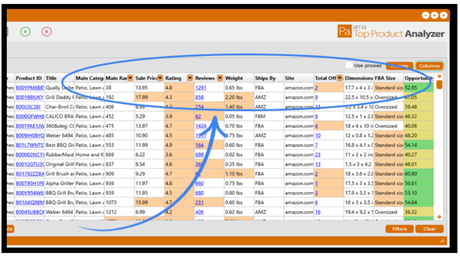 The data regarding the product weight and shipping company and also dimensions are visible. You can find out the most suitable product for you through this product analyzer.
It also allows you to export all
The product analyzer will give you all the data you need regarding any product and also has so much more to offer at a single place which makes the comparison between products very easy.
You can discover much more data at a single glance with added columns such as product weight, total offers, product size, etc.
The instant category search enables you to filter the product category which assures accurate data instantly.
You can view the instant statistics about any keyword at any time. You can calculate the required data using various analysis functions like addition, average, percentage, etc very easily with this tool.
Search analyzer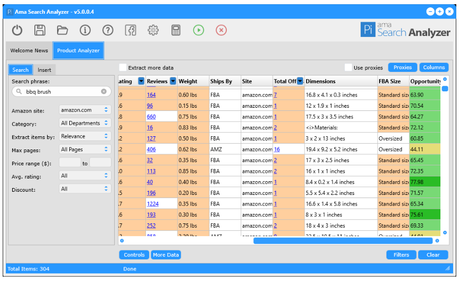 This is great software when you have to search for any information about any product or keyword. The search analyzer will help you discover wonderful keywords beyond the top 100 that would help you gain more information.
You can discover more than 1000 keywords for Amazon products.
You can easily discover products that offer huge discounts and use them for affiliate marketing.
You can even use this software to find products that offer amazing discounts.
There are more than 67,200 categories built in the software for Amazon US and UK websites.
All the search data can be easily exported to HTML reports which you can further circulate as affiliate links for your affiliate marketing business.
In the software new proxy feature, you can get up to 200 new proxies regularly.
Using the search software is very easy and it has a very beautiful user interface.
You can use the price range, ratings, and discount filters to find what you seek.
This software also enables users to import different ASINs and then pull out data through it.
Keyword generator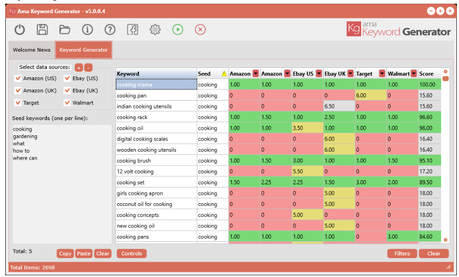 This software helps you generate all the desired keywords for you by comparing the most trending keywords used for the products on three to four different online e-commerce websites.
The Keyword generator assures traffic by enabling the right choice of keywords by the seller for any product.
Using the correct keywords is going to help you increase your product ranks which will cause an increase in your total sales.
You can discover more than hundreds of keywords with more than a thousand match-per search filters which only a few people know about.
You can use the instant search feature that will help you find out the keywords exactly at the time when you type the product instantly.
This is the best tool to find keywords with no SEO rankings which will be helpful in new domains.
You can use a variety of top-ranking keywords to increase the ranking of keywords on your product.
Instant keyword insight- you can easily get instant keyword insight for any of your keywords. This feature helps you track the performance of your keyword and also determine the exact keyword for your product which would be the most helpful to grow your business. You can also discover the rank of your keyword as per the amazon drop-down menu.
Keyword rank score- this feature enables you to discover the exact ranking of your keyword for any e-commerce website. You can easily find out what your customers are searching for and allot the keywords accordingly.
Review analyzer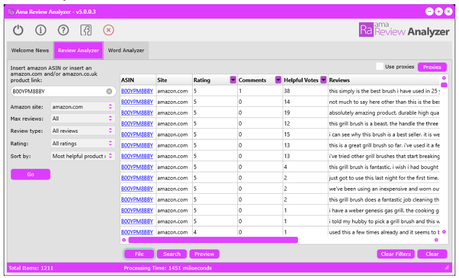 The review analyzer software shows you all the reviews related to any product. You can easily find out what people want and are looking for in any product when they search for a product. This helps save many hours of manual labor of visiting different review sites and finding out about the various reviews on different products.
You can discover the correct ratings and also find out the most positive or most negative ratings any particular product has received.
This has a built-in analyzer for instant searches which saves your time for visiting the analyzer page and typing out things manually.
In the software new proxy feature, you can get up to 200 new proxies regularly.
This tool is very sophisticated as it displays all the keywords used in a very disciplined manner. You can narrow down your search by using labels like love and hate in your search column and discover the related ratings instantly.
Ali Inspector bonus software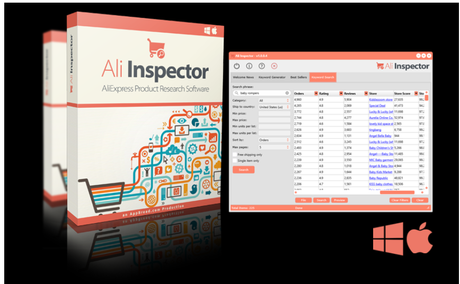 This is a bonus software along with the precious four software. It has the following features-
Keyword generator tool- this tool helps you generate the best keywords that you can use to easily make your product ranks increase and decrease total sales.
Bestsellers tool- this tool will help you discover the best seller for your product and you can easily find out the most sold products for your e-commerce store.
AliExpress Products- you can easily download the products present on AliExpress along with their HTML content and product details.
Reviews download-you can also download reviews for Shopify from any AliExpress store on your desired product. Using these real-time results will help increase your overall sales and total productivity.
Training courses
There are two types of training courses available on AmaSuite 5- the seller's training course and affiliate marketing training course.
Sellers training course - this course is divided into seven different modules which will help the beginner to learn from the very start and discover how to become a great seller on any e-commerce website. This is where you, as a user can take full advantage of the complete software and learn how to use different tools individually.
You have the option to watch the courses online and you can even download these purses and watch offline any time you wish to watch them.
Affiliate training course - This course contains nine modules that will help you become a great affiliate marketer and increase your income as you grow. A completely updated and detailed course on affiliate marketing will help you uncover all the tricks and tips that successful affiliate marketers use.
The seller's training and the affiliate marketing courses together will teach you how to create your content, research on products, choose the right product, and increase your business. These courses have been created keeping all the needs of the user in mind and are updated from time to time.
Let us have a look at the main features offered by Jungle Scout.
Product Database - The product database is the place where you will find all the information you might need on any product. It is a collection of over 70 million products directly from the Amazon catalog. This will help you to organize all the products and arrange the products according to your desired requirements of products.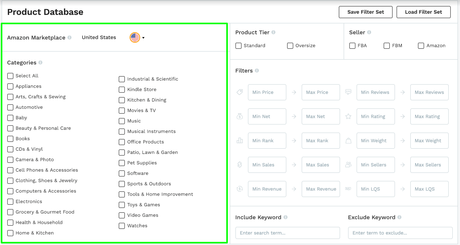 Product Tracker - the product tracker helps you to track many products over time. You can discover all the data about a product starting from its launch time, monitor its sales, inventories, rank, etc. which helps you to measure the performance of the products and increase your sales accordingly.

Opportunity finder - the opportunity finder helps you discover all the new upcoming opportunities by discovering the most popular keywords for your product. This will also help you by turning a keyword into a market segment. You can analyze the competitive insights and know more about the emerging trends.
Supplier Database - this is a collection of all the data about any supplier. This unique feature will help you validate the suppliers on Amazon. This will also help you to discover legitimate suppliers used by all the best brands.

Keyword Scout - this is the keyword research tool used by Jungle Scout. It is a great tool when it comes to analyzing and comprehending accurate keywords for your product. It also helps to increase your PPC value and increase your sales by using the most trending keyword for your product.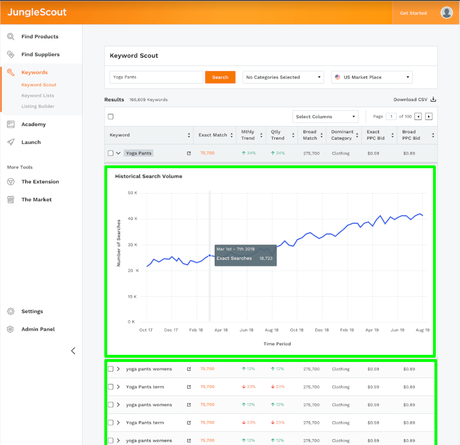 Sales Analytics - this will help you to keep track of all your sales activities and analyze your finances from time to time. This will also help you to earn more profit and hence increase your income on Amazon FBA.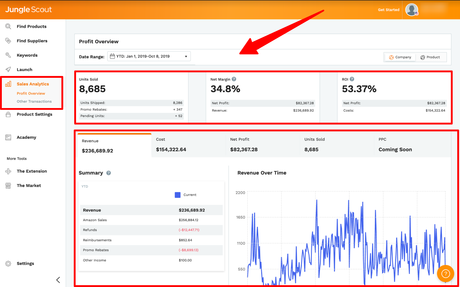 Inventory Manager - this will help you to keep a record of all your stocks. You can easily manage your stock when you know, when, and how much stock to order. This gives a data-driven approach to your inventory management. This tool is the best tool used to avoid stockouts and increase sales.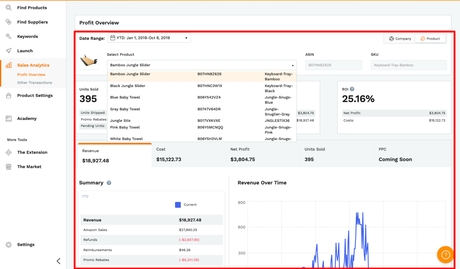 Launch - This launch feature helps you to reach your targeted customers. You can use this tool to reach your customers directly and increase your sale. You can use this to send automatic emails for promotions, to increase sales by directly promoting the product to the targeted customers.
Pricing plays an important role while comparing any two products. Let us take a look at the pricing of AmaSuite 5 and Jungle Scout.
AmaSuite 5 Pricing:
You can use the amazing Amauite 5 along with all the included five software at a cost of $97.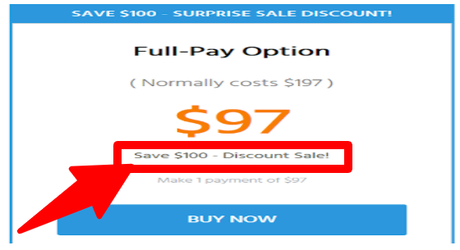 The features available in this price plan are-
All the five AmaSuite software that works on Mac as well as PC.
You get access to all the bonus packages including the unadvertised bonuses.
You can access the sellers and affiliate marketers' training courses.
You get a 30-day no questions guarantee.
You can access all the versions of the five software that are included in this plan.
Jungle Scout Pricing: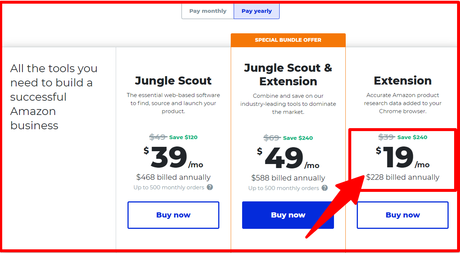 The pricing plans of Jungle Scout are as follows:
Jungle Scout web application: The Jungle Scout Web application will cost you $139 when billed monthly and $468 when billed annually. The amazing features included in this plan are-
Jungle Scout extension: Jungle Scout extension costs only $19 per month and $228 when billed annually.
The features like- opportunity score, 20 searches using the product database, supplier database, and the keyword Scout, and 3 product trackers are included in this plan along with additional features like AccuSales estimates, customer support, and Jungle Scout Academy.
Jungle Scout and extension: The Jungle Scout and extension plan will cost you $49 per month and $588 when billed annually and it offers all the features of its web application and chrome extension at a single place which is amazon considering the number of features that you can use at a very reasonable price.
Save Upto $240 Off
Let us now compare the pros and cons of AmaSuite 5 and Jungle Scout. This will provide better insights and help us decide who is performing better.
It can be used on PC as well as Mac.
It includes a wide range of Proxies.
You can customize your columns and view various categories of search at a single glance.
It has a beautiful user interface.
It offers a 30-day guarantee
It offers a variety of amazing features.
It has a unique supplier database.
It offers more accurate results.
It is highly reliable and very user-friendly.
The website is very easy to navigate for new users.
It offers a 14-day money-back guarantee.
Website design and navigation are a bit difficult for new users.
It lacks some features and also you tend to receive a lot of emails from the team.
Price is a bit higher when compared to AmaSuite 5.
- AmaSuite 5Amauite 5 offers you a combination of five software that work together to help you increase your sales and become a better seller. All these software help you to get accurate data and make correct predictions using the data. You can easily filter out your choices from the searches and decide the categories to be visible in your columns.
I would prefer Amasuite because of its great review analyzer. I found this software to be a very useful tool as it really helped me get good insights on my product and honest customer reviews which helped me to know and understand my customers.
Jungle Scout - Jungle Scout is the most popular and widely used tool for product research for Amazon FBA. This tool offers you a wide range of features that help you make better decisions regarding the product that you are willing to launch. The great training lessons offered by Jungle Scout Academy offer all types of knowledge even to beginners about how to get started on Amazon and how to succeed.
I would prefer Jungle Scout because it helps you throughout your seller's journey. It has resources for all its users and helps you at every stage. The amazing set of resources including the beginner's guide, blog, and webinars just make your whole amazon selling experience amazing.
FAQs
AmaSuite 5 vs Jungle Scout & Testimonials
Amasuite 5 Reviews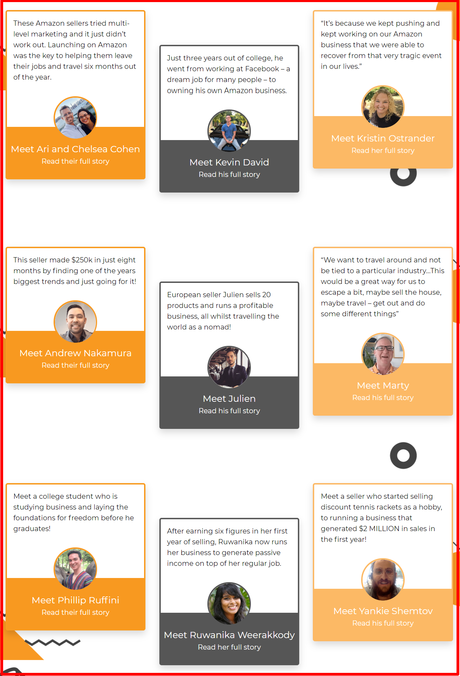 Quick Links:
Jungle Scout Reviews
The final decision of who is the better savior amongst Amauite 5 and Jungle Scout completely depends on your purpose of using these two tools and also the number of features that you would like to use. You can easily choose either AmaSuite 5 or Jungle Scout to increase your sales and grow your business, as both of them are equally helpful and provide you a helping hand in your seller experience.
I have used both this software and hence I can assure you one thing- if you believe in your product you will be successful despite the circumstances. These product research tools help you in your journey but success is guaranteed only with your continuous efforts.
Jungle Scout and AmaSuite 5 both are amazing and good tools that give you assured results. So which one to choose among them totally depends on your needs and requirement of features that you wish to use.