So this post comes with a third-degree subject, meaning it was a blogger friend of a blogger friend that I can credit with this one! I was perusing through Twitter, something that I do when I have time between books, and saw a fun blog subject from Beauty and the Bookshelf about an A to Z Survey. I love surveys and questionnaires and memes and everything else in this category so I read it through a love it. She got the survey from The Perpetual Page-Turner and I think it's such a great idea! I'm going to try to get my co-bloggers to do it, too.
Here are my answers, and please leave yours in the comments!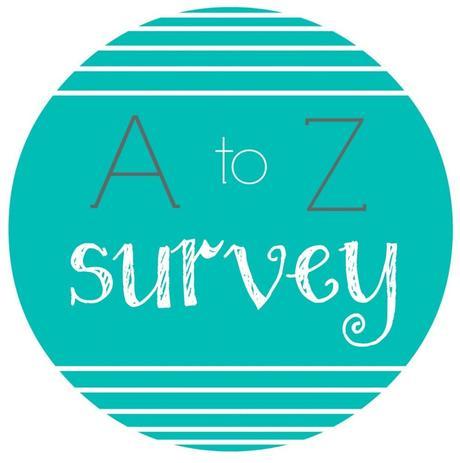 Author you've read the most books from:
I'm not sure if Carolyn Keene, author of the Nancy Drew series, counts or not. Because although I'm pretty sure I've read almost every single Nancy Drew book I know that they were ghost written by multiple people. So, if this counts, than definitely Carolyn Keene.
If those don't count, I'd have to say that I think all 7 books in the Harry Potter series probably puts J.K. Rowling at the top of my list, although I might be forgetting some author from my youth that I stalked for an entire summer. I did that sort of thing when I was younger.
Best Sequel Ever:
I'm going to be typical here and choose Catching Fire. Yes I know that The Hunger Games trilogy is incredibly huge and has a ginormous fan base, but you can go ahead and count me among them! I adored The Hunger Games but I was blown away by Catching Fire. Like, go ahead and count me as dead when it's in my hands because I won't respond to anything you tell me.
Currently Reading:
An advanced copy of Don't Look Now by Michelle Gagnon, the sequel to Don't Turn Around. Keep your eyes open for a giveaway on this one!
Drink of Choice While Reading:
I wish I could say something really classy and swanky like red wine or chardonnay but I usually go with homemade coffee (iced or hot depends on the weather) with International Delight creamer. I'm easy to please!
E-reader or Physical Book?
See, there are ups and downs to both for me. It's pretty impossible to get an e-book signed (or it does look as good as a signed title page of my physical book) but I love the convenience of reading on my iPhone no matter where I am. So I'm cheating for this one and not choosing an answer

Fictional Character You Probably Would Have Actually Dated In High School:
Oh man, that would have to be Odd Thomas. I just absolutely swoon over how he loves Stormy. Now, if only I had been as cool as Stormy in high school…
Glad You Gave This Book A Chance:
Beyond Parallel by Matthew Turner. I don't often review self-published books but I loved this one so much and I've developed a friendship with the author that I don't think is really possible with more prominent writers.
Hidden Gem Book:
Wow, can I use the same book for two questions in a row? Beyond Parallel by Matthew Turner is a self-published book that blew me away with it's romance, travel, story, and just overall stellar writing. Never has a book impressed me to that level!

Important Moment in your Reading Life:
My best friend and co-blogger Justine showing me e-books. I had kind of put reading on hold because it was expensive to buy physical books and I was a new working mom and just… life. Justine showed me e-books on my iPad and it brought a whole new dimension to my life. I owe it all to her!
Just Finished:
Don't Turn Around by Michelle Gagnon, review and a giveaway of its sequel Don't Look Now coming soon! (And yes, whenever I hear or see Don't Turn Around I automatically think of the Ace of Base song and now you will too!)
Kinds of Books You Won't Read:
Erotica. Sorry, but nope. I don't let my husband watch porn and so I don't read it either. Call me frumpy, call me old-fashioned, call me a prude. You're probably right but whatevs.
Major book hangover because of:
The Fault in our Stars by John Green. Wow, if that book doesn't ruin you I don't know what will. Not only did it give me a book hangover but it was hard to read anything else and not judge it too harshly because it wasn't TFioS.
Number of Bookcases You Own:
3. But I want MORE!
One Book You Have Read Multiple Times:
The Twilight series and The Hunger Games series. I have to re-read each book in a series right before I see the movie version, it's this weird thing I do. That means a lot of re-reading of books with series that have movies!
Preferred Place To Read:
On my couch. I have a really, REALLY comfortable couch. It's brown and plushy and soft and my favorite.
Quote that inspires you/gives you all the feels from a book you've read:
I'm really trying to not sound like a broken record here but, seriously, have you read The Fault in our Stars? Try these on for size:
"As he read, I fell in love the way you fall asleep: slowly, and then all at once."

"My thoughts are stars I cannot fathom into constellations."

"Sometimes, you read a book and it fills you with this weird evangelical zeal, and you become convinced that the shattered world will never be put back together unless and until all living humans read the book."

"But, Gus, my love, I cannot tell you how thankful I am for our little infinity. I wouldn't trade it for the world. You gave me a forever within the numbered days, and I'm grateful."
Seriously, that last one? And it's impossible to list all the quotes without writing out the entire novel. Just go read it.
Reading Regret:
I'm actually going to choose exactly what the original blogger who created this survey did and say not reading Harry Potter when it came out. I read the first three when they first came out and then lost steam when the fourth one came out and it was so long. And then a few years ago when The Deathly Hallows Part 2 was about to come out in theaters I decided to read them all that summer. It was such a fun thing to do but I feel like I missed out on a big part of growing up with my generation by not reading them with everyone else. Sigh.
Series You Started And Need To Finish(all books are out in series):
Hmm, I want to say the Odd Thomas series but I have my reasons for not finishing it.
Three of your All-Time Favorite Books:
The Sparrow by Maria Doria Russell, The Glass Castle by Jeannette Walls, and V for Vendetta by Alan Moore.
Unapologetic Fangirl For:
The Hunger Games and Twilight. Sue me!
Very Excited For This Release More Than All The Others:
Just One Year by Gayle Forman. Seriously, November! Why are you so far away?!
Worst Bookish Habit:
Getting lost on social media. I need to just delete Facebook and Instagram because I'll look at the clock and I'll have wasted an hour on what, liking statuses that don't matter? Ugh! Not enough discipline here.
X Marks The Spot: Start at the top left of your shelf and pick the 27th book:
The Catcher in the Rye by J.D. Salinger. Who knew I was unintentionally such a hipster?
Your latest book purchase:
At comic con I spent quite a pretty penny on books. I bought Siege and Storm by Leigh Bardugo, The S Word by Chelsea Pitch, Timepiece and Infinityglass by Myra McEntire, among others. I really wanted to buy Miss Peregrine's Home for Peculiar Children by Ransom Riggs but they ran out

ZZZ-snatcher book (last book that kept you up WAY late):
So the latest one was probably Spellcaster by Claudia Gray but the most serious offender was definitely Never Let Me Go by Kazuo Ishiguro. I'll never forget how that book took me and shook me. I honestly don't think I set the book down once when I started it. It ruined me for a full 18 hours until I read the last page. It's another one on my favorites shelf!

Please feel free to do this on your blog too and let us know what you think in the comments. this was so fun!
You May Also Enjoy:
Book Questionnaire Meme
Throwback Thursday: Nancy Drew
New Stuff!!
Review: Warm Bodies
Review: Rift by Andrea Cremer
Twilight: Book vs. Movie
Insight Into Our Review Style
Horror Book-to-Movie Feature: "I Am Legend" by Richard Matheson