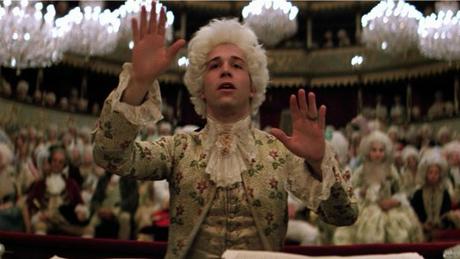 Tom Hulce as Mozart in the movie
Amadeus
(1984)
A Comedy of Disproportions
British playwright, author, and screenwriter Sir Peter Shaffer (The Royal Hunt of the Sun, Equus) — whose own brother, Anthony Shaffer, was also a noted playwright (Sleuth) and screenwriter (Alfred Hitchcock's Frenzy) — adapted his successful 1979 stage play Amadeus for the screen, both opening up and expanding the drama along the way for cinematic purposes.
The basic fiction of the jealous Antonio Salieri's alleged poisoning of his rival Wolfgang Amadeus Mozart, which may have been derived from an 1897 one-act opera, Mozart and Salieri, by Nikolai Rimsky-Korsakov (itself based on an earlier play in verse by the Russian poet Alexander Pushkin), is retained.
However, it's the European backdrop (filmed on location, by cinematographer Miroslav Ondříček, in Prague and Vienna), the richly elegant eighteenth-century costumes (by award-winning designer Theodor Pištěk), the superb art direction (by Karel Černý and Patrizia von Brandenstein), the production's overall concept and direction (by Oscar-winners Miloš Forman and Saul Zaentz), and the charismatic performances that give this picture its vibrant life.
In addition, we have Mozart's heavenly music, performed on the soundtrack by Sir Neville Marriner and the Academy of St. Martin in the Fields Orchestra, the Ambrosian Opera Chorus, and the Choristers of Westminster Abbey, as well as a long list of talented opera stars to do it justice, among them June Anderson in the Queen of the Night's Vengeance Aria from The Magic Flute, Richard Stilwell, Willard White, and John Tomlinson in the final denouement from Don Giovanni, Samuel Ramey and Isobel Buchanan in the opening snippet from The Marriage of Figaro, and Brian Kay and Gillian Knight in the "Papageno, Papagena" duet, also from The Magic Flute.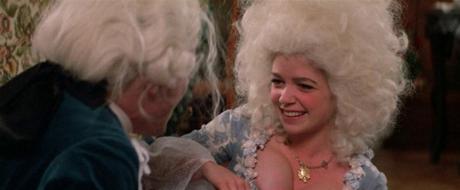 Hulce (as Mozart) with Elizabeth Berridge as his wife Constanze
Austrian composer Wolfgang Amadeus (Latin for "to love God") Mozart (1756-1791), precocious, childlike, and overtly scatological — well documented in his voluminous correspondence with his wife Constanze, father Leopold, and older sister Nannerl — was a true and undeniable genius of his or any other time. A prolific composer, he dabbled in just about every conceivable musical form; produced works of astonishing range, depth, beauty, and originality; and achieved worldwide fame and recognition in his short lifetime.
From piano pieces, string quartets, octets, and concertos, to symphonies, sonatas, solo works for individual instruments, cantatas, motets, songs for soprano, dozens of operas (both comic and tragic), and even lofty church music. Modern audiences take it for granted that Mozart may have been an overindulged, potty-mouthed, devil-may-care fellow who loved good wine and good jokes (but not so good women). But that he was also a supremely gifted artist is a matter of historical fact.
His varied output of sacred works has been described as miraculous, melodious, and this side of heaven — in more ways than might have been imagined. One of his absolute finest, which the film takes great pains in developing, came near the very end of his life: the unfinished yet spiritually uplifting Requiem in D Minor from 1791.
This fabulous choral and instrumental piece, "fueled by a dark and furious energy," has been deemed by most musicologists as rivaling, if not altogether surpassing, the finest church music that issued forth from the pen of Johann Sebastian Bach. That's high praise indeed, considering that Bach was one of the most creative musicians who ever lived, with two (count 'em) two wives to his credit, as well as a boatload of talented offspring.
How the Requiem came to be written has been a matter of conjecture for a number of years. Incredible as it may sound, playwright Shaffer and director Forman were right on the mark (well, almost) when, in both the play and the movie, a mysterious masked stranger comes to Mozart's door to commission a mass for the dead. Little does "Wolfie" know that the man behind the mask, and under the three-cornered hat, is his arch-rival Salieri; and the mass in question is supposedly for Mozart himself!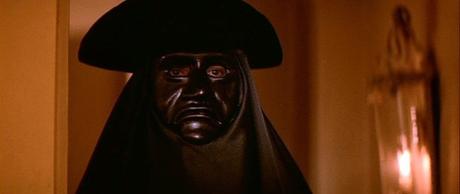 The Man in the Three-Cornered Hat
As patently melodramatic as this plot device may sound, there is some basis for it in fact. The reality of the situation was this: an eccentric aristocrat named Franz von Welsegg had the nasty habit of commissioning others to write music that he would later claim as his own. Such was the case with the Requiem. According to accounts of the time (some of which were of a purely speculative nature), Welsegg, through several intermediaries, gave Mozart a partial down payment to begin work on the project, only to have Mozart die a short while later.
Welsegg never fulfilled the remainder of his contract and was all set to claim the mass as his personal property. Fortunately for posterity, Mozart's widow Constanze was able to deter this miscreant from making off with her late husband's work by having the mass, or what little of it there was: a) completed by others, notably composers Franz Xaver Süssmayr and Joseph von Eybler; and b) performed in a public concert. Unlike the ditzy movie version, the real Frau Mozart knew a thing or two about how to outsmart the competition.
Of course, none of these ex post facto escapades is even hinted at in the movie. What we do get is an extraordinary, theatrically-derived bravura sequence (similar in scope to the Act II blinding of the stable horses in Shaffer's Equus) of the incapacitated Herr Mozart dictating parts of the unfinished Requiem to an admiring but over-parted Salieri, punctuated by choral and orchestral excerpts from the piece in question, and by Constanze's dramatic reappearance at her husband's bedside.
The Composer as God's Favorite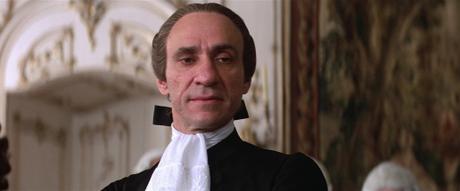 The young Salieri (F. Murray Abraham)
The real story of how the Italian-born Antonio Salieri (1750-1825), portrayed in the film as a fairly run-of-the-mill mediocrity, who came to prominence at the court of Austrian Emperor Joseph II after having been a protégé of the great operatic reformer, Christoph Willibald van Gluck, is regrettably glided over. While it is true that Salieri wrote innumerable pieces for the church and the theater — one of which, the opera seria Europa riconosciuta, inaugurated the Teatro alla Scala in Milan in 1778 — very few of his works have survived into the modern classical repertoire.
In actuality, both he and Mozart were far from outright adversaries. As contemporaries with virtually unlimited access to the Viennese court, they maintained a casual friendship and mutual respect, even collaborating together on several drawing-room pieces. Incidentally, Salieri was a most influential music teacher as well, having had among his pupils such illustrious celebrities as Beethoven, Schubert, and Liszt.
It has been determined that mounting dementia in Salieri's later years, wherein the aged composer was overheard by those in attendance muttering to himself that it was he who had brought about Mozart's demise, was the cause for the ensuing rumors and suspicions surrounding the younger man's so-called mysterious early death. Most likely, Mozart passed away from either kidney failure or uremic poisoning of his system.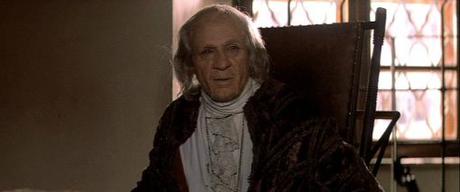 F. Murray Abraham as the older, embittered Salieri
F. Murray Abraham was catapulted into the front ranks of lead actors with his fascinating, multi-layered portrayal of the envious court composer Salieri, helped in large measure by the superb makeup job of veteran Dick Smith. Murray beat out an array of more famous stage and screen names, including that of Paul Scofield, who originated the part at London's National Theatre, Frank Finlay, Ian McKellen (the Broadway Salieri), John Wood, Frank Langella, and Daniel Davis.
What Murray brought to the character was a humanity and understanding of the supposedly untalented composer as unworthy of a just God's favor. The viewer could empathize with the embittered Salieri's reading that true genius comes from the most unexpected and, yes, most unmerited of sources.
Tom Hulce, who made his Broadway debut in 1975 as Alan Strang in Equus (which this author happened to have seen), is the vulgar and maniacally cackling but ever-so-charming Wolfie, a finely detailed achievement, with Elizabeth Berridge as his klutzy, lower-class spouse, Constanze. Hulce and Berridge's distinctive Americanness is wisely exploited by Czech director Forman as a counterpoint to the highbrow snobbery of the snooty types that populate the backstabbing royal court of Austrian Emperor Joseph II, played with a haughty and self-contained air of confidence (and boundless good humor) by the wonderful Jeffrey Jones.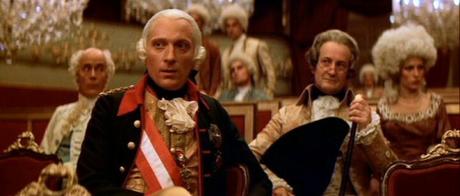 Jeffrey Jones (center) as Emperor Joseph II
The other cast members include Simon Callow (a noted author in real life, who played Mozart on the British stage) as Schikaneder and Papageno, Roy Dotrice as Leopold Mozart, Patrick Hines as Kapellmeister Bonno, Charles Kay as Count Orsini-Rosenberg, Christine Ebersole as Caterina Cavalieri, Vincent Schiavelli as Salieri's servant, Jonathan Moore as Baron von Swieten, Richard Frank as Father Vogler, who hears Salieri's self-loathing confession, Kenneth MacMillan (in an amusing bit restored for the expanded director's cut) as the owner of musically-inclined canines, Barbara Byrne as Constance's mother, and Kenny Baker (R2-D2 of the Star Wars series) in a "small" role in the Mozart parody episode. Twyla Tharp, who also worked on Forman's Hair and Ragtime, choreographed the various dance sequences.
The movie narrowly misses a four-star rating, as: first, the play was, naturally, much more concentrated on the stage; and second, it is shorn of some of its lovely literary language due to the different requirements of the film medium. In addition, the work takes extensive liberties with the perception and presentation of Mozart's operas that distort their true historical nature and significance — for example, in labeling Don Giovanni as Mozart's "darkest, blackest work." Preposterous!
And one of the more "revealing" sequences, i.e., that of Constanze's disrobing in front of an infuriated Salieri, could have been dispensed with (it was only hinted at in the play). Other than that, it's a fabulous showcase for classical-music lovers. The restored three-hour version on DVD and Blu-ray Disc is the one to see. (Hah! Too many notes, indeed!)
Copyright © 2016 by Josmar F. Lopes