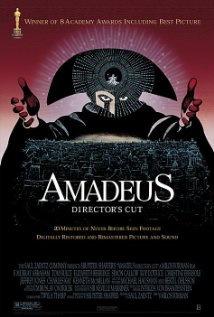 Director: Milos Forman
Writer: Peter Shaffer (Screenplay) Peter Shaffer (Stage Play)
Starring: F Murray Abraham, Tom Hulce, Elizabeth Berridge, Roy Dotrice, Simon Callow, Christine Ebersole, Jeffrey Jones
Plot: The incredible story of Wolfgang Amadeus Mozart, told by his peer and secret rival Antonio Salieri – now confined to an insane asylum.
There may be spoilers the rest of the review
Verdict: Brilliant Biographical Story
Story: Amadeus starts as an elderly Antonio Salieri (Abraham) admitting that he killed Mozart, leading to him getting taken to the insane asylum. Salieri recounts his story of his small town beginnings dreaming of being a composer and after a moment of fate he ends up in a position where he can learn music leading to him job as head conductor to the king of Austria. Mozart (Hulce) is the world renowned composer that has taken the notice of all around him with Salieri dreaming of one day being as good as Mozart.
We see how Mozart constantly ends up out shinning Salieri with his music leading to the rivalry between the two, with Salieri serious look on life and Mozart's flamboyant style of just getting through each moment. Salieri moves into the position of being the connection to the Emperor to get his unique work out there but he is really just building him up for failure trying to break him down with criticize of his work.
Amadeus gives us a brilliant look at one of the greatest musical minds in the history of man. We know the basic idea of what happened to him but now we get to see it through the eyes of one of his closest friends even if he is filled with envy for him. What starts as envy is filled with respect and seeing how a talented person can get used by all the people close to him which will drive him into his bad ways. Overall this really is a brilliant drama that is told in a way we can just enjoy.
Actor Review
F Murray Abraham: Antonio Salieri admits that he killed Mozart, but now he is confessing to how he believes he was responsible for the death from inside an insane asylum. We watch how he got his dreams of working with music and constantly found himself lacking the complete flair and natural ability of Mozart leading to jealous and planning to bring him down slowly. F Murray gives us a brilliant and well deserved Oscar winning performance in this role.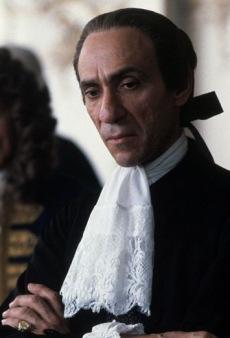 Tom Hulce: Wolfgang Amadeus Mozart is the flamboyant and brilliant composer who lives life on the edge spending every penny he ever received for his work, he pushes the boundaries to what is accepted even if his work is loved. He gains inspiration from his personal stories which will gain him enemies from his own confident in the government. Tom gives a performance that could easily have won him an Oscar too.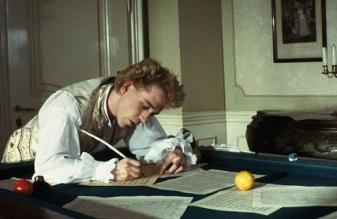 Elizabeth Berridge: Constanze Mozart is the wife of Wolfgang, she supports him in all the work he does but just wants him to actually get paid for the work so they can look after the family, even after she lives him she feels guilty. Elizabeth does a good job in this role.
Roy Dotrice: Leopold Mozart is the overbearing father who pushed Amadeus into this career path making him the puppet when he was younger as he was leading him to become the biggest name in music of his time. After his death we learn about the control he had over Amadeus. Roy is good in this supporting role.
Support Cast: Amadeus has a well performed supporting cast that each hold their own in the characters they are playing.
Director Review: Milos Forman – Milos gives us one of the best biographical films of all time.
Biographical: Amadeus shows the troubles of the great man and how it was his eventual downfall.
Music: Amadeus uses all the music of the great man and how it would have look on stage for the fans witnessing it all.
Settings: Amadeus recreates all the settings that would have been used during the time the film is set.
Suggestion: Amadeus is one that could have been watched by anyone to learn about a part of history. (Watch)
Best Part: The performances are brilliant.
Worst Part: If you are not a fan of classical music you will struggle.
Believability: Yes
Chances of Tears: No
Chances of Sequel: No
Post Credits Scene: No
Oscar Chances: Won 8 Oscars including Best Picture, Best Actor, Director and Writing also nominated for a further 3.
Box Office: $51 Million
Budget: $18 Million
Runtime: 2 Hours 40 Minutes
Tagline: Everything you've heard is true.
Trivia: When the movie won Best Picture at The 57th Annual Academy Awards(1985), Sir Laurence Olivierwas presenting the award. He went up to the podium, opened the envelope and said "Amadeus." The problem was he forgot to read the nominees first.
Overall: Brilliant drama about one of the greatest musicians of all time
Rating