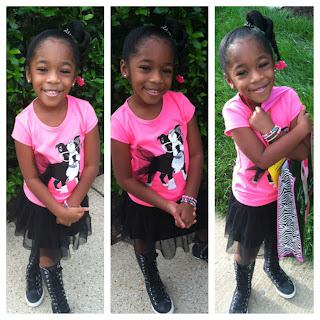 Zahara's official 1st day of Pre-K
I am so proud of my baby; she is officially an elementary school student! She's so excited about riding the school bus and she gets on that bus like such a big girl! I can't believe I am the mom of a child that is in Elementary school, where did the time go? My baby will be 5 years old in November and it is such a bitter sweet feeling. I am so happy that she is growing up to be so smart and independent but I miss my little baby that needed me! I find myself helping her with things that she no longer needs help with and she has to remind me that she can do it herself. One day my baby will be driving her own car to high school and then she will be off to college... I hope time slows down just a little bit lol. I love this little girl, watching her grow up has been amazing. She has taught me so much and there is absolutely nothing that I won't do for her.
I will tuck her in and read her bedtime stories until she asks me to stop. I will cook her dinner, buy her favorite snacks and play games with her until she moves out of my house, and I will give her hugs and kisses as long as she is alive! Zahara is spoiled, she is a cry baby at times and yes, she can be a brat. But she is MY brat and I dare someone to say anything about that! :)
The other day when I was preparing her for her 1st day of school she asked me "Mommy am I still your baby?'
My response:
"Zahara...you will always be mommy's baby."