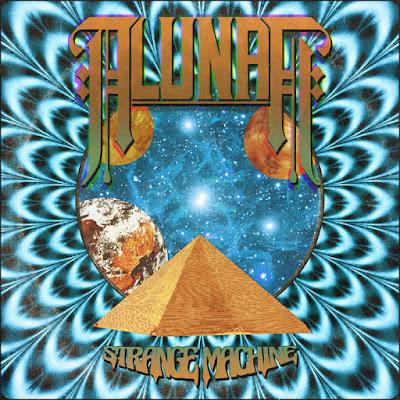 Birmingham band Alunah have come a long way from their formation in 2006. Starting as a doom band they made some good albums but nothing that made them stand out and grab the attention. The arrival of singer Siân Greenaway altered the vibe of the band and the sound stated to develop beyond mere sabbath riffing. An e.p. Amber and Gold (2018) and an album violet hour (2019) showed anyone paying attention here was a band flexing their musical wings and beginning to pushout ahead of the flock. Siân's baritone vocals added a deep dark element to the songs.
Alunah are getting some well deserved recognition, with a support tour with none other than Paradise Lost under their belts and a packed to the rafters headline slot at the Dev in Camden as part of Desert Fest London the traction they are gaining is in part due to their new album Strange Machine. Here they take flight and serve up what can only be described as a classic rock record with the emphasis on classic. The title track opens the album with a riff from new guitarist Matt Noble that is confident in its swagger that is matched by the rhythm section Dan Burchmore (bass) and Jake Mason (Drums). It is a excellent opener and dispenses with the normal doom tropes. The chorus shakes the rafters and Siân' introduces some grit and gravel to her magnificent baritone, She lets her voice stretch and move in to areas not heard before and none more than third track "Fade into Fantasy" Here she sings right across her range baritone to falsetto and the stratosphere beyond. And the band swoop around her and change direction in unexpected ways. This song is epic in its ambition, delivering on every level, and it only one of many surprises on offer throughout the album. The biggest left turn, and in the best possible way is Psychedelic Expressway. Set the time for machine for 1968 and wallow in this lovely slice of pastoral loveliness. Featuring a gorgeous flute riff that is mirrored by Matt's solo. It conjures images of hazy spring afternoons, Forget more cowbell gimmie more Flute!!
They haven't completely discarded their doom roots and Broken Stone and The Earth spins nod towards the church of Iommi but keep the melodic choruses that populate the album. Every song, every riff, every vocal melody is in fact an earworm. There is honestly not a bad track here. All killer and no filler may be a cliché but it is meant as a compliment when discussing this album.It is to the songs credit that every spin makes me change my opinion on which is my favourite track. Any one of them could be lifted and slotted in to their live set and stay there for years to come.
Great songs and great performances. Heavy and Melodic. This is a band only starting to tap in to the possibilities of what they can do. Strange Machine has got swagger, it struts, it soars and it grooves. Aluah deliver everything you could want from a rock album. It makes one hell of a statement. It says sit up and pay attention, this is how it's supposed to be done. I can't wait to hear where they take the music next.
Alunah headline the Black Heart, Camden on July the 16th. Not one to be missed.
Strange Machine is out on Heavy Psych Sounds now.
-Bobo Coen
https://www.facebook.com/alunah.doom