"If there is an image that captures how the passion of Welsh rugby and the pride of Welsh identity cannot be separated, it is Alun Wyn Jones singing the national anthem"
Carolyn Hitt.
2011 has been an exceptional year for Welsh rugby. As Wales narrowly missed out on a place in the World Cup Final, every single passionate Welsh rugby fan experienced excitement, elation and yes, disappointment. But undoubtedly, the overriding emotion has to be pride. What better way to celebrate this remarkable year than to share the experience of arguably one of Wales's most passionate rugby players – Alun Wyn Jones.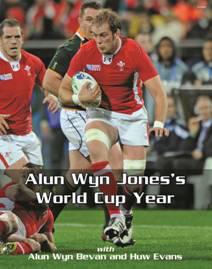 Alun Wyn Jones's World Cup Year
, published by
Gomer Press
,
is Alun Wyn's first book, and it has been a very busy year for the Ospreys, Wales and British Lions second-row forward.
His diary gives us an insight to his thoughts on good and bad days with his regional side, as well as on the Welsh team's performances during both the Six Nations Tournament and the Rugby World Cup. Find out what he thought of

that

red card, of the heartbreaking defeat against France and what the future holds for this inspiring young team.
Contrary to popular belief, there is more to an international star's life than rugby. Although a great deal of time is dedicated to training and hard work on the playing field, there is an occasional day off, and Alun Wyn has made the most of them this year. Living every man's dream, he spent a day as James Bond in an Aston Martin and a visit to the Dyfi Osprey Project inspired the Ospreys captain to think like a 'real' osprey on the rugby field!   
One of his co-authors, Alun Wyn Bevan, also helped him realise another ambition by arranging a fishing lesson for him, but this was no ordinary lesson – it was a lesson from none other than rugby legend Gareth Edwards on the river Tywi.
When Alun Wyn Jones was approached to be part of this project to raise funds for the

Stepping Stones Appeal

, he felt it to be both his duty to accept and an honour to have been asked. By giving of his time and effort for the sole benefit of the charity, Alun Wyn has proved what Carolyn Hitt says of him: "He's everything you want the modern Welsh player to be – hugely talented on the field and a rounded individual off it."
The co-author of this book is Alun Wyn Bevan, who is well known as an experienced author, broadcaster, rugby commentator and former referee. Alun Wyn Jones explains in the introduction to the book how a mix-up involving their Christian names brought both authors together.
This remarkable and memorable year in the history of Welsh rugby is captured with striking, exclusive photographs from the World Cup campaign by Huw Evans, the WRU's official photographer.
Alun Wyn Jones's World Cup Year
is the ideal Christmas gift for all rugby fans.
All royalty payments from the sale of the book will be donated to the

Stepping Stones Appeal

, supporting Lung Cancer Research at Velindre Cancer Centre, Cardiff.
Alun Wyn Jones's World Cup Year
is available from all good bookshops and online retailers.
For more information, please visit www.gomer.co.uk