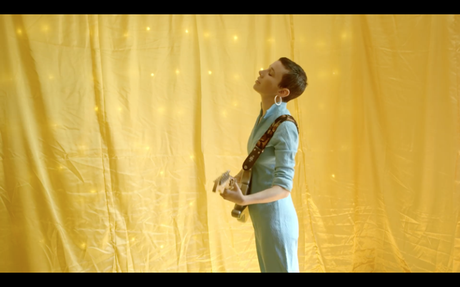 Sydney Alt-Folk artist, HARLEY MAVIS, releases the B Side version to her latest song, 'Thief,' where she explores the intimacy and story behind the original song in a stripped back, acoustic arrangement. 'Thief (Acoustic)' taps into her struggle with mental health and writer's block after coming out of a toxic relationship. Her relationship with this song is deeply personal describing Thief (Acoustic) as,
"A time in my life that was filled with huge uncertainty and constant questioning of who I was and where I wanted to be. It was where I definitely hit rock bottom."
Its stripped back production by Simon Berkelman of Golden Retriever Studios, encapsulate the style in which the song was initially written, showcasing the depth and strength of Harley's vocals.
In the simple and intimate video that accompanies the track, directed and filmed by Maya Luana, shows the fragility of Harley's world that is both personal and inviting into the space.
Harley will be backing up the B Side with a song-writer's night at The Vanguard for In The Round on October 8th with musicians Georgia Mulligan, Joe Mungovan and Eilidh McGuire. She will also be supporting Eliza & The Delusionals on October 19th and Cousin Tony's Brand New Firebird on October 31st.
Her last release, 'Thief' premiered on Triple J's Home & Hosed and continued to attract attention with the additions to Spotify Playlists 'New Music Friday AU & NZ' and 'Broad Chords,' added to rotation on both Double J and Triple J Unearthed and described as the 'Top 5 Uploads to Triple J Unearthed' in its first week, and furthered her success with a rotation add to music video show, 'Rage.'
Having sung for almost all her life, Harley quickly started idolising strong female folk artists like Missy Higgins, singing intensely into her hairbrush-microphone and memorising all the lyrics. From this, Harley Mavis has stemmed largely from her roots to create a new and exciting form of cruisy, alt-folk rock; with heartbreaking lyrics, driving choruses and a unique understanding of her surroundings.
Proud of representing queer women in the music industry, Harley Mavis recently participated in the Cotton On Campaign for International Women's Day as a voice for LGBTQI+ musicians. She performs for charity and representation events such as Women in Music Empowerment Day, Not Just Grrls and Coven and was nominated in 2018 for an Australian LGBTI Award in the music category.
Unapologetic and intriguing, Harley Mavis' performances will have you energetic and on your feet just as quickly as slow dancing to her epic ballads.
You can read Tomatrax's interview with Harley Mavis's here. Check out Harley Mavis's Facebook page to find out more!