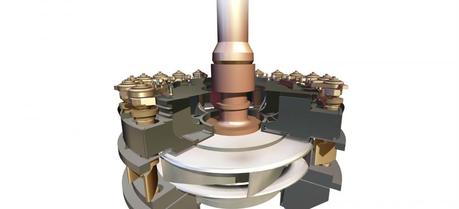 3D rendering of hydro pump turbine. (Credit: Alstom)
The 300 MW pumped hydropower storage facility, located 60 km east of Haifa (Israel), will be commissioned in 2018, and will increase the country's installed power generation capacity by 2.5%. It will contribute to increasing the reliability of electricity supply and will provide an important tool to control the demand and distribution of electricity.
Alstom has signed two contracts totaling around €120 million ($163 million) with PSP Investment Ltd for the supply of two 150 MW pump-turbines with the associated balance of plant equipment and Alstom's Distributed Control System (DCS) for the 300 MW Gilboa pumped storage power plant in Israel. The project will be the country's first pumped hydropower storage facility.
During off-peak hours, pumped storage uses the energy from other power stations to transfer water to a high storage reservoir. The stored water will later be reused to generate electricity to cover temporary peaks. This helps lower the overall operation cost of power production and levels the fluctuating output of intermittent power sources.
"This contract demonstrates Alstom's commitment to supporting the Israeli energy market, providing solutions for renewable and clean energy sources. This order further reinforces Alstom's leading position on hydro pumped storage power market, and our capability to propose to our customers a complete offer from equipment to services" said Jérôme Pécresse, President of Alstom Renewable Power.
Pumped storage is the most widespread grid-scale energy storage system in use on power networks, and, according to Alstom, today there is over 127 GW of pumped storage in operation around the world.
Alstom has been providing pump turbines for over 50 years and has supplied 140 units to date, which represents a market share of more than 30%.