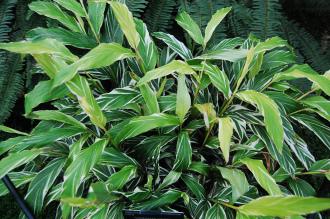 Alpinia vittata (16/01/2016, Kew Gardens, London)
Position: Dappled shade to indirect bright light
Flowering period: All year round
Soil: Moist, well drained
Eventual Height: 1.2m (smaller as a houseplant)
Eventual Spread: 1.2m (smaller as a houseplant)
Hardiness: 10b, 11, 12, 13
Family: Zingiberaceae
Alpinia vittata is a tropical evergreen perennial with a clump forming habit. It should be noted this plant will die back to ground level at the lower end of its hardiness range. Its mid green leaves are marbled with white variegation, are lanceolate with entire margins, up to 20cm long and 5cm across. Its leaves emerge from pseudo-stems, these are made up with many layers of leaf sheaths. Its pink/ red flowers appear as pendulous spikes which are up to 25cm long. Its roots contain rhizomes from which its leaf stems emerge.
Alpinia vittata, commonly known as Marble Ginger, Striped Narrow Leaf Ginger or Variegated Ginger, is native to the Solomon Islands. In its native habitat it grows as a tropical woodland understory plant. Alpinia vittata is synonymous with Alpinia sanderae.
The etymological root of the binomial name Alpinia is named for Prosper Alpino (1553–1616), an Italian botanist. Vittata is derived from the Latin vitta menaing 'ribbon', in reference to its striped leaves.
The landscape architect may find Alpinia vittata useful as a specimen houseplant with attractive foliage. It may also be used in atrium and conservatory planting schemes as an understory plant. It should be noted that this plant requires a humid atmosphere.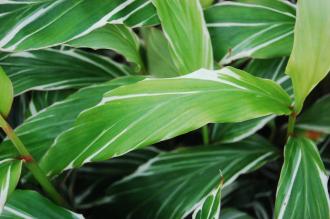 Alpinia vittata Leaf (16/01/2016, Kew Gardens, London)
Ecologically, Alpinia vittata is of little value in the UK.
Alpinia vittata prefers moist, humus rich, well-drained soils. It tolerates most pH of soil.
When maintaining Alpinia vittata as a houseplant its soil should be watered regularly. Watering should be reduced during the winter months. Its preferred active growing temperature rages from between 18ºc to 27ºc, it will tolerate a temperature as low as 13ºc during its inactive growth period. Feeding with weak fertiliser solution should be carried out once every two weeks during the growing season. Red Spider Mite may attack this plant. This plant may be misted with water or stood in damp pebbles to improve humidity. To keep a tidy appearance old canes should be removed to their base.


Landscape Architecture