Aloo Poha- An easy and delicious breakfast made with beaten rice,potato and peanuts
Aloo Poha or Batata Poha is a very popular breakfast specialty from Maharashtra and Gujarat but now equally popular all over India. Poha is flattened rice/beaten rice/Pressed rice/flattened rice /chura /chivda or pohe and batata means potato . There are so many versions of making poha depending on each region and family tradition or preference. Some makes poha with just peanuts ,some also add coconut . Batata poha or aloo poha is the most popular one after the kanda poha.
Different Versions of making Poha
Aloo Poha is the most popular version of poha but There is few more version of making poha. Indori poha a delicious variety,which is made slight differently and the main ingredient is the famous Indori jeeravan masala (will post the recipe soon) . Chura Matar from Banaras is made with just fresh green peas and garam masala. In Bihar dahi chuda is also very popular specially in summer.In Tamilnadu they make poha with tamarind(puli Aval )and use urad daal etc in the tempering . The Gopala kala which is made on Janmastami in Maharashtra is very simple to make but taste amazing ! whatever way you make poha it always taste delicious.
Though poha is considered as a breakfast item but it can easily be served as brunch, lunch or for light dinner . Serve it with some coconut chutney or a bowl of yogurt for a quick,light and satisfying meal. You can pack it in lunch boxes, carry for picnic or as a travel food . It is enjoyed every ways.
Which Poha to use for making Aloo Poha
There are so many variety of poha available in the market ,thin,medium and thicker one are mainly available everywhere. The thinner one is used mainly for making chivda namkeen. For making aloo poha use the thicker poha. If you use the thinner one then it will be mashed up while mixing poha .
Wash or soak poha before making ?
Poha should be washed first to remove the dirt then the poha is soaked in enough water . The soaking time entirely depends on the quality or thickness of the poha. You may need to soak it for a minute or little more ,as soon as the poha looks swelled up its done. Drain the poha on a colander to remove the extra water. Never try to squeeze the extra water else it will be mashed up while stir frying.
If the poha is not thick enough then take the poha in a colander and wash under running water and then keep it aside and after 3-4 minutes sprinkle some water on the poha so it will swell up well.
I have seen some even add milk or thin buttermilk to soften the poha , but I always wash it with water. do whatever suits your taste.
Ingredients to add in Poha
There are many variations of making poha in each state with little change in tempering or choice of ingredients but the main ingredient remains the same- poha
Aloo Poha -Always use good quality thick poha,you can use normal white rice poha, red rice poha or use brown rice poha. The recipe will be the same just the soaking time will be different . Brown and red rice poha takes longer time to soak and swell as compared to white rice poha.
Potato- You can add boiled and cubed potatoes for a quicker version or chop them into small cubes and then saute or deep fry them. Peanuts - fried peanuts gives a very nice crunch , you can either add whole peanuts or crush them slightly before frying. If you are allergic to peanuts then you can easily substitute peanuts with cashew nuts. I mix fried peanuts in my poha but you can add them as garnish while serving.
Mustard seeds ,green chilies ,curry leaves, salt ,lemon juice are must have ingredients and should not be avoided. Addition of little sugar is optional but highly recommended. Tomato is a optional ingredient but I always add tomatoes, ginger and peas in my Aloo poha as they gives a nice taste and makes poha quite colourful and appealing to eyes 🙂
How to Garnish Aloo Poha
You can garnish poha with so many things. The most popular topping is with thin besan sev/ bhujiya , Mix namkeen mixture, roasted peanuts, grated fresh coconut ,with pomegranate pearls or just garnish with some fresh coriander. Serve aloo poha with some chutney or serve as it is .
You can also try these poha recipe-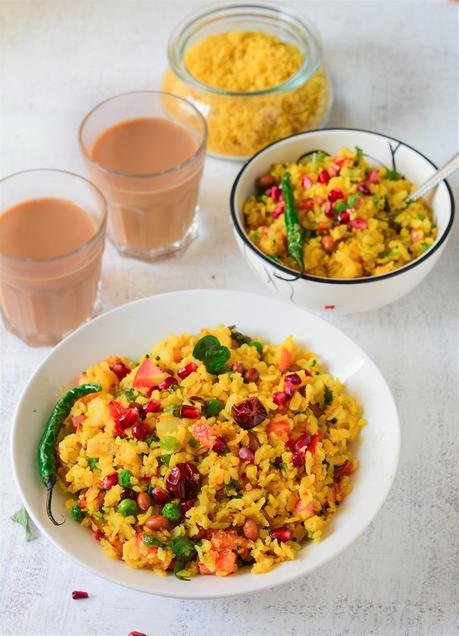 You can also follow me on, , and for more delicious recipes and updates
Aloo Poha/ Batata Poha