I am glad we caught the only bus going straight to Aloguinsan a few minutes before its scheduled departure, 7AM. If not, we would have had to take a bus to Toledo then transfer to a jeepney to get to Aloguinsan; or a bus to Pinamungahan and then a tricycle to Aloguinsan.
It was a one–day weekday holiday and I would spend at least five hours on the road to and from Aloguinsan, just to see Bojo River.
After 2.5 hours on the bus, we were ejected near a turnoff where a bunch of motorcycles were parked under a tree, on which a tarp showing the fares was nailed.
For exactly how much the fare was shown on the tarp, Php 20, we were taken to Bojo River, where we paid Php 400 (weekends and holidays; Php 300 on weekdays) each for the tour. We had arrived just as the tide was coming in, perfect timing. (Bojo River tours only happen during high tide. Check the tides when scheduling your tour.) A briefing was held before we were asked to don lifevests and get on our assigned banca.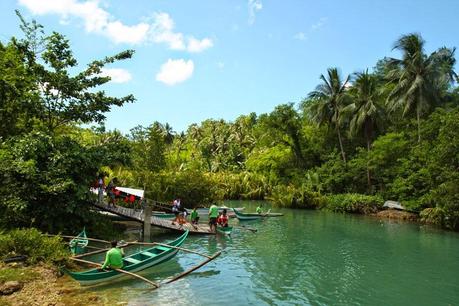 The starting point of the tour
As we drifted along the river, our guide pointed to different types of mangroves and rattled off scientific names which sounded gobbledygook to me. Half my brain absorbed the scene unfolding in front of me, and the other half struggled to register all the names of mangroves and other information the guide had painstakingly memorized. I commend him for going through months of study and training, just to educate us, but, unfortunately, this student is of the rotten bunch and would only pay attention to the interesting stories and funny jokes he injected in between.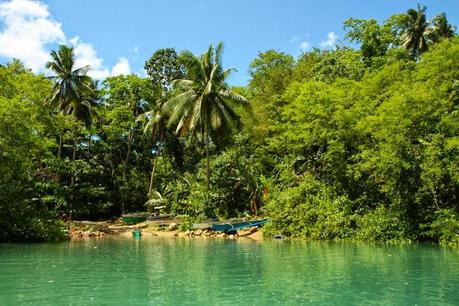 A small clearing where fishermen park their boats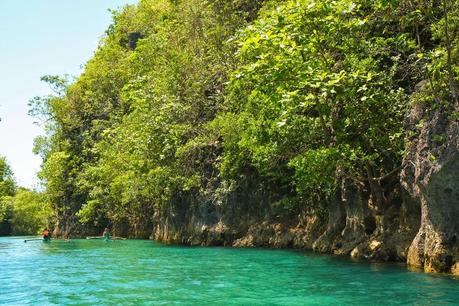 At the inlet, we were given time to jump into the water and swim around. If not for other groups waiting, we would have spent hours in the water, not caring if our fingers turned like raisins—all wrinkled. But time's up, we musn't be selfish, there were other groups to teach and it was their turn to get the Bojo River education.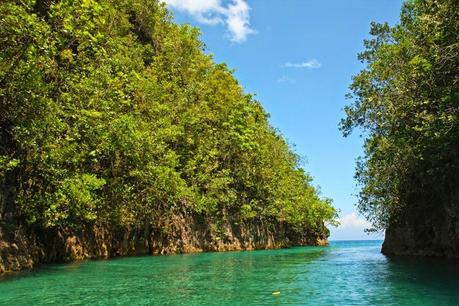 To Tañon Strait
When there are no guests to ferry along the river, the Bojo River tour guides work as fishermen. Tour proceeds go to the fishermen and their families, and to community projects. If you feel that Php 400 is too much for a short tour (about an hour), think of it as a way of helping the community.
Package tours (minimum of 5 persons) are also available. Advance booking is required. Contact the Aloguinsan Municipal Tourism Office at 032 469 9034.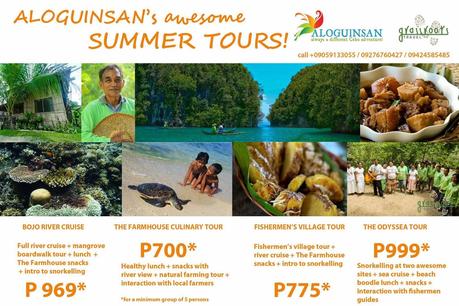 Aloguinsan
Bojo River (you're here!)
Hidden Beach (soon!)
How speeding through Aloguinsan sped through Mustachio's wallet:
Bus, Cebu to Aloguinsan Php 80
Habalhabal to Bojo River Php 20
Bojo River tour (walk–in weekend/holiday rate) Php 400
Habalhabal Bojo River to market to Hidden Beach Php 40
Hidden Beach entrance fee Php 15
Hidden Beach table rental Php 150
Habalhabal to Pinamungahan Php 50
Bus, Pinamungahan to Cebu (aircon Ceres bus) Php 100