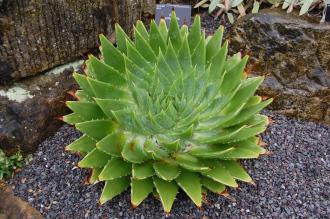 Aloe polyphylla (07/06/2014, Kew Gardens, London)
Position: Full sun to dappled shade
Flowering period: Early summer
Soil: Moist, very well drained
Eventual Height: 30cm
Eventual Spread: 30cm
Hardiness: 8b, 9a, 9b, 10a, 10b
Family: Xanthorrhoeaceae
Sub Family: Asphodeloideae
Aloe polyphylla is a stemless evergreen perennial with a compact, clump forming habit. Its grey/ green leaves are triangular with serrated margins, up to 20cm long and arranged spirally. Its red/ pink flowers appear on a robust flower spike.
Aloe polyphylla, commonly known as Spiral Aloe, is native to the Kingdom of Lesotho. In its native habitat it grows on mountainous grassy scree slopes and in rock crevices. This plant is endangered in its native habitat.
The etymological root of the binomial name Aloe is derived from the Semetic alloeh a name for this genus. Polyphylla is derived from the Greek polys meaning 'many' and phyllon meaning 'leaf''.
The landscape architect may find Aloe polyphylla useful as a specimen plant in a rock or desert garden setting. Once established this plant is drought tollerant. This plan dislikes excessive daytime temperatures (30ºc).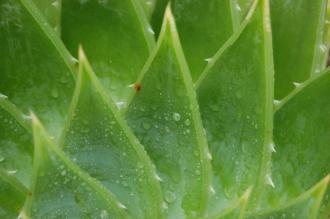 Aloe polyphylla Leaf (07/06/2014, Kew Gardens, London)
Ecologically, Aloe polyphylla are of little value in the UK as they are pollinated by a specific species of bird.
The Royal Horticultural Society has given Aloe polyphylla their prestigious Award of Garden Merit in 2012.
Aloe polyphylla prefers moist, very well-drained soils. It tolerates most pH of soil.
Aloe polyphylla requires little maintenance.