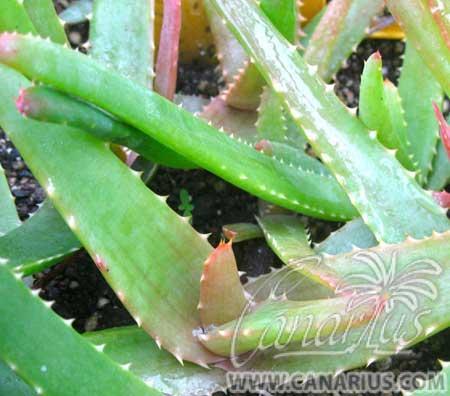 In our online store, Canarius.com, we have brought new sort of plants for every plant lover, such as Aloe: a succulent plant with a rosette of thick tapering leaves and bell-shaped or tubular flowers on long stems. Aloe is native to the Old World. However, there is a great variety of Aloe plants and, in this case, we will talk about Aloe ericetorum. This variety of aloe belongs to the botanical family: Xanthorrhoeaceae. Moreover, it is small, without a trunk, with gray leaves (sometimes, light-green too) and forms a rosette of narrow leaves. The inflourescences are slightly branched, but hold yellow flowers at the tips. It is a solitary aloe with thick gray leaves and round "heads" of yellow flowers.

---
We have brought new sort of plants for every plant lover: Aloe ericetorum
Click To Tweet
---
As usual,
aloe plants
are bred with great results on sunny hillsides. Generally found in rocky or stony places
from the Old World
; in most of Africa, Madagascar and in parts of Asia. Aloe ericetorum grows on sandy soils in a small location in Central Madagascar, north of Andilamena. Coming from an inland, highland area, it can withstand cold (unlike similar plants). That's why this kind of herbaceous is a perfect option for those who live in cold areas (minimum winter temperature: 0Cº to 10Cº). In
Canarius.com
, we count on
Aloe ericetorum
and (surely) we can send it directly to your home. In this sense, we offer a 15-20 cm plant with the serenity of knowing that we are always shipping hundreds of parcels to many different countries. Do you want to have at home an Aloe ericetorum?
Make your purchase
!