Before I begin, here's a quick reminder to enter my 2nd April giveaway here.  Simply visit Emergency Essentials' website, find something you'd like to try, visit this post, and tell me what it is.  It's a Quick, Simple, and FREE entry!
Yesterday, as I was preparing to go to a surprise birthday party for a dear friend, I was trying to think of some yummy treats to bring along with me.  I planned to bring some homemade artisan crackers to serve with goat cheese and vanilla pear jam (click here to learn how easy it is to make these delicious crackers!), but I wanted to bring something sweet like a cookie.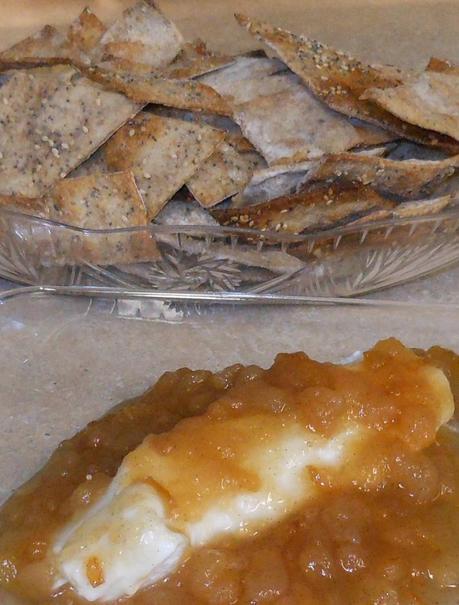 Yummy homemade crackers served with Vanilla Pear Jam over goat cheese. YUM!
I took a look in my baking cupboard and found that I was running out of chocolate chips.  Not too great for a so called "food storage expert," huh?  I took a quick inventory of what I had in my baking cupboard and found that I had a 1/4 full bag of coconut and some almonds in addition to the chocolate chips.
Then, I had a burst of inspiration: Almond Joy Cookies!  Of course, I had never made Almond Joy cookies, and I didn't have a recipe for them, but I thought I could adapt my favorite chocolate chip oatmeal cookie recipe and come up with something respectable.  So, I decided to go for it.  I mean, what could go wrong?  Actually, a lot could go wrong, but worst case I could bring the crackers, right?
Here's the recipe I created.  Just so you know, I didn't pull this recipe out of a hat.  I started with a good oatmeal cookie recipe and adjusted some of the ingredients to make them more like an "Almond Joy" candy bar.  They turned out pretty yummy, if I do say so myself.  They were also a hit at the party, so I think this recipe is a keeper.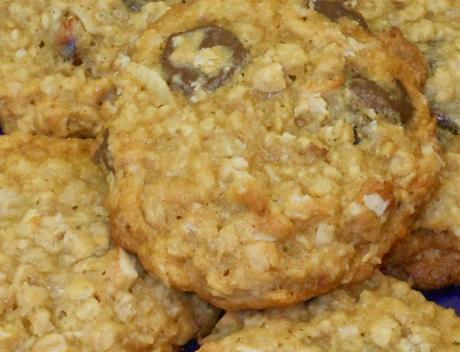 So yummy!
Almond Joy Oatmeal Cookies
Adapted from Nestle's Choc Oat Chip Cookie recipe (found here)
1 cup of salted butter, softened
1 1/4 cup brown sugar, packed (I used 1 1/4 cup granulated sugar plus 1 tablespoon molasses.  Click here to learn how to make your own brown sugar.)
2 large eggs
2 tablespoons milk
2 teaspoons vanilla extract
3/4 teaspoon almond extract
1 teaspoon baking soda
1/2 teaspoon salt
1 3/4 cup flour
1 1/3 cup sweetened coconut
1 1/3 cup chocolate chips
1/2 cup chopped almonds
2 cups oatmeal (I prefer old-fashioned oats)
Preheat oven to 350 degrees Fahrenheit.  Mix together softened butter and brown sugar (or granulated sugar and molasses).  Add eggs and mix until well combined.  Next, add the milk, vanilla, and almond extract and mix well.  Stir in baking soda and salt, then add the flour and mix well.  Add coconut, chocolate chips, and chopped almonds and stir to combine.  Finally, add the oatmeal and mix until all ingredients are distributed pretty evenly throughout the dough.
Drop cookies onto a cookie sheet by tablespoons.  (My cookies were formed using a 2 tablespoon scoop.)  Place cookie sheet in preheated oven and bake for 6-12 minutes (depending on size of the cookie).   Rotate cookie sheet halfway through bake time.  When done, remove from oven and put cookies on a cooling rack.  Enjoy!
Here's my photo step-by-step.  (I didn't include as many pictures as I normally do, because I was more concerned about getting the recipe "right" than taking pictures.  Sorry!)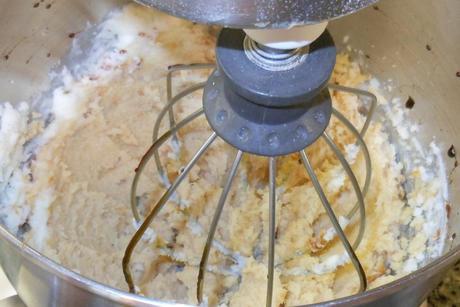 First, I put 2 sticks of salted butter into my mixer along with 1 1/4 cups of granulated sugar and 1 tablespoon molasses. Then, I turned the mixer to medium and let it go until they were well incorporated.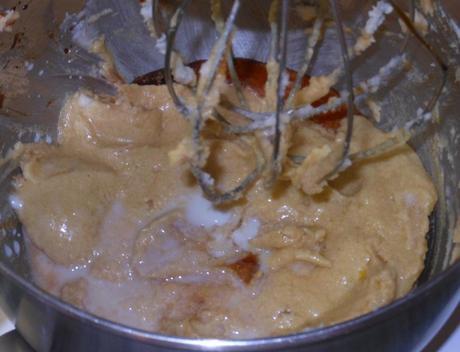 Next, I added the eggs and mixed well.  Then, I scraped down the sides of my bowl, then added the milk, vanilla, and almond extract.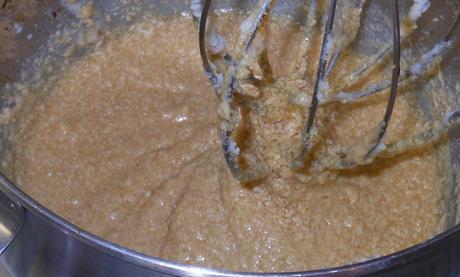 After mixing the ingredients together, the texture was quite wet. But that's how it should be!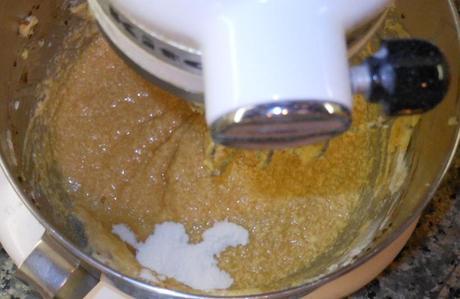 Next, I added the salt and baking soda to the mixer and turned it on medium for about 30 seconds to ensure that they were well incorporated into the cookie dough.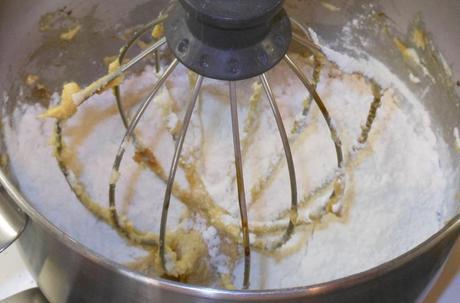 I scraped the sides of the bowl, then added the flour. Again, I mixed it on low to ensure the flour was well incorporated.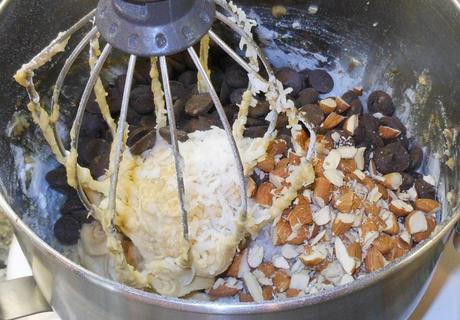 Then came the fun part! I added the sweetened coconut, chocolate chips, and chopped almonds and mixed well.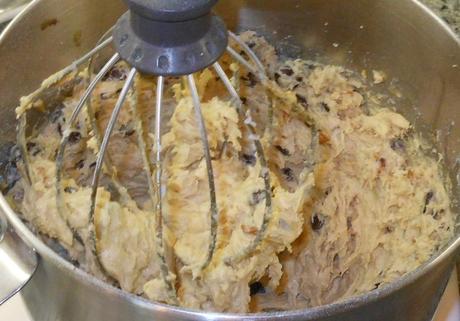 Until it looked like this. Then, I added the oatmeal and let the mixer go for a minute or so to ensure all the ingredients were evenly distributed throughout the dough.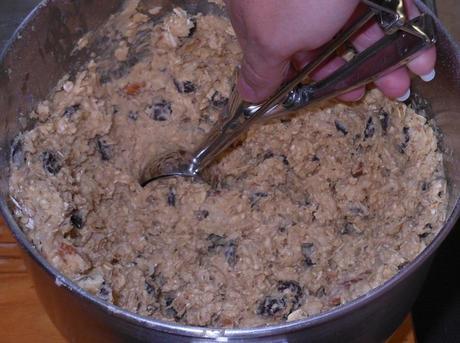 The cookie dough was ready to go! I used my 2 tablespoon scoop to measure the dough and put it onto an ungreased cookie sheet.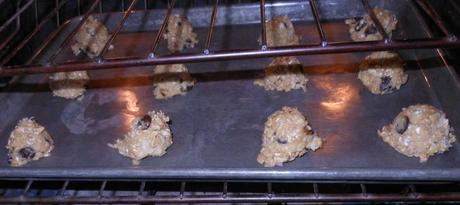 I almost forgot to take a picture of this! I put the cookies in a 350 degree Fahrenheit oven for a little more than 10 minutes (rotating the cookie sheet once during baking).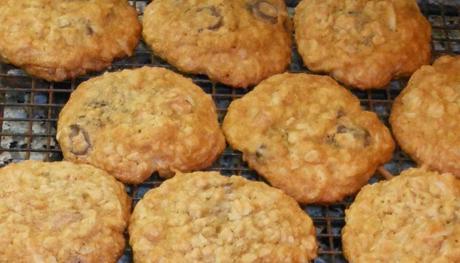 When they were done, I transferred the cookies to a cooling rack.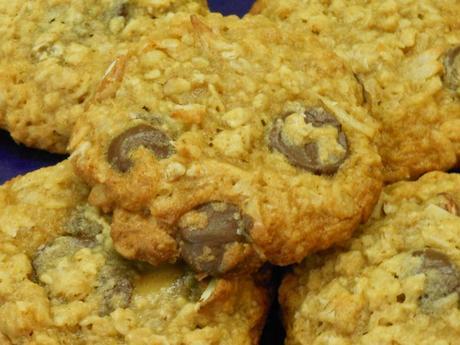 And Voila! They were done!
What do you think about that?  The cookies were soft and yummy with crisp exteriors.  The perfect party cookie (as long as no one is allergic to the ingredients)!
Think you might make these or your own candy bar inspired cookies?