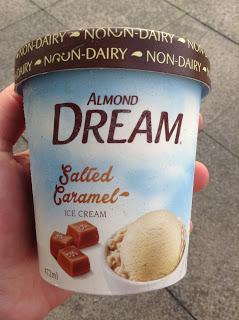 Since Ben & Jerry's launched their Non Dairy Ice Creams in the UK (check out my review of the Non Dairy Chunky Monkey here), it seems that Vegan and Dairy Free products are finally making it into the mainstream. The options are variable, with the Ben & Jerry's Non Dairy range being pretty good, whilst the Alpro Non Dairy Ice Creams are rather poor in my opinion. So how does this Non Dairy Ice Cream from Almond Dream compare? The range comprises of a few varieties, such as Mint Chocolate Chip and Velvety Vanilla, and is available from supermarkets such as Morrisons, Waitrose, Sainsbury's, Asda and Ocado.com.
I saw the Salted Caramel variety reduced to £3 in Sainsbury's recently (it's usually between £4- £5) so thought I would give it a try. It's made with almonds, cane sugar, maltodextrin (from tapioca) and a few other fillers. I'm not a big fan of fillers in ice cream but I suppose being non-dairy it needs to be bulked up with something.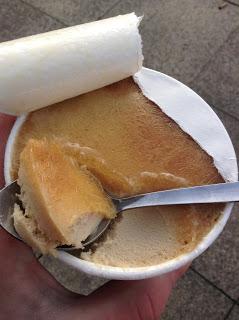 When I opened the tub, I was surprised to find a layer of hard caramel at the top. Is that the salted caramel? I wasn''t sure so I dug in with a spoon...it's a strange, semi-brittle texture that tastes vaguely of caramel but not quite. It tasted ok but the texture was just odd.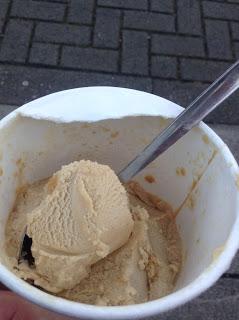 The ice cream below was fairly uniform, it all tasted the same with a sweet and vaguely salty butterscotch flavor. It was pretty good; it melts in the mouth nicely and is very creamy, but it was lacking something. I think this tub would be much better with ripples of salted caramel sauce running through it, rather than the hard layer of brittle on the top. But maybe it's hard to make dairy free salted caramel? Who knows!
Overall, this isn't one of my favorite Dairy Free ice creams but it's not one of the worst either. I would buy it again if there were no other dairy-free options, but I think the Mint Choc Chip might be better. This one was let down by the weird layer of caramel "brittle" on top...they need to have a re-think of that in my opinion.
Ingredients: Water, cane sugar, almonds 5%, tapioca maltodextrin, vegetable oil: safflower, brown rice syrup, stabilisers: guar gum, locust bean gum, carageenan, emulsifiers: sunflower lecithin, soya lecithin, natural flavouring, salt 0.3%, colour: plain caramel, cocoa butter, soya protein, thickener: pectin. 

Nutrition Information (per quarter of pack): 119 Calories, 5.2g Fat, 16.8g Carbohydrates, 12.4g Sugars, 0.9g Protein.
7 out of 10.