We love chicken fingers but not the unhealthy calories that come with deep fried foods! Often the substitutes to deep-fried dishes are not that great. This recipe is the exception – it is delicious! You can get a nice deep-fried appearance through baking and the Panko's breadcrumbs. I had the white breadcrumbs in our pantry but if you use the whole-wheat version you may have a more golden color. This is a wonderful recipe where there are a lot of opportunities to add other ingredients such as herbs or Parmesan cheese.
For the almonds, I used a food processor to pulse them to a coarsely chopped texture. Do not over process them or it can turn into almond butter. Yummy as that is – we do not want almond butter for our chicken fingers!
There are different options for the chicken fingers that include purchasing chicken tenders that are already formed like a chicken finger. A better option can be to purchase boneless, chicken breasts and cut into chicken fingers or nuggets that children might like or great as an appetizer.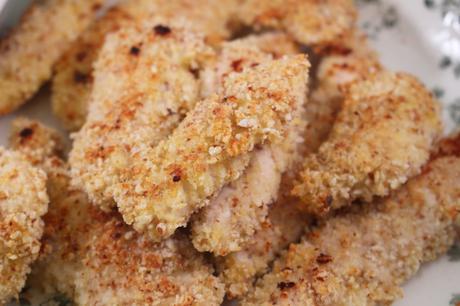 We had these Chicken Fingers as part of our SuperBowl Sunday meal along with Buffalo Style Meatballs and Buffalo Style Potatoes.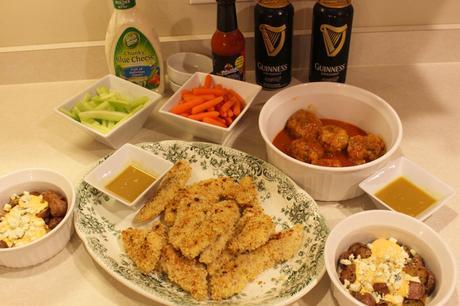 This yummy recipe was inspired from BeachBody.
Wet Ingredients:
2 large eggs
2 Tbsp. water
1 pound uncooked chicken breast tenders, skinless
Dry Ingredients:
1 cup whole-wheat Panko's bread crumbs
½ cup finely chopped raw almonds
1/2 tsp. salt
1/2 tsp. ground black pepper
Dried Herbs, optional
Parmesan Cheese, optional
Preparation:
When ready to assemble the chicken fingers, preheat the oven to 425° F.
Mix the wet ingredients together and then add the chicken. Let it sit 30-minutes in the refrigerator turning at least once.
Combine dry ingredients in a large resealable plastic bag and shake to combine. Add a few pieces of chicken to the plastic bag and shake until coated. Remove and place on the prepared baking sheet. Continue until all chicken pieces are coated.
Bake for 18 to 20 minutes, turning after 10 minutes, or until cooked through and golden brown. Serve with your favorite dipping sauce!
Tagged: baked chicken fingers, Beachbody, cooking, dinner, food, food photography, healthy chicken fingers, photo, recipe, SuperBowl food