My email box's favorite pastime is to gather cobwebs. It does it amazingly well, too. When an email poked thru the cobwebs, my big eyes widened and my bushy eyebrows raised. It was just like receiving a letter thru the post—it rarely happens. The email was from Senpur Trading located in Naga City, Cebu, and it was an invitation for the launching of Allmytea Iced Tea. I racked my brain for answers to questions as to why they invited me and how they got my email address. I could not come up with any plausible answer. To whoever gave my name and email address to Senpur Trading: Thank you. :-)
On to the day of the launch. The Allmytea Iced Tea launch was held at Japengo in Parkmall. I thought it was going to be a big event with many media people and a flock of bloggers. But, no, it was small and modest, with just a handful of people.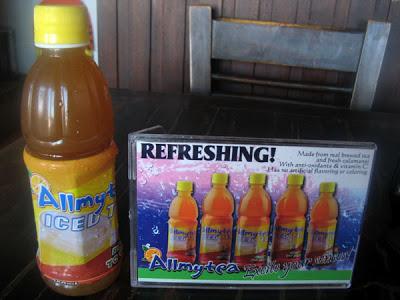 Senpur Trading is responsible for bringing Allmytea Iced Tea to Cebu. Allmytea Iced Tea is a product of Marventure Corporation in Malabon City. This iced tea came out first as a homebrew and was later on sold in a school canteen in Manila. That was in 2003. Now, ten years later, we, Cebuanos, get a chance to try this brewed tea with real calamansi juice and orange squeeze.
Senpur Trading's General Manager, Stacy Rubie Purugganan, chose Allymtea Iced Tea for she wanted a drink that is safe—no artificial flavoring. The tea used is Black Tea since this has the strongest taste among teas. The iced tea is available in concentrate (500mL and 2L) and ready-to-drink (350mL and 500mL) bottles. The ready-to-drink bottles go for Php27 for the 350mL and Php32 for the 500mL. Allmytea can also be served as a frappe iced tea, iced tea shake, or as a cocktail (with vodka).
For now, Allmytea Iced Tea is available in Japengo, Popeye's Grill House, and Cafe de France Robinsons. It is not sold in groceries because, being all-natural, it has a short shelf life: four months for the ready-to-drink, and six months for the concentrate.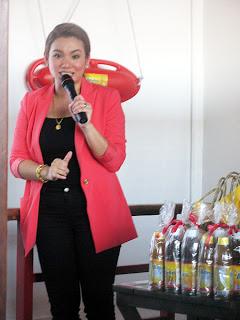 Senpur Trading's General Manager, Stacy Rubie Purugganan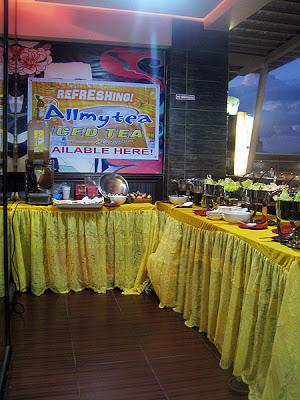 What did somebody think of it's packaging? Let's just say that that person asked if there were any plans for the packaging to be changed.
What did I think of the iced tea? Hmmm...different. I could not describe it (though my friend said it tastes like sampaloc. Haha). Will the number of glasses that I drank tell you how I liked it? Five glasses. That has got to mean something —no, it doesn't mean I was just thirsty.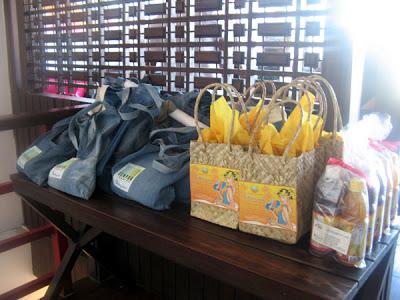 Loot bags at the launch
To contact Senpur Trading, you may email Stacy Rubie Purugganan at [email protected] or thru 0916 464 7560.