The facial sheet mask has become the latest trend in skincare as they instantly hydrate the dull and tired skin along with revitalizing them.  It is the best way to pamper and nourish your skin.  Just tear, wear, and get a fresh look.
Recently I was doing grocery shopping online on Grofers and thought to search a facial sheet mask because it can deliver at one go and I don't need to order from other sites esp. in this pandemic crisis, less is better.
Grofers popped up with only one brand having a sheet mask and it was ALLMASK. This was the first time I came to know about the brand and it grabbed my attention as it had a huge discount.  Therefore, before making any decision, I first checked their website and read about them.
About ALLMASK
They specialize in a facial sheet mask and are the largest facial sheet mask manufacturer in India. ALLMASK has over 15 years of industry experience in the non-woven facial sheets.
100% Organic | Made in India | Natural | Paraben-free | Sulphate-Free
Animal cruelty-free Organic
Herbal base Natural essence
All skin types Dermatologically tested
All the above features and being the manufacturer for the cosmetic companies made me convinced to try out their products. After all, our PM wants us to promote Vocal for Local and hence I decided to shop it and share my review accordingly.
I ordered 6 sheet mask and we both have used the products for 3 weeks. Usually, I use a sheet mask once a week, but as I wanted to share my experience so couldn't wait for long.
---
ALLMASK variants come in 2 forms:
Herbal sheet mask

Fruit sheet mask
---
Packaging
The packaging is the same as any other sheet mask.  Each package contains one sheet mask i.e for one-time use.  The pouches are sealed and can be carried easily in your bag.
Directions to use:
1)  Cleanse your skin
2) Unfold mask & align the white side to clean skin
3) Remove the protective blue film
4) Leave on for 20-30mins, then remove the mask
5) Gently massage access serum on your neck and face
6) DO NOT WASH your face and let the serum absorb into your skin
*ProTip: I always keep them in the refrigerator for the cooling effect. Also, I use it at night before going to bed as the serum gets absorbs properly throughout the night and next morning the skin feels fresh.
---
1. ALLMASK Strawberry fruit sheet mask
This was the first mask I tried as I wanted my skin to enjoy strawberry extracts but, it left me disappointed. It was meant to improve the skin with rejuvenation; however, it didn't work at all.
When I opened the package, I found that the serum is quite less, and also the mask was thin. I applied to my clean face and left the sheet mask to absorb. Within 5-6 mins, the mask got dried and I had to remove it.  The skin was not hydrated and moisturize. The only thing I liked about this mask was its pleasant aroma.
Now the first experience made me jittery to try other variants. 
Experience: Less serum, less hydration

✰✰✰✰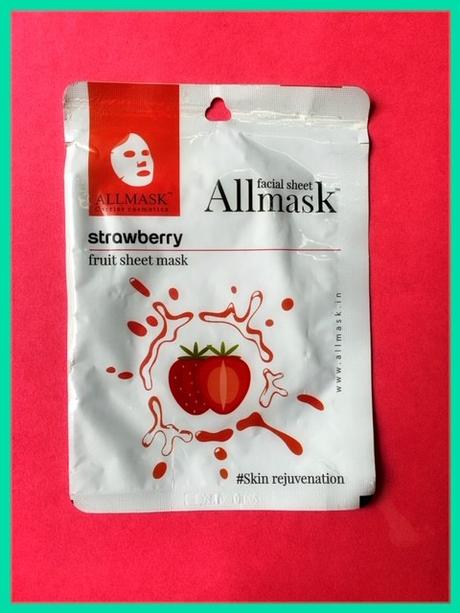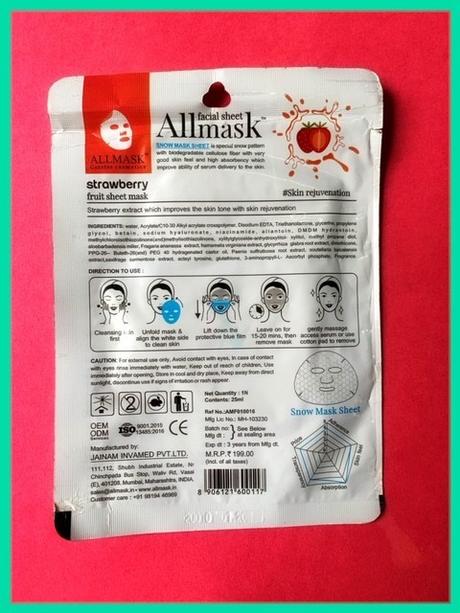 ---
2.  ALLMASK Kiwi fruit sheet mask
I decided to try again as I wanted to review and was anticipating that maybe this time it won't let me down.  So the next day my husband used this mask.
The Antioxidant from kiwi extract prevents the effect of free radicals & protects the skin.
I opened the package and this time the mask was drenched in serum which instantly elevated my mood. I applied it to my husband's face and kept it for 25 mins and then removed.  He felt skin soft and supple, moisturized, and refreshed. He liked it and the effect lasted for a day.
Experience:



✰✰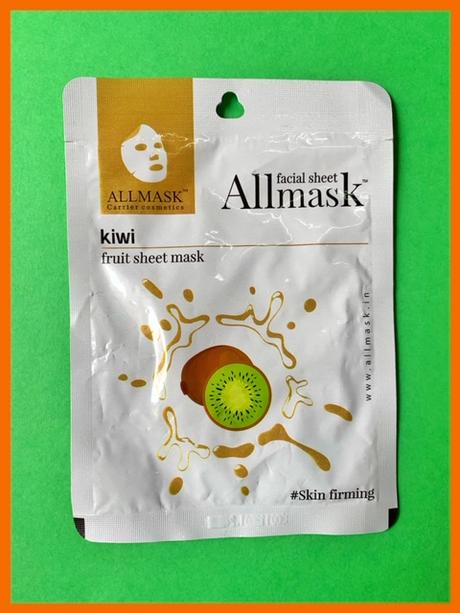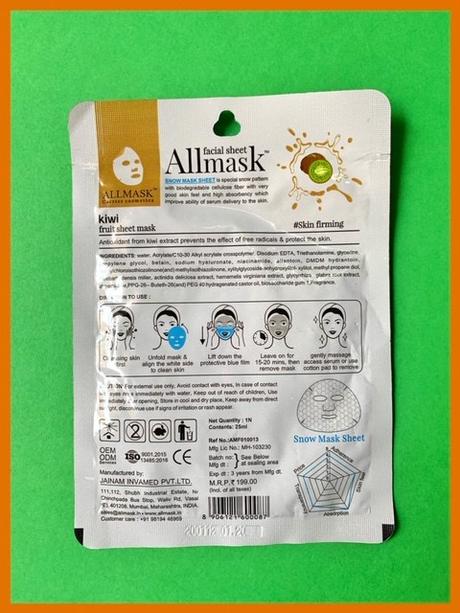 ---
3.  ALLMASK Charcoal herbal sheet mask
The charcoal mask helps to absorb skin impurities and excess oil, which improves the skin appearance. The charcoal mask sheet is a special bamboo-fibre impregnated with charcoal particles that have the property to absorb impurities and help to detox & purify the skin.
This mask was thick and drenched with serum compared to the other variant. Also, it didn't have a blue protective film and need to apply directly on the face. I have oily skin and kept the mask for 30mins. It did remove the oiliness from my skin, leaving it moisturized and healthy.  The next morning I didn't find much oil in my face, which I usually see and that made me happy.  The effect lasted for 2 days.
Experience:




✰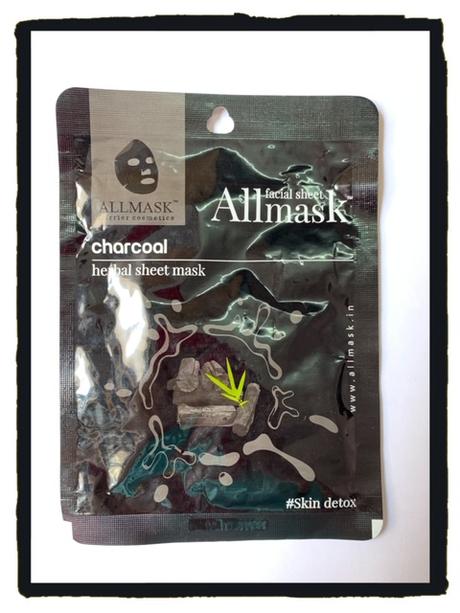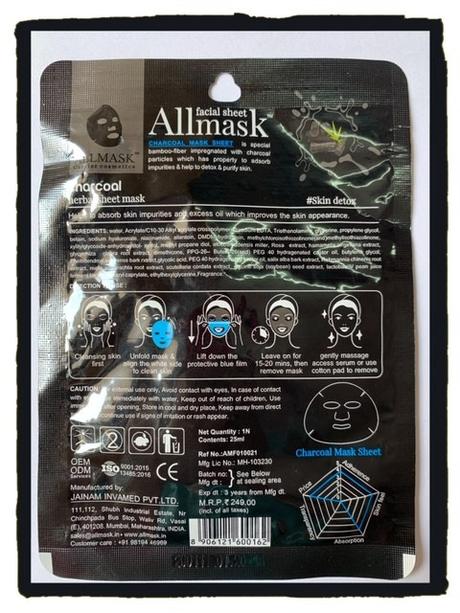 ---
4.  ALLMASK Rose herbal sheet mask
The rose mask balances and hydrates the skin pH with the essence of rose extract.
The rose fragrance is very much pleasant and invigorating.  The sheet mask rejuvenated my tired skin and prevented moisture loss. My face got a burst of freshness and a gorgeous fruit-kissed glow.
Fragrance: All other variant has the same aroma except for rose.
Experience:



✰✰ 3.5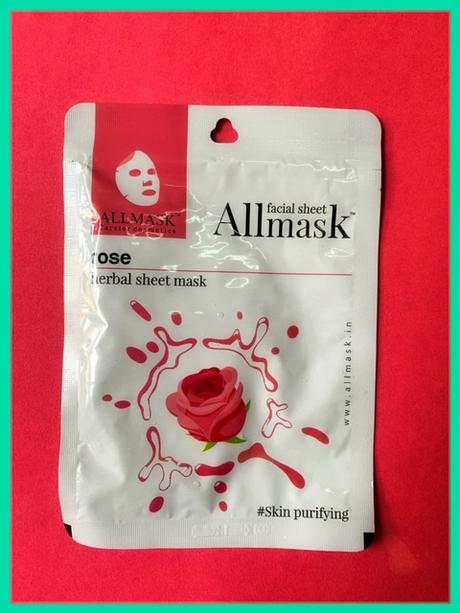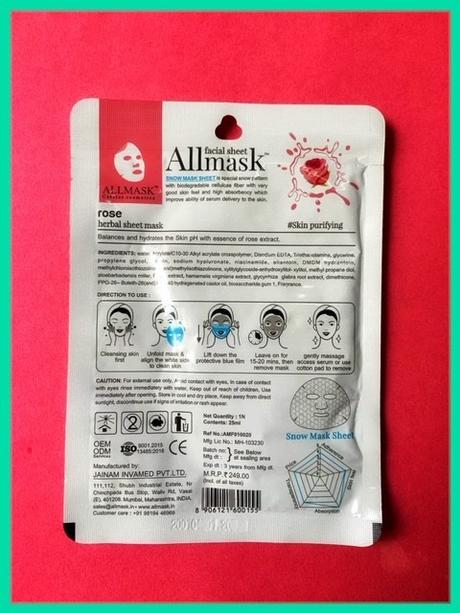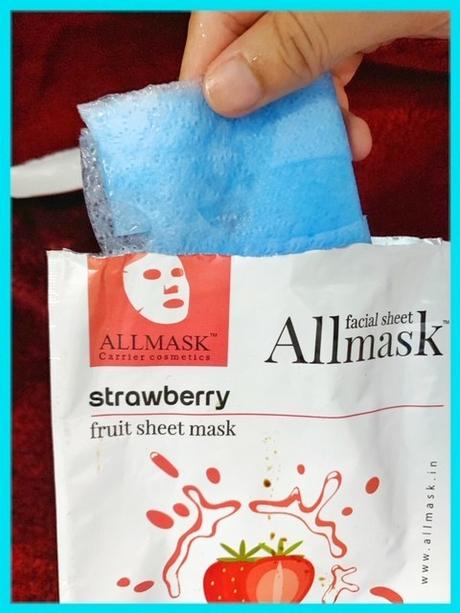 ---
5. ALLMASK Vitamic- C fruit sheet mask
It claims skin rejuvenation & super hydrating with skin lightening effect.
The main purpose of using a sheet mask is rejuvenation and moisture replenishing which they provide, but not skin lightening in one use as they claim.
Experience:



✰✰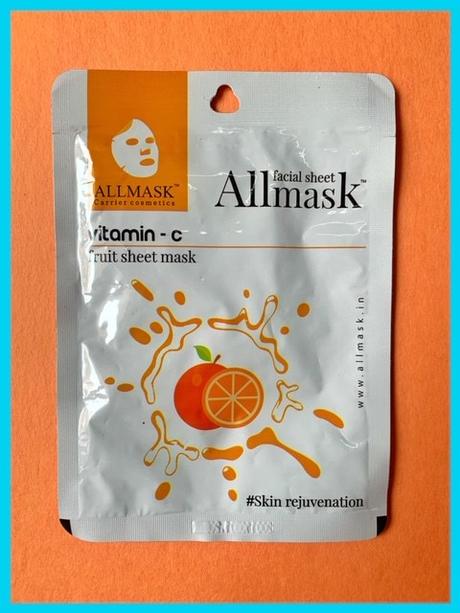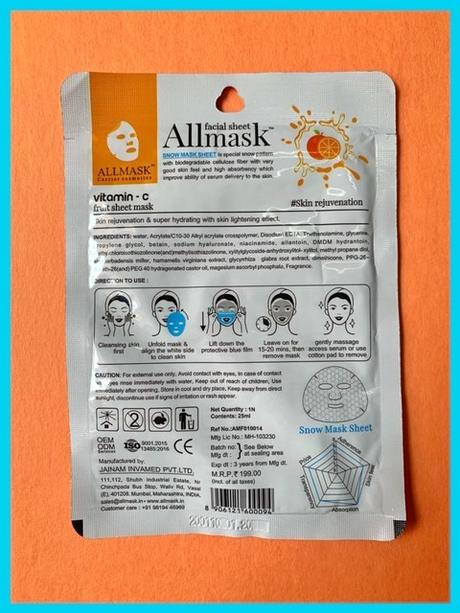 ---
6. Allmask Lemon fruit sheet mask
Enrich with real extract of lemon which makes the skin brighter.
As I said earlier, sheet masks don't lighten your skin in one use. Therefore, use it for the antioxidant which you get from lemon and to refresh the tired look.
Experience:


✰✰✰ 2.5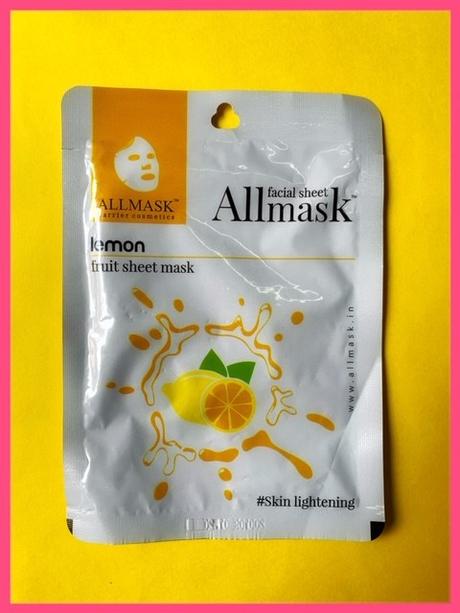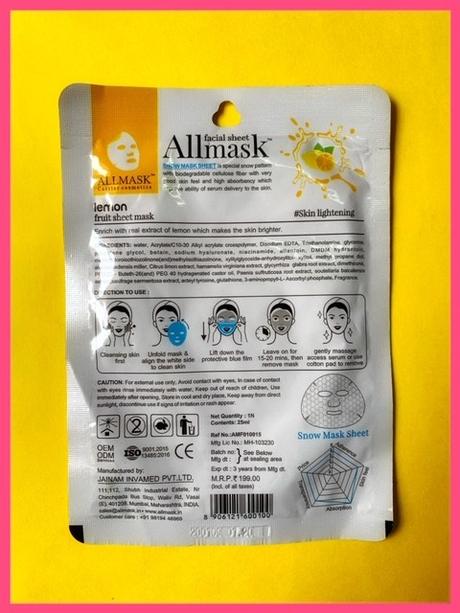 ---
Price
Expensive (I always feel sheet mask is expensive as it is for one-time use only). Hence, buy when there is a sale or discount.
*MRP of Allmask FRUIT sheet mask: 199 Rs
*MRP of Allmask HERBAL sheet mask: 249 Rs
---
Availability
I found a huge discount on Grofers and you can shop from them. It is available and I have ordered seven more variants which includes charcoal, rose and 5 different fruit sheet mask which I haven't tried.
They are available on Amazon too.
---
Final Verdict
ALLMASK is made in India, organic and free from chemicals that make it worth a try.  They offer a wide range of masks that are hydrating, moisture replenishing, and infused with the goodness of your favourite fruits.
These masks are designed according to Indian face shape and hence it fitted my face perfectly. Our only one sheet mask experience was poor and the other five variants were satisfactory.  The charcoal and rose sheet masks were the best among all. The effect of the masks lasted for one day just like every other sheet mask brand.  I had clicked wearing the mask, but not posted as I always look weird.
I would recommend these masks:
If you love rejuvenating your skin

If you are fond of using a sheet mask and,

If you are getting these variants at a discount price.
Let me know if you are planning to buy and do share your experience!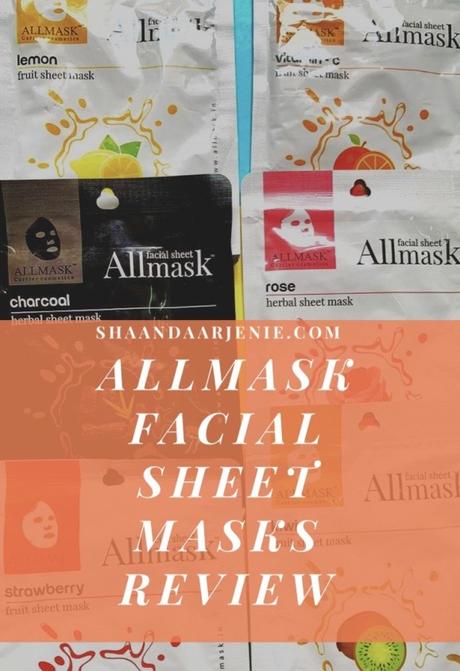 PIN THIS ARTICLE!
---
---
---
You May Also Like to Read:
Pamper your Skin at Home while being Quarantine

5 Best Face Creams for Indian Skin Tone
---
*Disclosure: This post contains affiliate links and I may receive a small commission if you 
purchase through them at no extra cost to you.