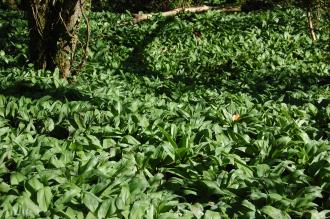 Allium ursinum (14/04/2014, Torquay, Devon)
Position: Full sun to dappled shade
Flowering period: Late spring
Soil: Moist, well drained
Eventual Height: 40cm
Eventual Spread: 30cm
Hardiness: 5a, 5b, 6a, 6b, 7a, 7b, 8a, 8b, 9a, 9b
Family: Amaryllidaceae
Sub Family: Alliaceae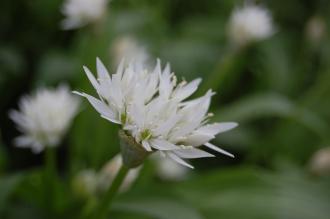 Allium ursinum Flower (19/04/2014, Kew Gardens, London)
Allium ursinum is a bulbous herbaceous perennial with a spreading habit. Its mid green leaves are broadly lanceolate to elliptic with entire margins, up to 20cm long and 8cm broad. Its leaves smell of garlic when crushed or bruised and die back in mid summer. Its white hermaphrodite flowers appear on erect stems as terminal umbels of bell-shaped flowers, these emerge from a papery bract. Its roots are bulbs which aids its spread.
Allium ursinum, commonly known as Wild Garlic, Broad Leaved Garlic, Wood Garlic, Ramsons or Bear's Garlic, is native to much of Europe (including the UK) and west Asia. In its native habitat it grows in deciduous woodlands. This species is considdered an Ancient Woodland Indicator (AWI) species.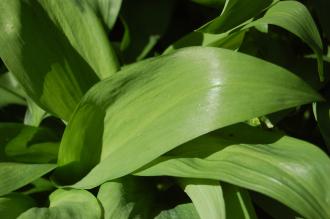 Allium ursinum Leaf (14/04/2014, Torquay, Devon)
The etymological root of the binomial name Allium was the ancient Latin name for garlic.  Ursinum is derived from the Latin name of the Brown bear (Ursus arcatos), as this animal enjoys eating its bulbs.
The landscape architect may find Allium ursinum useful as a woodland understory plant. It may also be planted beneath deciduous shrubs with an open habit.
Ecologically, Allium ursinum flowers are attractive to pollinating insects. Its bulbs are attractive to many mammals including bears and boars.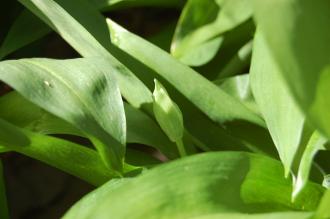 Allium ursinum Flower Bud (14/04/2014, Torquay, Devon)
Allium ursinum prefers moist, fertile, humus rich, well-drained soils. It tolerates most pH of soil.
Allium ursinum requires little maintenance. Large clumps may be divided at the end of the summer.